Posted by hourglass angel on Oct 10th 2014
Hot Leggings Styles for Cooler Weather Fall means cooler weather, beautiful colors, some sweet and spicy flavors, and of course a shift in fashion from sundresses and shorts to cozier styles. This season, leggings continue to be a fashion favorite, whether you're dressing to impress out on the town or just kicking back with a warm drink in a coffee shop. What's not to love about leggings? They're comfortable, warm, stylish, easy to wear and can complement a number of body types if you wear them tastefully. With a variety of tops and accessories, your options for leggings in a fall wardrobe are almost endless. If you haven't explored all the ways you can show off this style, consider some new twists on this classy look.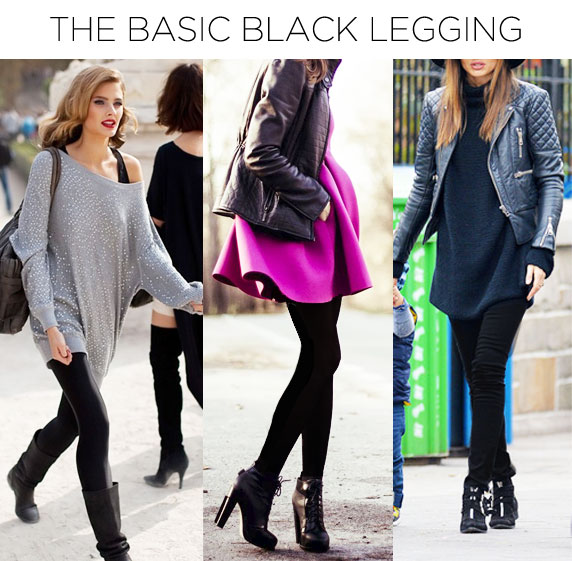 Basic Black Leggings If you're not used to wearing leggings, black is the place to start. There are numerous ways to wear them, from workout outfits to dressy ensembles. Some attractive ways to pair leggings include:
With an oversized top: a big top will create balance in your silhouette. It will also cover your hips and butt so you don't have to worry about drawing too much attention there. Who says women with curvier figures can't wear leggings? Try a white, gray or black top and then accessorize with a bright purse or scarf.
With a short dress: if you love dresses, leggings are your best friends in the colder weather. This is a great way to wear a skater dress. Like the oversized top, a dress will help your figure balance and will cover your hips. One trend is to wear a black dress over black leggings and then a muted color like powder pink and gray for your shoes, scarf or purse.
Sporty: there's a whole range of sporty looks you can go for, so don't be afraid to be bold! Try a sporty cotton dress with a quilted jacket and wedge sneakers for a look that combines the athlete and the fashionista.
The Ponte Seam Tummy Control Leggings by Lysse are a great way to start building your wardrobe with black leggings at the foundation. Leather Leggings To step up your fashion a bit, try leather leggings and add a sexy statement to your style. You can use them as party of a flashy outfit in a couple of ways:
For partying: this is the most obvious use. Leather pants is the perfect compliment to a lot of dressy tops.
With a colorful sweater and jacket: this look is ideal for a day out on the town. Use a trendy color sweater and a statement coat. You'll add a pop of color and balance to your whole look. And while you're at it, experiment with your favorite accessories: perhaps a beanie, your most elegant black purse and some oxfords.
Try Metallic Stretch Leggings by Espiral to achieve some of these flashier looks.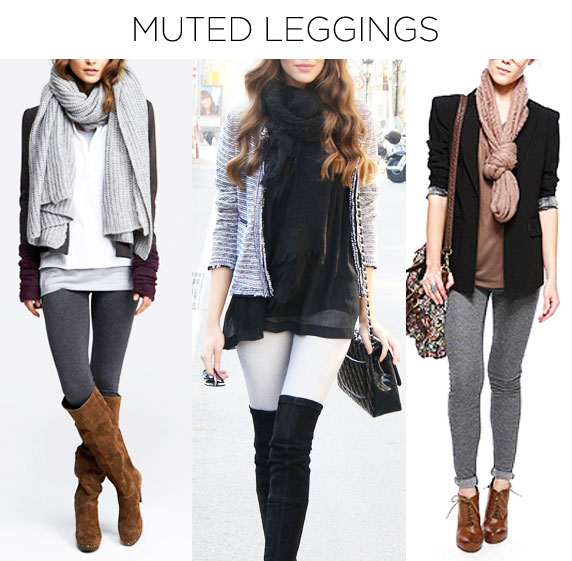 Muted Color Leggings If you're ready to move beyond your basic black, branch out and use some muted colors like beige or gray. These colors can give a whole new life to your wardrobe.
As with black leggings, pair with longer tops like sweaters and dresses.
Try pairing with the same color top for a chic and stylish look. You can add some pop with your shoes or a beanie.
The iPant Capri Leggings by Wacoal in nude can work in a number of your neutral outfits.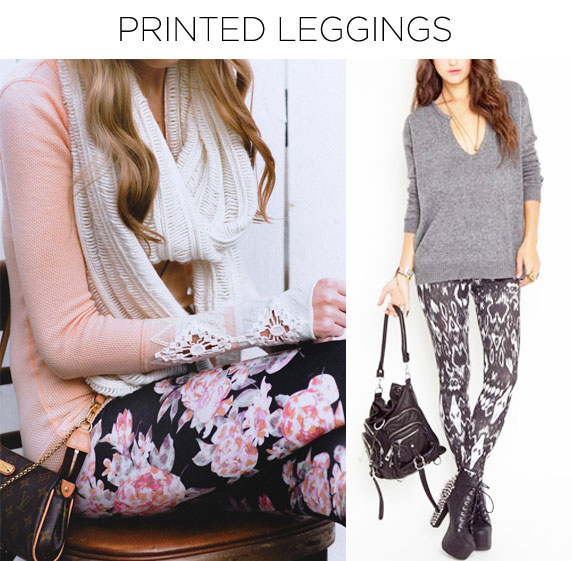 Printed Leggings Why should your tops have all the fun? Be bold and step out with some daring prints!
Printed leggings are automatically going to be the main accent of any outfit. Pair with a basic top like a long straight sweatshirt that covers up to your mid-thigh. Choose accessories that are plain with matching colors.
The Ikat Print Fashion Leggings by Lysse are a fun way to add some flair to your outfits.