Posted by Hourglass Angel on Sep 11th 2019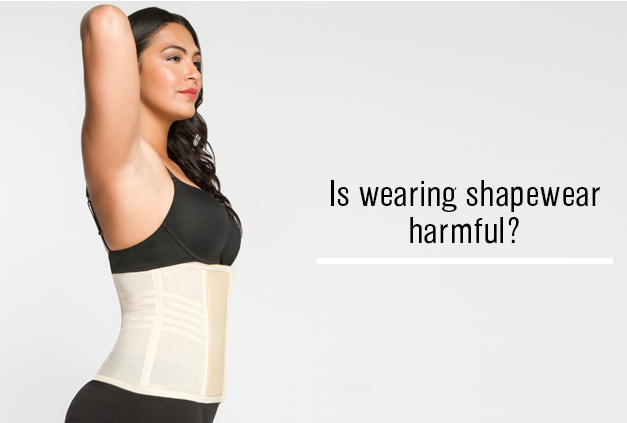 As shapewear (and especially waist training) has grown in popularity in the last 10 years, so has the spread of misinformation. In particular, it has some people wondering, is wearing shapewear harmful?
Wearing the right shapewear will help you visually enhance your figure and boost your confidence. You can rest assured that there's nothing to worry about when you are using it as directed and listening to your body.
Here are some best practices to follow to ensure that your experience with shapewear is positive and comfortable, along with tips to help you make the most out of it.
Making Sure Your Shapewear Fits
The number one reason that shapewear might be uncomfortable is that it doesn't fit correctly. It is vitally important that you take measurements whenever you order new shapewear and follow each garment's sizing chart (accessible on every product page on our website).
We have tested every shaping garment in our collection according to size. Remember, just because you wear a Small in one brand of clothing doesn't mean that a Small size in a shapewear garment is the correct fit.
Take measurements using soft measuring tape at the widest part of your bust and hips, and the narrowest part of your waist (or adjust as needed for your particular garment). Make sure the tape lies flat against your figure and is level with the ground. It should be snug, but you should still be able to slip two fingers underneath.
If your measurement is in between sizes, always go a size up. Many shaping garments come with adjustable straps or closures so that you can tighten them to a custom fit. If you go too small, your garment will be uncomfortable and unflattering. When measuring for a garment that primarily focuses on minimizing the waist, like a waist trainer, you only need to follow the waist measurement and not the other two.
Always test a new garment for fit when you first receive it (remember, we have a no-risk return policy!). Step into it and pull it on gently while fastening any closures, if needed. A garment that fits well may feel stiff and snug, especially if it is constructed with high compression material. However, it shouldn't pinch, restrict your breathing or cut off circulation. You should be able to put it on without tugging or yanking on the material (which can damage it).
When you put shapewear on, it should be flattering to your figure and you should feel great about the way you look. Try putting on your regular clothing over the top. If you are uncomfortable or dissatisfied, then it is not the right one for you. Try a different size or style.
Breaking in a New Garment
As noted above, many shaping garments can feel quite snug or stiff, especially if they are high compression styles like bodysuits and corsets. Both the garment and your body may require an adjustment period before you begin wearing it all day.
For this reason, we recommend easing your way into all-day wear. If you're new to waist training, for example, start out by wearing your garment for just an hour or two a day. Then incrementally add more time each day, until you are comfortable wearing your garment for a full day.
If you are planning to wear a high compression garment to a special occasion like a wedding or gala that lasts for most of a day or evening, you will want to treat your shapewear like a new pair of shoes. Prepare for the event by wearing your garment in the days leading up to it.
If you want to wear a steel-boned corset, it's especially important that you take the time to break it in so that the garment can mold to your figure. Wear it loosely for a couple of hours a day for about two weeks before cinching it tight.
How Long and How Often You Can Wear Shapewear
Shapewear can be worn daily! Just keep in mind that you may not want to wear it for 24/7. Your body and your skin need time to relax and breathe. What's more, your shapewear needs a break too!
You should be mindful about how long you are wearing high compression shapewear—particularly for waist training. A waist trainer can be worn for up to 12 hours a day. You won't benefit from any more time than that; plus your garment will need time to recover its shape.
For the most comfortable experience with daily shapewear, you will want a variety of shaping garments in your wardrobe that you can rotate throughout your week. For example, you could wear a waist trainer while at work and shaping panties for the rest of the day. You might want butt-lifting jeans and camisoles when you're dressing down and a shaping slip or bodysuit when you're dressing up.
By using many styles, you'll always look your best, keep your garments fresh and clean, and feel comfortable at every hour of the day.
Materials and Style Make a Difference
Another factor to consider in making sure you have a comfortable experience with shapewear is the material used in various garments. Some people have sensitivity to certain materials like latex. Since a lot of high compression shapewear uses latex, be sure to look at the materials if it bothers you.
You may also find that some materials are going to preferable to others at certain seasons or in warmer climates. While some people don't mind the extra perspiration that comes with certain types of shapewear, others may find it uncomfortable.
If you want to stay cooler in warm temperatures, look for moisture-wicking features and breathable, lightweight fabrics in your shapewear.
In addition to materials, be attentive to the cut of the garment you want to wear. Some are better for certain body types than others. If, for example, you have a short torso, you will probably want garments designed for petite women so that you don't get something that pokes you in the ribs or hips. The inverse is true; if you're tall, then you may want a garment designed for long torsos. And if you have a proportionally larger or smaller bust or hip size, you may want to be sure that you have a garment that can adjust to your proportions accordingly, with adjustable straps or closures.
Listening to Your Body
One of the best things you can do to ensure maximum comfort in your shapewear is simply to listen to your body. Take a moment in the middle of the day and check in. Are you uncomfortable in any way? How does the fabric feel against your skin? Are you experiencing and pinching or rubbing? Is your movement restricted in a way it shouldn't be? Can you take deep breaths?
If you notice anything that doesn't feel quite right, then take your shapewear off immediately. That is a sign that it doesn't fit correctly, you have the wrong style or you are sensitive to the material.
A special note if you are starting a waist training regimen: while it does take time to grow accustomed to the stiffness of the garment, always take it off if it feels like you're pushing too much. It can take time to adjust to the way it feels, especially if you are in the habit of slouching. But be patient as your body grows accustomed to sitting and standing up straight (and remember this is a good thing!).
Maintaining a Healthy Lifestyle with Shapewear
Wearing shapewear pairs beautifully with a commitment to a healthy lifestyle, and this will also ensure the most comfortable and positive experience, no matter what you're wearing.
One lifestyle factor that's important to be mindful of when wearing shapewear is hydration. You may be perspiring more if you're wearing performance activewear or a waist trainer. Aim to consume half an ounce to an ounce of water per pound of body weight, especially if you're working out.
Staying hydrated has many benefits that will complement the way you feel when wearing shapewear, including healthier skin, more energy and better digestion.
Eating nutritious food with healthy portions is another component to maintaining a healthy lifestyle with shapewear. In general, in alignment with nutritionists' advice, we recommend eating 5–6 small meals a day, rather than 3 large ones. Not only is this better for your metabolism, but it can also be more comfortable when you're wearing compression garments.
And of course, exercise is another huge lifestyle factor that complements shapewear use. Compression activewear waist trainers can enhance your workouts and help you look your best, especially when paired with workouts that maximize your calorie burn and build strength and endurance.
Get the Most Out of Your Shapewear Experience
To summarize, wearing shapewear can be a positive experience for anyone when you educate yourself about best practices, choose the right garments, and pair shapewear use with healthy lifestyle choices.
Got questions about what garments are best for you? Be sure to browse the articles we've posted on our blog, which answer some of the most common questions we receive about shapewear. We also have a team of expert stylists eager to assist you when you're ready to select the perfect shaping garment for any occasion.
We'd love to see your results as you progress on your shapewear journey. Share them with us @hourglassangel and use #bethehourglass on social media.