Posted by hourglass angel on Aug 27th 2014
The Trick to Being Shaped Like a Celebrity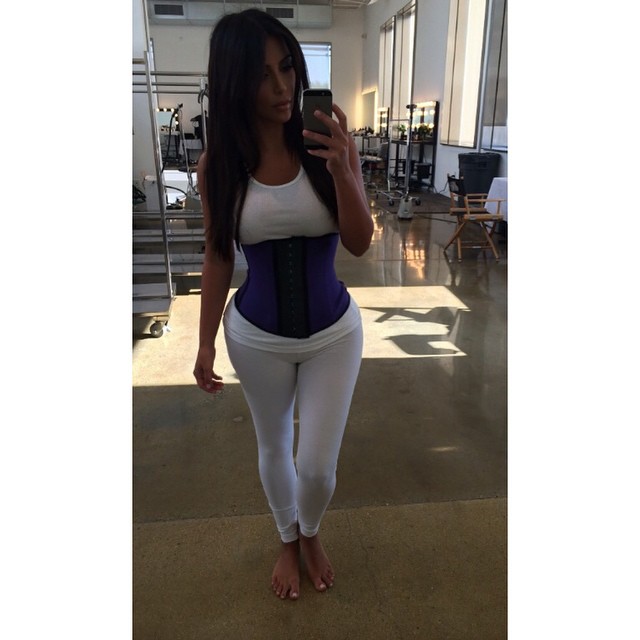 Kim Kardashian made headlines last week on Instagram by endorsing waist training with an image of herself in shapewear! And she isn't the only celebrity to rave about how much shapers can transform your body, which is why some news outlets are suddenly asking, "Are corsets making a big comeback?"
While Kim Kardashian is famous (and certainly gorgeous), she's also just a normal woman who's had a baby and works hard to keep her weight down and her figure attractive. Women of her stature have access to world-class trainers and stylists, but guess what: they still need help! Luckily, waist training shapers, such as corsets, are an accessible solution for everyone.
We're thrilled that she and other celebrities have come clean about what makes them look fabulous, whether they're on the red carpet or at the coffee shop. Waist training with quality shapewear isn't something that should be a "secret" – it's something exciting to share with all of your girlfriends!
So does it really work? Absolutely! Women have been reshaping their midsections with corsets and other waist-training garments for centuries. These methods have stuck around because their effective. But unlike with old-fashioned corsets, you don't have to worry about cutting off your circulation in something that your great-grandmother might have worn. Today's waist trainers are comfortable, stylish and sexy. (Just look at the pic Kim Kardashian posted on Instagram!)
There are several ways waist training works:
1. Instant Slimming: While sustainable weight loss takes time, you don't have to wait to see the effects of a midsection shaper! You can drop a size or two the instant you put it on.
2. Works Up a Sweat: With firm compression around your midsection, your skin will sweat in your target area!
3. Corrected Posture: A midsection shaper helps to correct your posture so that you stand up straighter and more confident.
4. Reduces Overeating: Do you know that feeling when you've eaten too much and you want to loosen your pants? When you're wearing a midsection shaper, your stomach won't be able to expand as much, so you'll feel full and less likely to overeat.
So now you're in on Kim's little secret! Take a look at our wide selection of midsection shapers and discover how you can transform your body to look like an hourglass.