Posted by by hourglass angel on Apr 15th 2017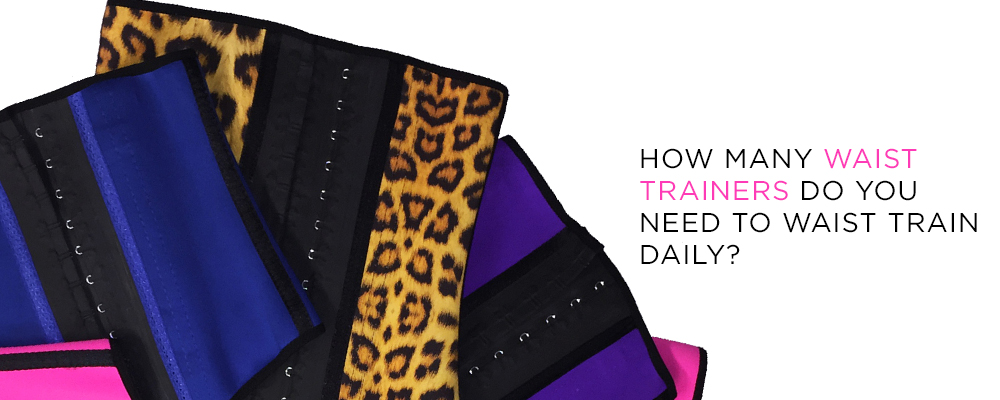 If you are seriously considering doing a daily waist training regimen, one of the issues that will come up fairly quickly is whether just one waist trainer enough. And if not, how many do you need?
The answer is: it depends. Here are several factors you should consider when deciding how many and what styles of waist trainers to own.
Resting Your Garments

If you have a latex-style waist trainer, what makes it so effective at slimming your waist is the maximum-compression material. But in order to work well, the material needs time to "rest" and regain its elasticity. This is especially the case if you're wearing it all day. While you don't necessarily have to follow a strict every-other-day rotation, we do recommend that you give latex waist trainers at least a couple of days to rest each week.
Regular Cleaning
You're going to notice pretty quickly that your midsection sweats when you're wearing a waist trainer—a lot. While you don't have to clean your waist trainer daily, use your personal judgment to decide when it needs some freshening up. Since the latex needs to air dry, you're going to find that in order to keep it clean, you'll need at least one other garment to rotate through your wardrobe if you are going to stay committed to a daily plan.
Working Out
Some of our most popular waist trainers include a variety of styles and colors of workout waist bands. If you plan on using a waist trainer for your workouts (highly recommended!), then you should plan on having at least one of these. But consider this: while these style of trainers are effective at slimming your waistline, you don't want to rely on them for all-day wear! They are designed to be worn at three to four hours at a time, tops. You're going to be more comfortable and get better results in an everyday waist trainer for all-day wear. Conversely, don't work out in everyday trainers, as you risk damaging them or injuring yourself.
Different Occasions
How many waist trainers you need also depends on how you dress. While most everyday waist trainers work well under casual or professional attire, you may want to have at least one that is in a color close to your skin tone to wear under lighter-colored or thin fabrics. You also might also prefer a no-closure cincher from time to time so that you can truly conceal its presence.
Some women also love the style of classic steel-boned corsets. These create more dramatic hourglass curves than latex cinchers and can also double as vintage outerwear.
Your Waist Training Goals
Do you plan on losing a lot of weight in a short period of time, or are you looking to stay at relatively the same weight while working on your midsection?
These decisions can affect how many and which waist trainers you want to own. If you're planning on dropping multiple sizes, you might not want to invest in more than a couple of cinchers, since you're going to size out of them anyway. (Another tip: consider getting a waist trainer with three rows of hooks instead of two so that you'll have more space to size down without getting another garment.) Once you're closer to your goal weight and size, you might want to invest in several waist trainers or steel-boned corsets that you can use for the long term.
Wear and Tear
Even the best waist trainers don't last forever. If you don't size down out of a waist trainer you wear almost every day, you will eventually wear it out. Latex waist trainers lose their elasticity after a few months of use. You can tell when it's time to replace one when it doesn't provide the firm compression it used to.
Note that steel-boned corsets will not wear out in this way, since they use the tightening of the laces to provide compression rather than latex. You can continue to wear it for as long as the garment lasts.
Remember, regular cleaning and care of your waist trainers ensures that they will last longer, so you that you won't have to replace them as often. In addition to cleaning them properly by hand in warm water with gentle detergent, hanging them to dry and giving them rest, be sure to store them correctly by draping over a hanger.
The Final Word
In conclusion, we'd say that most women are going to want at least two waist trainers if they are going to be committed to an everyday regimen. This will ensure that they can stay committed to waist training while also taking good care of their garments and making them last. What is more, different occasions call for different styles of waist trainers—like working out, special occasions, or different styles of dress.
One strategy that works well for rotating different waist trainers through your wardrobe is to stagger when you purchase them. You could start out with just one while you're adjusting to your waist training routine and then buy your second one after you've been wearing it for a month or so. By doing this, you'll also get a better idea of what your personal needs and preferences are, so you won't buy a garment that really isn't what you want. By the time your first waist trainer wears out or you're ready to size down, you should have one or more other waist trainers you're also using, so the transition to a new one will just be a part of updating your wardrobe going forward.
We hope this answers this commonly asked question about how many waist trainers to own! Obviously, the answer will vary from person to person. As always, contact our team of stylists if you need any guidance meeting your personal waist training needs.