Posted by by hourglass angel on Jul 10th 2018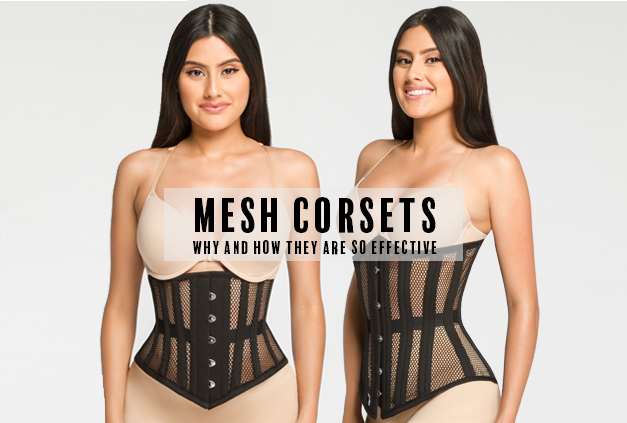 Steel-boned corsets are some of our favorite waist training options, and one of the best things about them is that they come in so many fabrics and styles!
Whether you want to use them for an ongoing waist training regimen or simply want to enhance your outfit from time to time, there's a corset that will work perfectly for the occasion.
We're excited to introduce two stunning corsets from the Hourglass Angel collection designed to keep you curvy and cool. What sets them apart is their unique fabric: mesh.
Comfort, Compression and Wow Factor
The Underbust Mesh Corset by Hourglass Angel HA2016 is a full-length underbust corset. Its supportive underbust cut and full torso coverage create a classic fit that will slim the waistline up to several inches, control and smooth target areas like the back and lower abdomen, and lift your bust.
Like other steel-boned corsets, this garment provides slimming through powerful yet flexible steel boning built into the bodice, plus a lace-up back. Waist tape helps hold the garment in place. The difference is the breathable mesh that allows air to circulate and create a sexy look, without compromising garment's slimming power.
The full-length corset has a short version, the Underbust Waspie Mesh Corset by Hourglass Angel HA201. This "waspie" style uses the same materials but is cut in a different way. While it is an underbust corset, the top is flat rather than curved, and the whole garment is a few inches shorter. This garment is effective at creating a dramatic cut at the waistline for a sensually curvy silhouette.
If you're not familiar with mesh style corsets and are wondering whether they're for you, we've compiled a few common questions about what makes them different and how effective they are.
Cotton, Satin or Mesh: What's the Difference?

Steel-boned corsets can be constructed from several different fabrics. The most common you'll find are cotton, satin and mesh.
Satin is a smooth, soft material used in many classic corset styles. Its shiny gloss creates an elegant finish, and a very smooth foundation for clothing to glide over.
While satin is stunning, the only downside is that it is the least breathable style of fabric. If you wear it in warm weather or with several layers, you may find yourself a bit more hot and sweaty than you'd like to be. While perspiration is normal when you're waist training, if it makes you extremely uncomfortable you may prefer an alternative fabric for different times of year.
Cotton is a more comfortable fabric that is soft and cool against the skin. It is also more lightweight than satin. So while a cotton corset may not give the same glossy and smooth finish as a satin corset, it will help you feel cooler and a lighter, making it ideal in warmer temperatures. Since it is lightweight, it may also be easier to conceal under lighter clothing styles.
Mesh is obviously the most breathable corset option because it is the only fabric that allows air to circulate underneath the bodice. Mesh corsets work well both underneath clothes or if you'd like to make a statement as outerwear!
The Mesh Corset vs. Latex Waist Trainer
There's a lot of confusion out there when it comes to understanding the difference between steel-boned corsets and latex waist trainers, so let's clear that up.
Waist cinchers, commonly referred to as waist trainers, are most commonly constructed from latex. The way they work is by providing compression to your waistline by utilizing the strength of the latex. They stimulate heat and perspiration around your waistline as part of the waist training process.
Steel-boned corsets work similarly, but instead of providing slimming power through latex, they use the structure of the garment, reinforced with steel boning and held in place with lacing. In general, since they can be pulled to a custom tightness, corsets can provide a more dramatic hourglass curve.
The confusing part about cinchers and corsets is that both can be used effectively for waist training (wearing a slimming garment daily as part of an ongoing waist slimming regimen).
The biggest difference you'll notice between a latex waist trainer and a mesh corset is the breathability. Both styles will result in a slimmer midsection, but a latex cincher will create a lot more perspiration. While sweat is part of what makes waist training work when you're wearing a cincher, it's obviously not going to be your most comfortable option in a warm climate. A mesh corset thus makes an ideal summer waist trainer.
Can You Sleep in a Mesh Corset?
While not everyone cares to wear a corset overnight, it is a good way to log some hours wearing your waist trainer. For the best results, we recommend wearing one for at least eight hours a day.
You might find a mesh corset to be a more comfortable option for sleeping in because of its breathability. Every sleeper is a bit different. The only way to know if it will work for you is to try it.
See more: Tips for Sleeping in Your Corset.
How to Care for a Mesh Corset
Mesh corsets should receive the same gentle love and care that we recommend for any corset in order to make them last in great condition. Here are a few tips:
Season, or break in, your corset before you pull the laces tight. You should wear it snug for an hour or so a day until the corset starts to mold to your figure like a glove, after about two weeks. See more: How to Season (Break in) Your New Corset.
Always handle your corset with care when putting it on or removing it. Loosen the laces generously so you can get in and out easily without warping the garment.
Clean your corset very carefully. Never machine-wash it; if it needs it, spot clean with a mild detergent and allow it to dry. You shouldn't have much surface area to clean with mesh! If needed, take it to a dry cleaner.
Air out your corset after you wear it by hanging over a chair or hanger. Never store it in direct sunlight and make sure it is dry before you store it in a closet.
Effectiveness of Mesh Corsets
Some people wonder if mesh corsets are as effective at slimming as other fabrics because you won't sweat as much while wearing them. The answer is yes!
It's true that you won't stimulate heat in your core the same way you would with, say, a latex workout band. But since it's not the fabric that makes a corset work but rather the structure with the steel boning and lace-up back, you're still going to get dramatic slimming results that are comfortable.
How to Size a Mesh Corset
The most important measurement you should take for sizing a corset is your waist. Using vinyl or fabric measuring tape, take the narrowest part of your waist, about two inches above your belly button. Make sure the tape is level with the ground and is flat against your skin, but not pulled too tight.
Follow our size chart for the corset you want. If your waist measures 27 inches, for example, you'll want size 22 for an Hourglass Angel mesh corset. The waist measurement is not the same as the size!
Note that since mesh corsets are thinner, you may be able to pull them tighter than other corsets. Be sure to try on your corset and make sure you have significant room to tighten it before you start seasoning it for wear.
How to Use a Mesh Corset
The possibilities are endless when it comes to all the ways you can style a mesh corset!
First, let's talk about how to put in on if you're a corset newbie. Step into the garment and pull it up over your midsection with the laces in back (make sure it's right side up!). With assistance from a mirror or a friend, gently tighten the laces, similar to the way you would tighten shoelaces, but from the top and bottom towards the middle. Tie the garment off at the center. Remember, the first few times you wear it you should be breaking it in and not pulling it tight until it is seasoned.
You can wear this corset against your bare skin if you want to experience maximum breathability. It makes a sensual lingerie piece in addition to being a slimming undergarment.
Some people prefer to wear a thin top underneath the corset for comfort and to prevent their skin's oils from getting on the corset. This can help it last longer.
A mesh corset is very light, making it ideal to wear under even lighter clothing. Use it for everyday waist training or to perfect your figure for special occasions.
A mesh corset also makes a fantastic statement piece as outerwear. Style it over your favorite tank top or light blouse for a flirty, bold look.
Got any questions about corsets? Our team of professional stylists are always happy to answer your questions.