Posted by by hourglass angel on Feb 24th 2017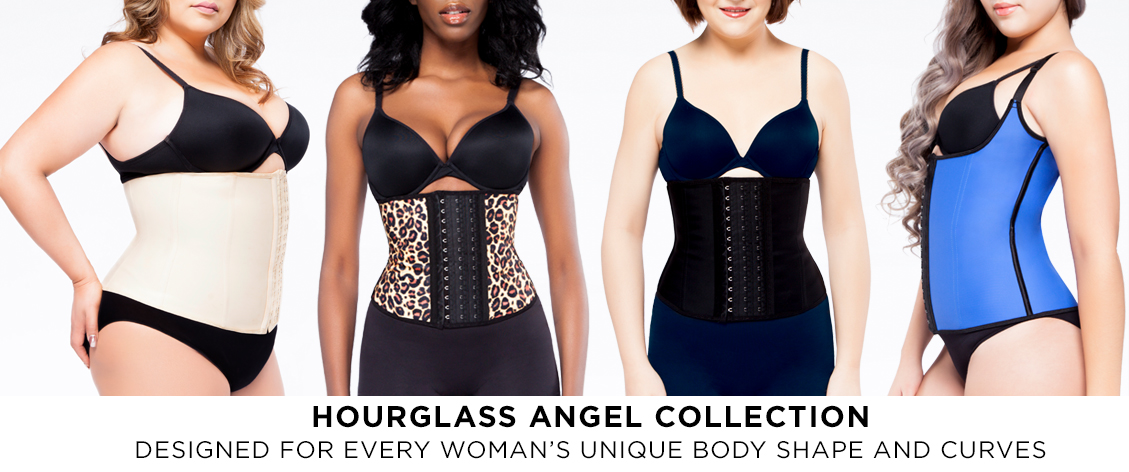 Here at Hourglass Angel, we love celebrating the uniqueness of every woman. Every single person has beautifully different curves and a natural shape that is gorgeous. Our goal is to create solutions for every woman's body shape and unique curves.
That's why we developed the new Hourglass Angel Collection of waist trainers. After receiving feedback from many customers, we were able to cultivate shaping solutions based on your body type, lifestyle, and goals. Whether you're tall, short, petite, plus-sized or anything in between, we've got what you need to make your waist training experience a success.
Check out these five NEW waist trainers and discover your personal solution to your shaping needs.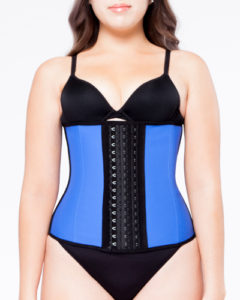 Latex cinchers are among our most popular sellers. So what makes this one different? There are a couple of features that you can only find at Hourglass Angel.
First, not only does this garment rely on latex for maximum compression; it also uses flexible steel boning in its construction. This ensures that you can maintain your hourglass shape while still being able to bend and move easily. It's like combining the comfort and convenience of a latex cincher with the shaping power and durability of a lace-up steel boned corset. Like all of the very best waist trainers, it will take 1–3 inches off your waistline instantly, while providing the firm compression that stimulates thermal activity and perspiration in your core. It's ideal for many types of workouts and will help you sweat harder. Yet you won't be sacrificing comfort: while the core of the garment is constructed with latex, you'll enjoy the softness of cotton lining that will keep you cool and comfortable.
Second, this waist trainer comes with three rows of large hook-and-eye closures. This feature makes it easier to cinch up and creates a strong, secure fit. Sizing down your cincher as your body slims down is simply; simply fasten the hooks on the next row. Since you have more room to size down and a more durable garment with steel boning, you can use the same waist trainer for an extended period of waist training. It truly does slim down with you.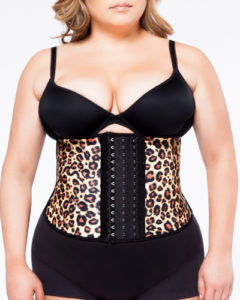 If you're a woman on the shorter side, or with a short torso, one of the challenges with waist training is that many of the standard size garments are just too long for your figure. If you find that a typical waist trainer is uncomfortable because it jabs at your ribs and hips, you'll want a garment that is designed with the petite woman in mind. This waist trainer is cut shorter so that it is more comfortable for the petite figure. It is also a great option if you aren't petite but just want to get that extra slimming and compression right around the waistline.
Like the regular Hourglass Latex Waist Trainer, the petite option is constructed with maximum compression latex and reinforced with flexible steel boning. This ensures maximum effectiveness as well as comfort and flexibility for your workouts. It also uses three rows of large hook-and-eye closures for easy fastening and the capability to size down with you as your drop inches from your waistline. This is the perfect supplement for any healthy lifestyle routine, whether you're trying to lose weight or simply want to intensify your workouts and create an hourglass shape.
Curve Creator Latex Workout Band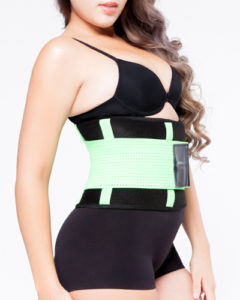 One of the waist training needs we heard about from our customers is convenience. We get it—we're busy women and we need no-fuss solutions when it comes to living a healthy lifestyle each and every day. We're excited to introduce a new workout band that is highly effective and easy to use.
Put on this waist trainer in seconds with its easy-to-use double Velcro closure. This is significantly faster to use than traditional hook-and-eye closure waist trainers. It's the perfect solution for the grab-and-go woman who doesn't have time to fiddle with getting dressed for a quick workout. And the convenience doesn't sacrifice effectiveness. The double layers of thick Velcro provide a strong, secure fit that will stay snug no matter how intense your workout is.
This workout band is just as effective as our other workout waist trainers. Its latex core boosts the thermal activity of your core and intensifies your perspiration around your midsection, ensuring a killer workout every time. The cotton-spandex lining absorbs moisture and feels soft against the skin.
Sculpting Vest Latex Waist Trainer
Some people love the extra support that you can get from a vest-style waist trainer, which is why we simply had to include one in our new line. This sculpting vest has all the same features as our standard Hourglass Latex Trainer with the added benefit of adjustable shoulder straps, which provide extra support for the bust and coverage for the upper back. This is an ideal solution if you have a curvy-on-top natural shape. Its three rows of large hook-and-eye closures provide ease of use as well as a customizable fit that slims down with you. And of course, it features flexible steel boning that makes our collection unique.
Core Slim Latex Waist Trainer with Zipper
Last but not least, say hello to this unique waist trainer with double layers of slimming support. Cinch up with one of the three inner rows of large hook-and-eye closures, and then zip up for a firm hold. Like other waist trainers in this collection, it uses our signature flexible steel boning for power shaping. This versatile waist trainer is ideal for wear under any outfit: professional, casual, you name it. It also is ideal as a postpartum waist trainer and will help new moms regain their pre-baby figures faster. Alternate it with the workout band of your choice and you've got a waist training solutions tailored just for you.
We hope you enjoy the new collection! As always, we love getting your feedback and answering any questions when you contact the shapewear experts on our customer service team.