Posted by hourglass angel on Nov 24th 2017
What We Recommend for a Speedy Postpartum Recovery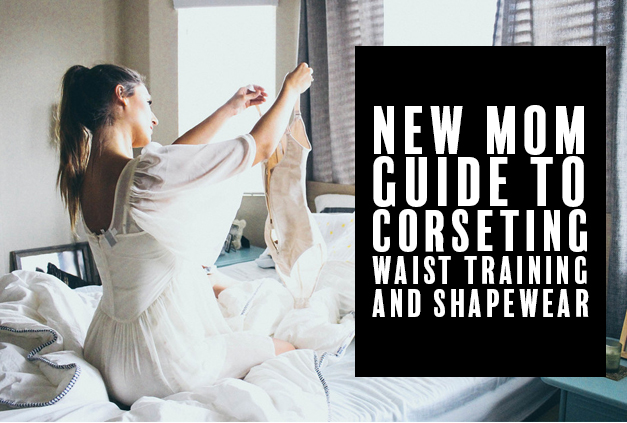 Whether you're expecting or you've already delivered, one of the biggest questions new moms have is when they can get their body back.
While the answer to that questions depends on a number of factors including the amount of weight you gained during pregnancy, your genetics and your lifestyle, we can definitely recommend waist training as an effective part of your postpartum slim-down strategy.
Waist training after pregnancy can be safe and effective if you follow these tips. Here's a comprehensive guide to looking and feeling great at every stage. And be sure to check out all of our postpartum waist trainers and shapewear. As always, consult your doctor before proceeding prior with the tips below.
Immediately Following Delivery: Belly Binding:
When you give birth, your whole body goes through a lot of change, and as any doctor will tell you, the best thing you can do for yourself is to get a lot of rest, water and healthy food. Enjoy those early days as you get to know your baby.
As far as waist training goes, we recommend belly binding for at least the first week. This is actually an ancient method of postpartum recovery: for years, women have used compression on their torsos to ease the swelling as their bodies naturally flush out the extra fluids they were carrying around during pregnancy. The compression helps to gently reshaping your midsection while you wear the garment, and it feels good on the weakened muscles in your core and back.
We recommend the Post Delivery Girdle by Underworks for this purpose. It is soft, gentle, designed to keep dry, and will not irritate your skin following a C-section. As your abdomen shrinks, you can adjust the Velcro to fit.
First 3 Months: Waist Training
Once you're past the first week following childbirth, you can start to explore firmer compression methods. A waist cincher, also known as a waist trainer, is a perfect way to start stepping it up a notch. Try one with a latex core for effective results, or choose from our latex-free materials as well. We recommend a front-closure style with three rows of hooks so you'll have the most room for slimming down following your pregnancy. You can also try a Velcro-closure option.
While you might be eager to maximize your routine, be patient and ease your way into waist training. Listen to your body's cues; if you're uncomfortable in any way, take a break. Make sure that you have a waist trainer that is fitted to your current size rather than the size you want to be; otherwise you will be extremely uncomfortable and may not even be able to get your waist trainer on properly. Read this guide to learn more about picking the right waist trainer.
Start out slowly; wear your waist trainer for just an hour at first and then slowly add a little bit of time each day. If you'd like to have continual compression throughout the day, switch back to the postpartum belly binder when you're not wearing a high-compression waist trainer.
After several weeks of daily wear, you should feel pretty comfortable with wearing your waist trainer for at least eight hours a day. You may also start noticing that it is time to size down, particularly if you've been watching your diet and avoiding unhealthy foods. Try fastening the waist trainer to the next row of hooks once it is easy to put it on and off and it's not feeling as tight.
Once you've passed the six-week mark postpartum, assuming all is well, you should get the go-ahead from your physician about starting to exercise. This is a great time to introduce a workout band into your waist training regimen.
Wear it whenever you work out or are physically active, whether you're going for a walk with the stroller or getting your core muscles back into shape at the gym. A workout band is an effective way to boost the intensity of your workouts by helping you sweat harder. Aim to work out in some capacity at least four times a week. At this point you'll want to rotate between your workout band and an everyday waist trainer in your wardrobe.
Corseting: 4 Months and Beyond
At around four months, if you want to take your routine up a notch, it's time to consider one of our steel-boned corsets for sale. Because of the way it is constructed and its lace-up design, a corset will give you the most dramatic results. By this point you may have already lost several inches from your waistline naturally following childbirth, so you can plan on investing in a corset that will last for many months, depending on how often you wear it.
Some things to remember if you want to try corseting: first, you'll want to make sure that you have sized your corset correctly (check out this guide to learn how). Once you have the perfect corset in the perfect size, be sure you season it before tightening it all the way. This means wearing it for an hour or two for one to two weeks so that the corset can mold to your torso's shape. After that, you can lace it up tightly and see just how dramatic corseting results can be.
You can use a corset for waist training just like you would with a cincher. For the best results, we recommend wearing it daily for eight to twelve hours. You can also rotate corsets through your wardrobe along with cinchers. Some women like to use corsets for special occasions or for a particular look, while others like to use corseting exclusively for waist training.
Shapewear: Anytime!
Waist training isn't the only way to sculpt your figure and feel attractive during the postpartum period. You can use a variety of shapewear styles as well that can create a slim and smooth midsection, a firmer butt and sculpted thighs. You don't have to follow any timetable after pregnancy to get the most out of your shapewear.
You can pair shapewear with a waist trainer, or you can try wearing it whenever you're not wearing your waist trainer. For example, you might want to switch into a shaping cami after wearing a waist cincher or corset all day. A lot of new moms also love the results they get for the rest of their figure when they wear shaping leggings or butt-lifting jeans with a waist trainer. And don't forget, if you're breastfeeding you will definitely want some trendy nursing tanks on hand.
To get the most flattering results of your shapewear, it is again very important to wear shapewear that is sized correctly for your current size and shape, not your goal size and shape. While it can be tempting to use your pre-pregnancy size, the results will be uncomfortable and unflattering if it is too small. Just remember that, if you do size down, investing in some new shapewear in a smaller size can be a reward you give yourself!
Lifestyle Tips for Postpartum Waist Training and Shapewear
As always, what you wear is only part of the picture when it comes to how you look and feel. A healthy lifestyle goes a long way, especially during that postpartum period when you are going to have more demands on your time, your energy and your body.
Here are some basic tips to follow (which are helpful whether you're postpartum or not!)
Hydration: everyone should watch their water intake, but it is especially important during the postpartum period. First, your body is going through a healing process following childbirth, and adequate water will ensure that you're flushing out toxins and helping your body repair itself. Make sure you're getting at least 64 ounces daily. If you're breastfeeding you'll need even more—probably around a quart, to stay hydrated and maintain adequate milk production. Finally, if you're waist training you may want to drink even more because of the extra perspiration it causes. Drink up!
Nutrition: just as it needs water, your body also needs vital nutrients to optimize the healing process during childbirth. Stick to whole foods as much as possible and try to avoid added sugars. And while it might be tempting to track your calories so you can lose weight, try not to worry about it too much at this stage. If you're drinking adequate water, wearing a waist trainer and eating whole foods, you may find that you'll feel more satiated and the weight will come off naturally. If you're not seeing results after a few months, then you might want to watch your calorie intake a little more closely.
Exercise: follow your physician's advice; if everything is normal you should be cleared for exercise about six weeks postpartum, or perhaps a little more if you had a C-section. Start out where you left off with exercise before the birth; if you were already pretty fit, you'll find that you can get into the routine again relatively quickly. But if you're new to exercise, add it in slowly. Get a mixture of cardio, strength training and stretching and gradually increase the intensity (just like you're slowly waist training more).
Remember: it takes time for your body to return to its pre-baby figure. Be patient, stick to your routine and maintain a healthy lifestyle to see the fastest results possible