Posted by Hourglass Angel on Dec 25th 2019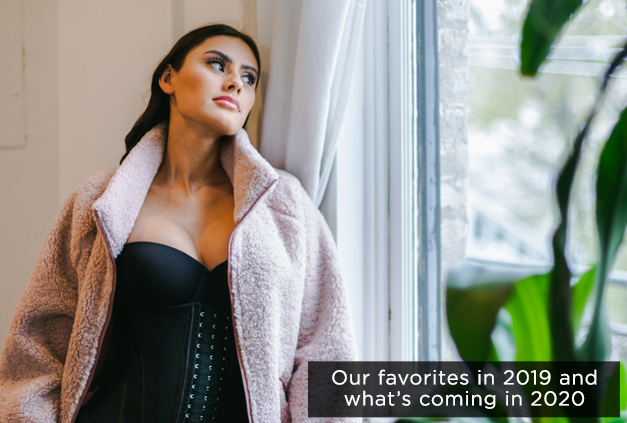 It's hard to believe that 2019 is wrapping up—and not only do we start a new year, but a new decade! We can't wait to see what the 20's bring in women's style and confidence.
We thought it would be fun to reflect on the hottest trends of 2019 and get excited for what's coming in 2020! Here are the latest additions to our curated collection of shapewear, shaping apparel and waist trainers, as well as what we're excited to reveal in 2020.
New in 2019: Bon Bon Up Butt-Lifting Jeans
We were excited to introduce a whole new line of butt-lifting jeans to our collection in 2019. Bon Bon Up is a brand we love for its leggings, and now you can get Brazilian-style shaping jeans in this brand.
This style of denim is a must-have in your wardrobe because of the effortless way it creates curves, whether you already have them or need a boost in your backside. Rounded seams and the stretchy material draw the eye to your curves so your butt will naturally look fuller and rounder.
The high cut waist in these butt-lifting jeans also tucks in your tummy so you don't have to worry about muffin top or love handles. The overall look is a slim waist and a curvy butt, or in other words, a perfect hourglass shape.
Here are the latest styles of butt-lifting jeans we currently carry (why not grab a few of them before your size runs out?)
Sweetheart Light Wash Butt-Lifting Jeans by Bon Bon Up 4302: We love the cute heart details on the front and back pockets, the casual ripped look, and the super-comfy curve-enhancing fabric of these jeans. They pair well with a variety and tops and shoes, so you can wear them casually or for a flirty night out.
Moonlight White Butt-Lifting Jeans by Bon Bon Up 4304: Think that white jeans are just for summer? Throw out the old rulebook and enjoy the figure-enhancing features of this chic white denim. Dress them up or down to fit the occasion. A cute belt is included with the jeans, adding a subtle contrast against the white fabric.
Ooh La Blue Butt-Lifting Jeans by Bon Bon Up 4308: You'll love the vintage look of these figure-enhancing jeans. Ripped legs give the light blue denim a gently worn look, perfect for casual outfits. Pocket details add interest to the rear while also helping to lift and round your butt. It also comes with a functional belt for added style.
Fab Black Butt-Lifting Jeans by Bon Bon Up 4313: The black color of these jeans matches with just about anything in your closet. Stitching detail flatters your profile and draws attention to all the right places. It's a bold, confident look that you'll want to wear every time you go out. We love the added touch of zipper accents on bottoms of the legs and flirty fringe detail.
Socialite Butt-Lifting Jeans by Bon Bon Up 4606: These bold black jeans make a statement. Slightly longer and with fewer frills than the other option for black jeans, you can pull off a sleek and confident look. It comes with a matching belt with a gold buckle for a touch of detail. They're flattering on a variety of body types, delivering results for anyone who wants bolder curves.
Brilliant Blue Butt-Lifting Jeans by Bon Bon Up 4607: Turn heads in this brilliant blue denim that draws attention to all the right places for a flattering look. The legs taper downward in a close-fitting design that makes your thighs look smooth. Dress them up for a night out or keep it casual; the color is versatile and complements many colors and fabrics.
Perk Up Butt-Lifting Jeans by Bon Bon Up 4613: Every detail on this stretchy denim is designed to give you a fuller, perkier booty. The dark wash is easy to pair with both casual and dressy outfits. The waistline features wide belt hoops and Bon Bon Up's signature 3-button closure. This is a must-have skinny jean for your wardrobe!
Shaping Styles Coming Soon: More Options for Your Workouts
Our workout waist trainers are some of our hottest items, which is why we wanted to give you even more options. After receiving such great feedback about our Hourglass Angel brand waist trainers, we decided to create more styles with similar features.
Here's a sneak peek into two of our latest developments, coming in 2020!
Zipper and Velcro closures: Do you love the fit and the benefits of our Best Waist Trainer by Hourglass Angel HA102? We decided to enhance this style, especially made with plus sizes in mind. Our new workout band will have some of the best features the HA102, including a high compression latex core, a cotton-spandex lining to absorb moisture and flexible steel boning for maximum shaping power.
Take all of that—and add a Velcro and zipper closure, so you can get your waist trainer on in mere seconds. This is the ideal waist trainer for the busy woman who is serious about working out!
Hip control: Do you love the way a waist trainer slims your waist but wish it would do more for your hips? Your wish is coming true!
Once again, we're taking the best features of our popular HA102 workout waist trainer and making it even better for women who want hip control. Once again, we use a powerful latex core, comfortable lining and flexible steel boning for maximum results. But our newest waist trainer will use an expanded bottom for additional coverage. Soon you can confidently cover your lower abdomen and hips while getting in a great workout.
Don't miss these latest additions to our collection when they're revealed! Sign up for our newsletter and you'll know when they're available, in addition to the fabulous offers we already give to our email subscribers. As always, ask our expert stylists if you have any questions or need recommendations.