Posted by Hourglass Angel on Aug 1st 2018
Beauty comes in all shapes and sizes, and that's why plus-size model Ashley Graham makes headlines. She knows how to embrace her body exactly how it is, while enhancing her gorgeous curves and highlighting an hourglass shape.
Curvy women like Ashley naturally embrace shapewear—not because they want to be thin, but because they want to smooth and enhance their best assets.
Ashley loves Squeem, one of our favorite shapewear brands for curvy women. Here are her tips for getting the most out of your shapewear and style so you can rock those hourglass curves on any occasion.
All Great Outfits Start with the Foundation
According to an interview Ashley did with Glamour magazine, your looks starts from your undergarments: "Find the perfect bra to create the perfect silhouette. My motto is it starts with the bra. Plus, you can show your lingerie off underneath your clothes—it will make you feel all kinds of sexy."
Once you have the perfect bra to provide the support you need, you have a whole host of shapewear options. Squeem offers several styles beneath the bust that smooth your waistline, enhance your bust and provide additional support. This makes it easy to mix and match with your bra.
Once you've got a smooth foundation of bra and shapewear, your outfits are going to slide on beautifully, the way they would over a mannequin at the store.
Go for Balance
Play up your best features and then balance them out. If you have a full bust, don't hesitate to flaunt it! But don't neglect your lower half; wear form-fitting bottoms like butt-lifting jeans that show off your rear.
If you're more of a pear shape and want to minimize your hips, wear a full pant or skirt paired with a short or tight top that emphasizes your bust and shoulders. Ashley also recommends going outside your comfort zone to achieve that balanced look. Experiment with different cuts and styles. She recommends flared jeans, or crop tops paired with high-waist pants.
Define Your Waistline
Ashley says, "Creating a waist is key on any body shape." Your waist is the key to creating that hourglass look in any size.
There are several ways you can play up your waistline. Wearing a waist cincher or corset is one of our favorites, and Squeem is a great brand to try if you have full curves.
The outfits you choose also make a big difference when it comes to highlighting your waist. Garments that drape across the body like Ashley's stunning dress effectively draw the eye inward at the natural waist:
In general, you won't go wrong choosing tops and dresses that are nipped at the waist. When possible, talk to a tailor to get a custom fit.
We'll talk more about belts below, which are a frequent must-wear, but don't let them completely define your style. Ashley describes how to get creative in Glamour: "I like baggy clothes. Curvy girls can look great in looser-fitting clothes; you don't always have to wear body-con. The trick is that if I'm wearing a baggy top and bottom, the top is short. If it hits around your belly button or slightly above, you create the illusion of a natural waist with the clothing."
Cinch up with Belts and Corsets
One of Ashley's signature looks is a cinched waist using a corset or belt over a dress. Here are several ways she styles this look:
Belt with long, loose flowing dress and jacket: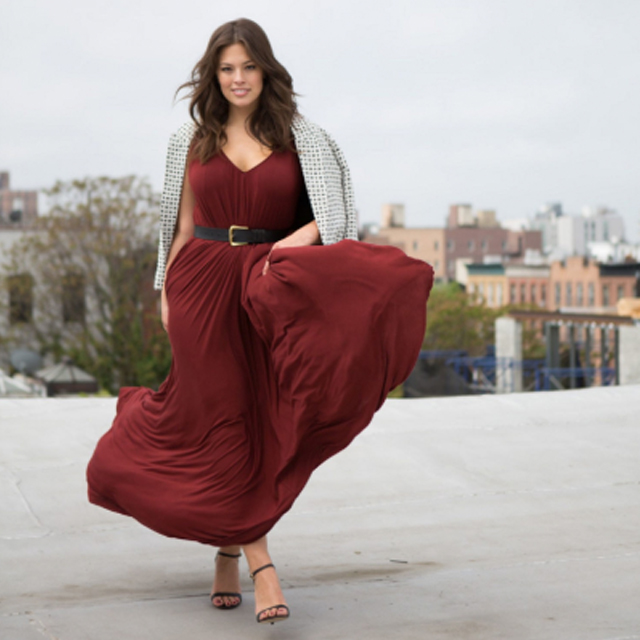 Satin midi dress with short lace-up corset: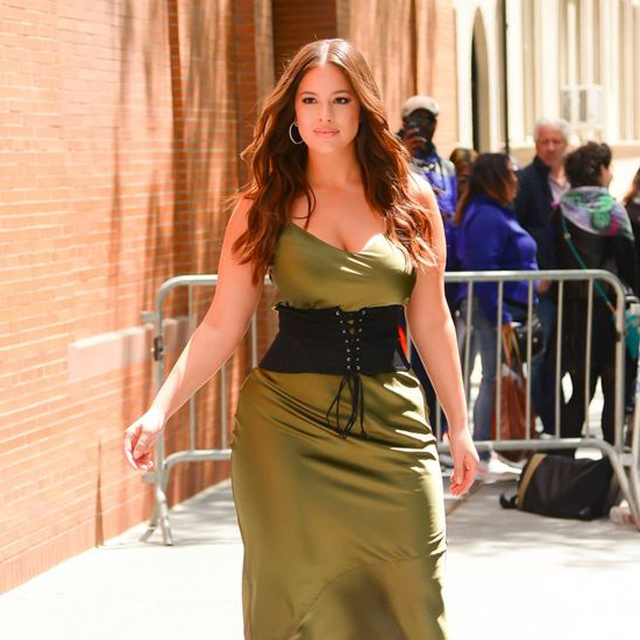 Corset with knee-length sweater dress: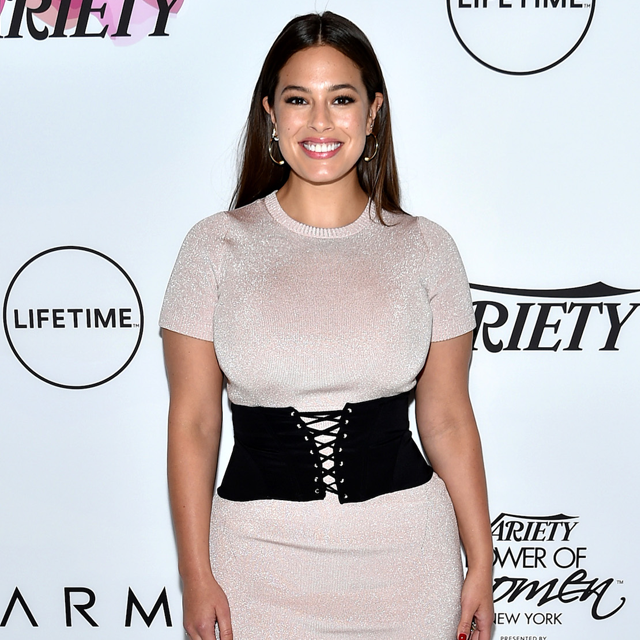 Black corset layered with neutral dress and long cami: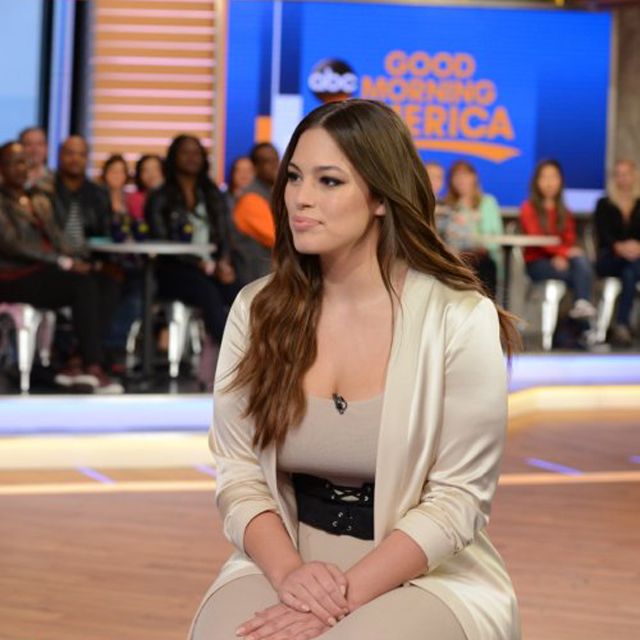 Break the Plus-Size Style Rules
To look as stunning as Ashley, you might have to break some style rules. So be bold and try new things, such as:
Showing off your lingerie: Ashley is not shy when it comes to sheer fabrics. Use sexy shapewear underneath and a corset over the top. Ashley completes her look with a long satin robe and a corset. Notice that the whole look is white-on-white!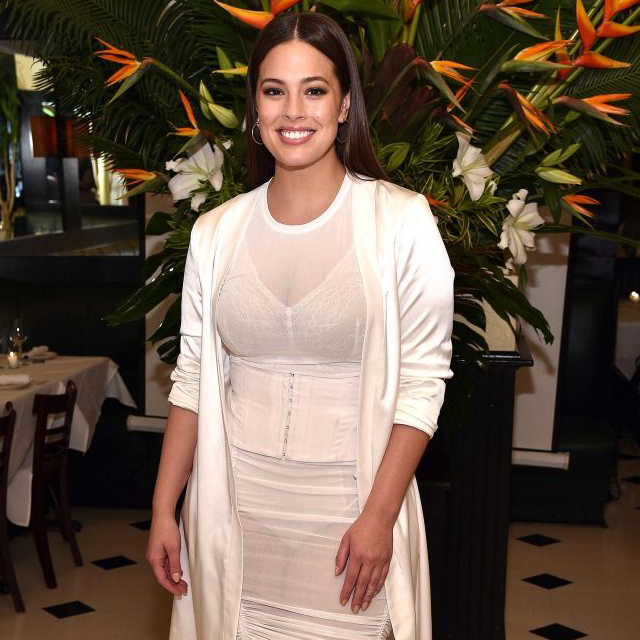 Here's another look Ashley puts together with her Squeem waist cincher and a sheer dress to create bold curves: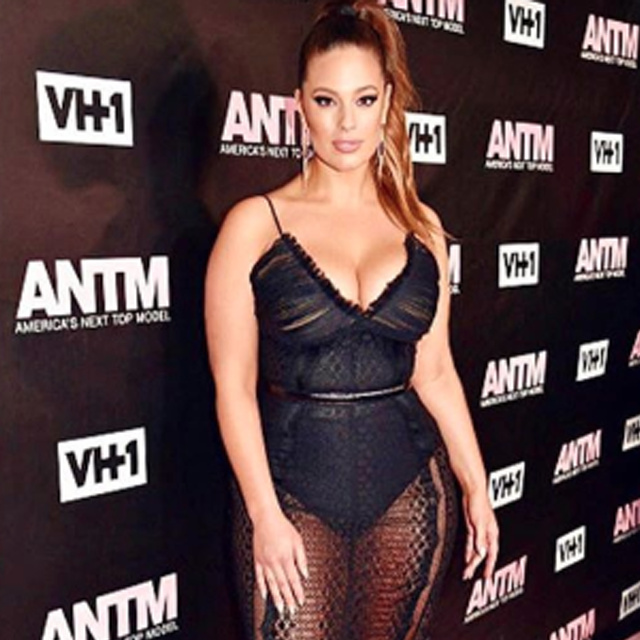 Not worrying about cellulite: Everyone's got it, so don't be ashamed about showing some skin. It's part of the deal with gorgeous curves, and if Ashley can do it confidently, so can you.
If you're covering up your arms, show off your legs! And vice versa.
Mix and Match Your Shapewear
If you're stuck between the impossible dilemma of Squeem vs. Spanx, why not try both? Like other quality shapewear brands, each is known for its own strengths, and they can compliment each other quite well.
Squeem is best-known for its waist cinchers, so you if you want a dramatic slimming of your midsection, it's going to be your best bet. Spanx are best known for shaping your hips and thighs while tucking in your lower abdomen. So you can get the best of both worlds by pairing a Squeem waist cincher with a pair of Spanx panties or shorts.
Remember that different people have different preferences when it comes to the weight of a garment, compression and shaping power. Experiment with different fabrics and styles until you find your perfect shapewear match. We recommend having several pieces you can rotate through your wardrobe based on your styling needs for the day.
Ashley keeps a variety of shapewear ready so that she can dress for whatever the occasion demands. Here's what she said in an interview with E! News: "I have a big white couch that carries all of my bras and all of my shapewear. I've got about four different Spanx and four different bras that I go through. I've got one with a deep-V, one that's strapless. Really, the trick that I have is to have multiples of different materials, lengths and heights on the tummy, because you never really know what your outfit is going to be."
Go for What Makes You Comfortable
One of Ashley's main criteria for lingerie and shapewear is that it is wearable and comfortable. We don't blame her—if you spent hours on the red carpet or the runway, you'd want to be comfortable too!
To be the most comfortable, choose fabrics that feel good to you, which can vary from person to person. Some women don't mind stretchy compression fabrics like spandex, while others would much prefer the breathability of cotton. Some like the support they get from a maximum compression waist trainer, while others prefer the flexibility of shaping camis or shaping panties instead.
What you wear in the winter might be completely different than what you wear in the summer. Having a versatile collection of shapewear can help you dress comfortably and stylishly throughout the year.
The Sky Is the Limit with Your Shopping Choices
If you are accustomed to dressing in plus sizes, you may have the misconception that you can't shop at certain stores. But as the fashion industry has been shifting to carry more options in plus sizes, don't be afraid to try stores and brands that you may have thought were off limits.
Ashley loves to explore the shopping space, according to her interview in Glamour: "Sometimes it's just about looking everywhere—from T.J.Maxx to Nordstrom to Addition Elle and anywhere in between." As you get to know your options, take note of the brands that are cut well for your unique figure. And don't forget, the sky is the limit when you shop online.
If you want to be like Ashley, then to have fun when you shop! You have nothing to be ashamed of; if something doesn't fit, try something else. Bring along a friend on shopping trips so you can feel great about whatever you buy.
Love Your Body the Way It Is
"I'm just fighting a fight for the women who don't want to be placed apart from other women because of the size of their hips," Ashley said in her interview with E! News about body positivity. While she personally doesn't love the label "plus-size," she does use it because some women like to be associated with it proudly.
While it's always good to be conscious about your health, you don't have to wear a certain size or weight a certain amount to love your body and be confident about what you look like. Ashley is passionate about spreading the message of self-love. Realistic proportions, cellulite, back fat and all, are something that kids need to see and not be ashamed of. "This generation can see someone with a body like theirs and feel comfortable in their skin."
This is great advice to remember whenever you're trying out shapewear and new styles. The goal isn't to be someone you're not; it's to enhance what you have and embrace all of it.