Posted by Hourglass Angel on May 5th 2020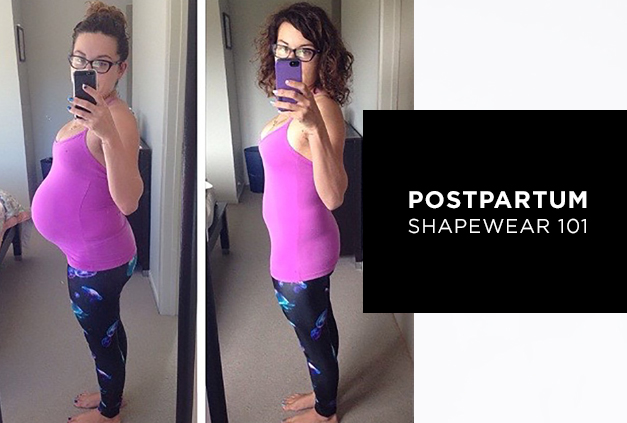 During the postpartum period, many new moms are eager to get their bodies back into their pre-pregnancy shape. It's a delicate period that requires patience. Your muscle tone takes time to rebuild, and most people's skin doesn't snap back into place overnight. What's more, you have a new baby to take care of and need lots of rest to recover from childbirth!
But that doesn't mean you can't feel great in your postpartum body. You can use shapewear to enhance your beautiful post-baby body, so you can continue to love the skin you're in.
Not all shapewear is made the same, and there are special considerations during the postpartum period. That's why we've compiled the best shapewear to wear after giving birth. Use these styles to build your confidence as your body regains its strength and tone naturally.
Special Considerations for Postpartum Shapewear
Throughout a 40-week pregnancy, your body goes through some significant changes. Not only does your abdomen expand, but your whole body can take on a whole new shape as it stores extra fluid and fat in order to sustain a growing baby. If you're like most women, you're probably carrying some extra pounds in your hips, belly and breasts after having a baby.
You also retain a lot more water than normal. You'll shed a lot of this in the first few weeks postpartum. For many women, the first ten pounds is easiest to lose after childbirth because it's primarily fluid. After that, progress is slower.
Ligaments, muscles and skin stretch significantly during pregnancy. For most people, they don't snap back into place right away. But you can aid in restoring them to their pre-pregnancy state with techniques like compression, nutrition, gentle strength training and adequate hydration.
So how do these factors affect your choices in shapewear? Consider this:
Compression is your friend during the postpartum period. It aids your body's recovery by encouraging it to flush out fluids. It also provides support for your weak, stretched-stretched out muscles, ligaments and skin.
Don't worry about what your pre-pregnancy size was as much as addressing your current needs. If you gained a lot of weight in a certain area, choose shapewear that focuses on supporting that area.
Choose shapewear that is flexible and comfortable. Your body will be going through a lot of change in the coming weeks and months, and you'll want garments that can accommodate your figure as it adjusts.
Embrace your curves as they are during the postpartum stage. If your breasts or hips are fuller right now, give them proper support and show them off.
Wear shapewear that helps you feel beautiful and confident now! You don't have to wait to feel sexy again, and shapewear isn't "cheating." Remember, you're enhancing what you have, not just concealing what you don't like.
Here are some of our favorite postpartum garments that you can wear in the first few months following pregnancy and beyond.
High Waist Panty Shaper
You're going to be wearing panties anyway, so why not wear a panty that keeps your figure in check? Pregnancy does a number on your tummy, even if you're slim and fit beforehand. Shaping panties can be your best friend during the postpartum period because they support your abdomen while it shrinks down and tones up.
The High Waist Panty Shaper with Booty Lift by Leonisa 022239 is one of our favorite postpartum panty shapers because it does double duty; not only will it keep your tummy in check, but it also lifts your rear. Unlike other control panties that compress the rear, this design features curved seams and specially gathered elastic in the bottom area of the shaper, creating a natural rear rounding effect. The result is a rounded shapely bottom without the addition of padding.
A high rise waist also shapes your entire midsection, completely eliminating muffin top and keeping that postpartum pooch in check. Soft front boning prevents the garment from rolling down or slipping. You might want to keep several of these rotating through your wardrobe!
Butt-Lifting Shaper
If you find that your backside is sagging a bit following your pregnancy, you'll want a shaper that focuses special attention on that area. Don't worry about a little extra weight; use it to your advantage and perk it up a bit.
The Best-Selling Contour Body Shaper by Leonisa 018678 is a great option if you want some targeted control for your butt and hips, along with compression around the waist. This minimizer bodysuit ends above the thigh, tames the tummy and trims the hips while controlling the lower abdominal area. Two stretch panels firm your butt into a beautiful shape.
Busy new moms will also appreciate the ease with which you can get in and out of this garment with the front zipper closure. It also comes with adjustable straps and a high back, so you can get adjustable coverage and support. And with its open bust design, you can pair it with your favorite postpartum bra, for customized support.
Compression Bodysuit
Sometimes you have to pull out all of the stops. If you have a special event like a wedding during the postpartum period, you can wow everyone with your post-baby curves. An all-over compression shaper will provide sculpting and support from your bust to your thighs so you can look stunning in formal attire.
The Amazing Shape Open-Bust Mid-Thigh Compression Bodysuit by Leonisa 018688 is just that: amazing. New moms will appreciate that it balances comfort with control. This shaper slims and smooths the midsection, butt and thighs with superb support for the bust.
The front zipper is lined for comfort and makes getting into and out of the garment a breeze. Wide straps finish in a high back, both eliminating bra bulge and providing support. The interior of the shaper is lined with soft breathable microfiber. An optional adjustable strap crosses the chest providing support and stability. And of course, the open bust design makes it very accessible for nursing moms.
Slimming Gel
Aside from shapewear, another shape-enhancing product you might want during the postpartum period is a moisturizing gel that can firm up the appearance of your skin. This part of your body deserves some extra special love after all it's been through!
The Amp Your Curves Waist Training Gel is just the thing stretched-out skin loves. You can wear it under any compression shapewear to enhance your experience. This slimming gel targets toxins and fat deposits around the waist, hips, and thighs with powerful, clinically proven body contouring ingredients.
With regular use, this gel hydrates and smoothes skin and can reduce the appearance of cellulite, while restoring the appearance of firmness and elasticity. It is all-natural and contains no synthetic fragrances, parabens, petrochemicals, phthalates or sulfates, which is just what a new mom wants to hear.
Additional Tips to Enhance Your Postpartum Shaping Experience
The postpartum period is a unique time of transition. Enjoy your baby and appreciate all that your body has gone through to bring them into the world! You can also love your body by giving it the attention it deserves and embracing your curves at every stage.
Wearing shapewear is an important way to boost your confidence and love every stage you're in. Here are some other ways to enhance your postpartum recovery and firm up your figure:
Hydration: While your body retains a lot of water in the first few weeks postpartum, it's important to replenish it as it flushes out. Stay away from sweet drinks and caffeine as much as possible and get as much water as you can. This benefits your whole body, including your skin and your hair. It will also aid in weight loss.
Nutrition: This is another huge piece in your recovery! It's not the time to go on a new diet; rather, fuel your body with lots of fruits and vegetables, healthy fats, protein and whole grains. These will aid your recovery, and if you stay in the habit, you will be better equipped to build muscle and eliminate excess fat.
Exercise: Under the guidance of your healthcare provider, slowly introduce exercise back into your daily routine. You'll want to focus on exercise that restores your pelvic floor and abdominal strength. Work up your cardiovascular endurance. Over time, you'll be able to increase the intensity of your exercise so that you can burn fat and build lean muscle.
Rest: It's difficult with a newborn, but your sleep, along with time for your mental/emotional health, can play a huge part in your recovery. Team up with your partner and other loved ones so you can get the recovery time you need to feel your best.
We hope you find these tips for postpartum shapewear long with lifestyle tips helpful in your recovery! If you need more guidance, reach out to our expert stylists and we'd be happy to make shapewear recommendations that are best suited for your needs. Be sure to share your postpartum progress with us on social media! @Hourglassangel #BeTheHourglass