Posted by by hourglass angel on May 8th 2018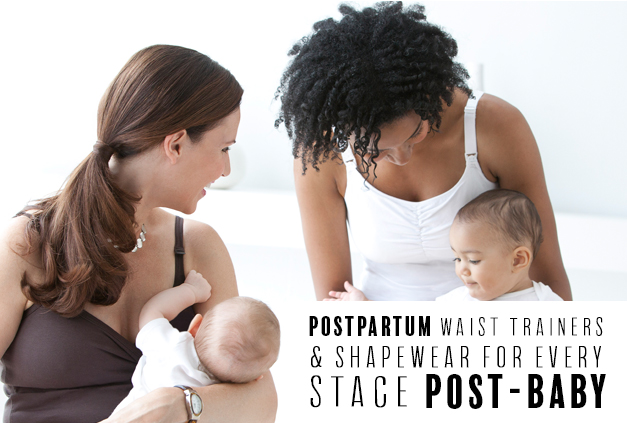 The female body goes through incredible and beautiful changes during pregnancy and childbirth. Did you know that compression waist trainers and shapewear can play a role in your post-baby slim-down?
What shapers will be most effective depends on what stage postpartum you are in, but there is something for every stage from day 1 and beyond.
What is Waist Training?
Waist training is the process of using a high-compression waist trainer or corset to create the appearance of a slimmer midsection. When worn daily, a waist trainer—along with proper diet and exercise—can help you stay motivated and confident on your waist-slimming journey. For a postpartum mom, a waist trainer provides compression for whatever stage you are at.
For it to be most effective as a lifestyle choice, waist training should be done consistently. In order to achieve the best results, we recommend wearing a waist trainer every day for at least eight hours a day—although it takes some time to work up to this amount.
Waist trainers can also be worn for your workout routines or simply whenever you want to look your best. These garments will instantly slim up to several inches and will help your midsection look firm and flat. Plus, many styles are designed to stimulate heat in your core, maximizing your workouts.
How Waist Training Works
There are several ways that waist training works, during the postpartum period and beyond. The main feature of a waist trainer is firm compression around the midsection. Depending on the style, our quality waist trainers can be fastened with hook-and-eye closures, Velcro or zippers and they stay firmly in place.
The main thing that this ongoing compression does is stimulate heat in your core. This in turn increases blood flow and causes more perspiration. During the immediate weeks following childbirth, this can aid your body's natural recovery as your abdomen is reducing its swelling and flushing out excess fluid.
As time goes on, waist training will continue to help you have good posture (the compression helps you keep your back straighter), perspire around your midsection and hold in your tummy. Combined with physical activity, adequate hydration and a nutritious diet, a waist training regimen can help you stay motivated and confident as you work towards slimming down after childbirth.
Waist Training Benefits
There are several benefits of using a waist trainer postpartum, including:
- Post-delivery recovery: Women have used compression in the form of "belly-binding" for postpartum recovery around the world for centuries. Compression provides thermal stimulation and can ease swelling so that your body can recover quickly and naturally.
- Comfort: After childbirth, much of your torso is going to feel a bit out of place and stretched out, including your abdominal muscles. If you're breastfeeding, you will probably be a couple of cup sizes bigger than you're used to, and for all of these reasons you might have new strain on your shoulders or back. A waist trainer can encourage you to sit straighter and avoid the posture mistakes that cause you discomfort.
- Posture support: After childbirth, your core will naturally be a lot weaker because the muscles have been stretched out, which can cause you to have poor posture and experience back pain. By using compression around your midsection, you'll sit and stand with better posture and won't be putting pressure on your lower back. Compression also helps you keep your core tight. Be sure you're doing regular core-strengthening exercises (once you have the go-ahead from your physician), which will encourages proper healing.
- Confidence and self-esteem: It's normal to feel insecure as a new mom because of all of the changes your body has gone through. While we believe that a body that has undergone pregnancy and childbirth is beautiful just as it is, a waist trainer and other shapewear can help you regain your confidence during that postpartum period. Your emotional health is an important part of being a great mom, so it's worth taking the effort to look and feel great. Plus, shapewear that fits well and flatters your figure can help you stay motivated to follow through with your health and fitness goals.
Safety Concerns
Since waist trainers and other styles of shapewear provide very firm compression, some people question whether the practice of waist training is safe, especially during the delicate postpartum period.
The key to safety during waist training is to only use garments that fit and to listen to your body's signals. Our custom size charts are unique to each garment. Be sure to take measurements whenever you want to order a new waist trainer and select a size based on your measurement. If you're in between sizes, always go a size up (remember that waist trainers can be adjusted for a snugger fit).
If you want to follow a waist training regimen, ease your way into it gradually rather than wearing a new waist trainer around the clock.
You should never feel any pain or restrictions of your breathing. These are signs that your garment doesn't fit. If you've been wearing your waist trainer for a few hours and are uncomfortable from the compression, take a break.
If you have any concerns about postpartum waist training and how it might affect you personally, discuss them with your physician.
How to Get Started
When you get started with a waist training regimen will depend on how quickly your body recovers from childbirth. If your belly is very swollen you may want to start out with a postpartum belly binder rather than a regular waist trainer; otherwise you may size out of it very quickly as your body discharges extra fluid in the early days and weeks.
Once you're ready, you'll want to start out gradually with your waist trainer. Start with no more than an hour a day and then slowly add a half hour to an hour each day. After 2–3 weeks, you should feel comfortable wearing your waist trainer daily for at least 8 hours.
We also recommend wearing a workout band as you gently re-introduce exercise into your routine. This can be a great way to intensify your workouts without doing anything too rigorous as you recover.
Some great styles to get started with a postpartum waist training routine include the Classic Waist Cincher by Amia A102 and the Waist Trainer Corset Vest by Amia A103. The vest style provides more coverage for the back and support for the bust. For extra firm hold we also recommend the Waist Training Double Layer with Zipper by Vedette 940.
After a few months of waist training, if you want to get even more dramatic, you may want to introduce a steel-boned corset into your waist training routine.
What to Expect
If you're new to waist training, it can be an adjustment to get used to. Your garment will feel very tight and even slightly restrictive at first, which is why we suggest a gradual introduction. Some people are also surprised at how much a waist trainer makes them sweat, especially during workouts. But remember this firm compression is what will provide instant slimming, posture support and the results you want.
Many people find that the more they wear a waist trainer, the more they enjoy it. We recommend tracking your progress regularly through photos and waist measurements, so you'll stay motivated and see how far you've come.
Results
Remember that your body took nine months to grow and stretch, so returning to your pre-baby figure will take time.
Waist training results can vary widely depending on a variety of factors, including your goals, your dedication to the practice, your genetics and your lifestyle. Waist training alone isn't a good strategy for weight loss. But it's absolutely effective when used as a supplement to your other slim-down methods, like healthy eating and exercise.
If you're not making big adjustments to your lifestyle and simply want to tone up, you won't see as dramatic of a change, but with dedication you'll still see progress.
You may wonder how long it will take before you start noticing results. If you want to get inspired, check out our before and after stories from real customers just like you. Several of these women have used waist trainers as part of their method for losing their baby belly and toning up their midsections.
We also recommend that you check out the customer reviews on any waist trainer you'd like to try. The more specific the review is regarding the person's size, shape and lifestyle practices, the more accurate of a picture you'll get of what your results might be.
Lastly, if you have any more questions about what your postpartum waist training plan should look like, please contact our team of expert stylists, who would love to help you out!