Posted by by hourglass angel on Apr 17th 2018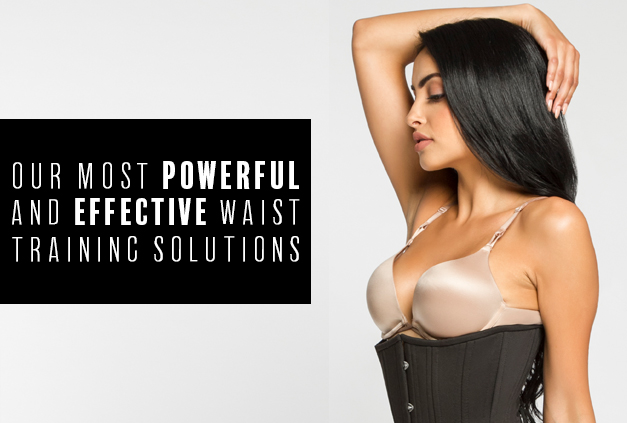 If you're serious about waist training, you'll want to know the most effective techniques and the most powerful garments available to give you the best results. And hands down, every woman dedicated to waist training must find a steel-boned corset for sale.
There's some confusion out there about the difference between latex waist trainers and corsets, so we'd like to clarify the benefits of corseting versus other kinds of waist training and show how to get the most out of your corseting experience.
What Makes Corsets Different
Corsets are different from latex waist trainers in several ways.
First, while both styles of garments slim the midsection and create an hourglass shape using compression, corsets are constructed differently. Waist trainers with latex and hook-and-eye or Velcro closures use latex and either plastic or boning to help stimulate heat in your core to stimulate perspiration. They fasten in the front of the body and can be sized by either closing them on the next row of hooks or by pulling the Velcro tighter.
Steel-boned corsets, on the other hand, are not made with latex and are tightened by pulling the laces at the back of the garment. Steel boning reinforces the slimming throughout the midsection. Corsets are generally sturdier and will last longer than latex waist trainers, and can be customized to the tightest fit each time you put them on.
While both styles are effective for waist training, corsets will provide more dramatic results because of the laces. While a latex waist trainer can generally provide up to 3 inches of slimming, a corset can potentially slim by even more.
Corsets can also be more breathable than latex waist trainers, depending on the material they are constructed with. So while they provide a tighter fit, you might find them more comfortable for all-day wear.
Which is better? It depends on your shaping needs. We actually recommend having both in your wardrobe (latex waist trainers for working out, for example). But a steel-boned corset will ultimately get you the most powerful slimming results.
Getting Started with Corseting
Just as with any style of waist trainer, getting into a regular regimen with corseting takes some time to work up to.
When you first receive your corset, you need to wear it loosely for an hour or so at a time for at least a week, until the corset has been seasoned, or broken in. It is similar to breaking in a new pair of shoes. Once it has been seasoned, your corset should fit snugly to your unique curves like a glove and you can tighten it firmly.
Putting a corset on is somewhat tricky at first, but with practice it will become as natural as tying your shoe. Step into your corset and gradually tighten the laces by working your way from the top and bottom towards the middle of the garment. It is similar to tightening shoelaces, as you pull one row at a time to get the laces tight. Tie off in the middle when you've achieved the desired tightness of the laces.
When you start wearing your corset with laces fully tightened, start out by wearing it an hour a day and then gradually increase your wear. After a couple of weeks you should feel comfortable wearing it at least 8 hours a day. Wear it daily as a part of a healthy lifestyle routine that slims your waist.
We love the versatility of corsets. They work beautifully as undergarments and can dramatically enhance your figure under everything from everyday attire to formal gowns. But they can also be styled as outerwear, which makes them twice as fun! Layer your corset over thin tops for some more daring styles. You can also use corsets as part of a burlesque costume or even as lingerie. Pair an underbust style with a flirty bra and you have a look that's to-die for.
Our Favorite Corsets
We've found that many corsets that are available on the market can be expensive for the average person, which is why we are determined to offer high-quality corsets at an affordable price. These pieces are excellent options for whatever occasion corseting is called for.
Underbust Waspie Mesh Corset By Hourglass Angel HA201
This sexy little garment packs a powerful punch when it comes to creating a slim waist, but it's also breathable and comfortable under other layers. Don't let the lightweight look fool you; the steel boning and lace-up back keeps your midsection in check even while the mesh lets you show off some skin. This is the perfect solution under form-fitting skirts, dresses and tops. It also lifts the bust, so pair it with your favorite bra for an enhanced look. With its shorter cut, you may also prefer this style if you have a short torso.
Underbust Cotton Corset By Hourglass Angel HA202
This waist-slimming corset is powerful yet comfortable with its soft and breathable cotton construction. It is an ideal undergarment that provides slimming and coverage with a classic underbust design curving beneath the bust and ending above the hips. It contains waist tape to keep it firmly in place at your waistline along with the other classic corset features: secure front closures, 14 pieces of flat steel boning, and sturdy laces that pull tight in the back. The effect is a flawless hourglass waist, which enhances virtually any outfit.
Underbust Mesh Corset By Hourglass Angel HA206
Get a flirtier, airier version of our cotton corset with this mesh corset that lets air circulate to your skin. This is longer than the waspie corset and provides full coverage, from beneath the bust to just over the hips. This beautiful garment is comfortable, affordable and stays in place while providing maximum slimming results that only a steel-boned corset can provide. Wear it under casual or formal attire for a stunning, flawless silhouette.