Posted by by hourglass angel on Jun 12th 2018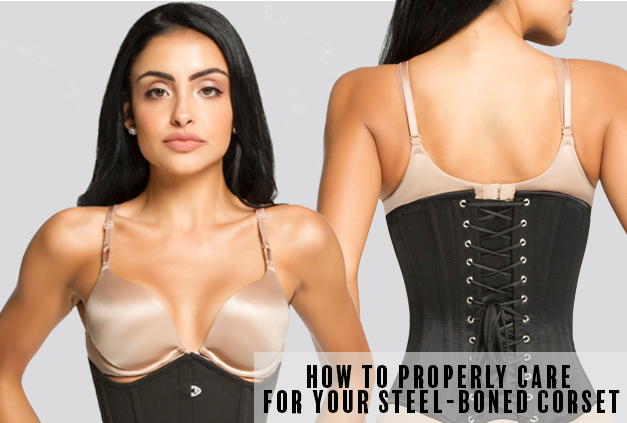 Steel-boned corsets are some of the most durable types of shapewear you can own. But you have to make sure you're taking good care of them.
Most other shapers provide compression through synthetic materials like latex and other blends. Traditional corsets are different because they are constructed with flexible steel strips called boning and are tightened with laces. The synthetic compression materials tend to naturally lose their elasticity over time, but that won't happen with steel boning.
Having said that, it is very important for you to take proper care of your corset so that it won't warp or break. If you treat your corset with the appropriate care measures, you'll enjoy its benefits for many benefits.
Starting Out: Seasoning
One of the most important things you can do to preserve your corset for long-term use is to start it out right. It is very important to go through a process called "seasoning" to break in your corset for a couple of weeks before you tighten it fully and wear it for more than a couple of hours.
This process is important because it helps the materials mold to your unique shape. If you pull the laces tight too soon, you risk permanently damaging the corset. If you planning on wearing the corset for a special event, be sure to give yourself adequate time to break it in.
Start out by wearing the corset snugly but not tight for the first three days, for no more than two hours at a time. You should be able to slip your fingers underneath. Then you can add an hour every three days. By the end of about two weeks, the corset should fit your torso like a glove. At this point you can pull the laces tight.
Check out this post on corset seasoning for more details about the process.
Care During Use
Whether you wear your corset daily or just take it out occasionally, keep in mind a few tips to make it last:
Always make sure that you fully loosen the laces before you put the corset on and take it off. If the laces are too tight when you're trying to get in or out, you risk warping the busks in the front.
Wear a cami or other light-weight top underneath your corset to protect it from lotions and your skin's oils.
Store your corset over a hanger in your closet, away from light (after it has aired out—see below). Always make sure it is dry before you hang it. If you're storing it for more than a day or two, you can put a plastic bag to protect it from dust and moisture.
Cleaning Your Corset
Just like most lingerie and undergarments, corsets need special attention when being cleaned. Never put your corset in the washing machine! Here's what to do instead:
Air out your corset after you wear it. Since compression stimulates perspiration, it may be wet. Drape it over a hanger or chair and let it get some air. Once it is dry you can store it in a closet, but if you plan on wearing it the next day, this step probably isn't necessary. Do not do this outside, as sunlight can damage your corset.
Spot clean if necessary. Use a mild detergent and a wet rag or sponge.
If you'd like to freshen it up, use a spray-on fabric freshener on the inside lining only. Then hang to dry.
From time to time you may need to take your corset to a dry cleaner.
Lacing
The laces on a high-quality corset are very sturdy and should last for most if not all of the life of the corset with proper care. However, if they do break, they can be replaced.
If you do need to re-lace your corset, it can be helpful to take a picture of the original lacing so you can have a model to work from. The most important thing to remember is to make "X's" from one end to the other, and to leave long loops in the middle of the back so that you'll be able to tie off the laces at the waist.
Rotating Corsets
One way recommend to extend the life of your corset is to rotate it through your wardrobe with other corsets and waist trainers. You'll probably find it practical to have several waist trainers of different styles for different occasions. For example, if you want to waist train while working out, always use a workout band rather than a steel-boned lace-up corset. Otherwise you risk damaging your corset, which is not designed for use during exercise.
Rotating corsets is also a helpful strategy if you always want to have a corset that is clean, dry and ready to wear.
How to Know Your Corset's Life Has Ended
If you wear a corset regularly, it will eventually reach the end of its useful life. It should be fairly evident when it's time:
It doesn't fit right: over time, the corset may adjust—and so might your own body! If the corset just isn't providing the compression it used to or seems to warp in places it shouldn't, it's time for a replacement.
It's worn out or broken: you'll know it's time for a new corset when any of its components break, come loose or warp. This includes the steel boning, the busks in front, the grommets in back, or parts of the bodice that start to fray. If the laces break, they can be replaced; otherwise you'll have to replace the whole garment.
When you order a new corset, be sure you take new waist measurements and follow our sizing charts precisely, in case your waistline has changed. And of course, be sure to season your new corset properly before lacing it tight.