Posted by hourglass angel on May 30th 2018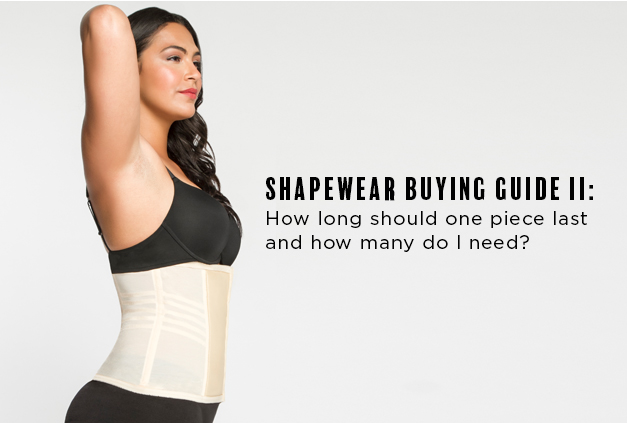 Once you try shapewear, you will quickly wonder how your wardrobe ever did without it! And the more variety you have, the more you're able to love the way you look and feel sexy and confident every day, no matter what you're wearing.
As you're building a shapewear collection, you may wonder what kind of shelf life these garments have, as well as how many you can reasonably expect to own in order to have everything you need. Here's what you need to know.
How Long One Piece Should Last
Let's start by discussing the life span of your shapewear.
While shapers are very strong in one way—specifically, their ability to sculpt and shape your figure—they are also quite delicate and must be treated with care in order to last (more on shapewear care below).
How long your shapewear lasts, aside from how well you care for it, depends on how often you wear it, what you use it for, and what type of garment it is. For example, if you buy a garment that you only intend to wear a couple of times a year for special occasions, you may potentially have it in your closet for several years. If, on the other hand, you have something like a workout band that you use almost every day while sweating hard and moving vigorously, it's obviously going to wear down much more quickly.
In general, if you're wearing a shaper nearly every day, it is going to last a few months. If you use it less frequently, like once a week or less, you can expect its shelf life to last a year a more.
The best way to tell whether it's time to replace your shaping garment is simply testing if it's still working for you. It should hug your figure firmly and sculpt your silhouette in a way that is flattering and confidence building. If, over time, you find that the materials are losing their elasticity and shaping power, it may be time to replace your shaper. You may also find that over time, your body itself changes. If the shaper just doesn't fit the way it used to, it's time for a new one.
How to Keep Your Garments Looking and Working Like New
Proper care of your shaping garments is essential to making them last. Here are a few musts when it comes to washing, wearing and storing your shapewear:
Only wash as needed: We recommend wearing a shaper at least of couple of times before you wash it, because each time you wash it, it wears out the fabric a little bit. Unless it's stained or smelly, hold off on the wash (the obvious exception being shaping panties).
Watch the latex: While this is a powerful shaping material, it is also quite delicate. Latex garments should be hand-washed in a bucket of warm water with a very mild shampoo—try baby shampoo! Rinse your garment well and hang it dry, but don't wring. Finally, do not let it dry in direct sunlight.
Be gentle with non-latex garments: you can wash this in a machine washer with lingerie detergent. Make sure that it doesn't have any dyes, fragrances, alcohol, softeners or bleach. Run on a gentle cycle with cold water, or do it in a bucket of cold water. Lay flat or hang to dry.
Store with care: In order for your shapewear to maintain its shape, lay it flat in a drawer and make sure it isn't exposed to light. If it hangs well, use clothes pins or lingerie hangers. Waist trainers can be hung over a velvet hanger.
How Many Pieces of Shapewear You Need
Rotating several pieces of shapewear through your wardrobe will ensure that your figure is ready to dress for any occasion. Which types of shapers you prefer to have in your personal collection will depend on what your shaping needs are, your target areas and the way you dress.
For workouts: We hope that you exercise regularly and feel great in your activewear.
We recommend having:
1 workout band, to optimize your workouts and increase perspiration
A combination of 2 or more shaping leggings or toning shorts.
Any additional compression apparel you prefer like tops and additional bottoms.

For casual wear: Even when you're dressed down you can look your best. We recommend having:
1–2 waist trainers or corsets
2 or more shaping camis
2 or more pairs of butt-lifting jeans (pair with a waist trainer or shaping cami!)
Several pairs of shaping panties (depending on how often you like to wear them)
2 or more pairs of shaping leggings (pair with a waist trainer or shaping cami)
For professional attire: Closet staples that provide powerful shaping, designed for everyday use. Some of these can overlap with your casual shapewear:
1–2 waist trainers or corsets
Several pairs of shaping panties
1–2 thigh shapers or bodysuits
1–2 slips, if desired
For formal events: what you want largely depends on what you're wearing and what your target areas are, but any of the following are ideal:
a waist trainer or corset
thigh shaper
bodysuit
slip
bustier

How to Rotate Shapewear through Your Wardrobe Like a Pro
In order to get the most out of your shapewear every day, we recommend that you plan out your outfits a few days in advance, so you'll know which garments are clean. Think of it like planning a menu for your closet. At the very least, try to plan the night before.
If there is a type of shaper you like to wear daily, such as a waist trainer or shaping panties, you'll want to have at least two of each to ensure that one is always available.
And of course, if you don't love doing laundry, then you'll probably want to have more on hand so you won't have to worry about running out of clean garments.
We hope we answered your questions about how long your shapewear should last and what you might need, so you can plan to fill out your wardrobe accordingly.