Posted by hourglass angel on Dec 1st 2015
The holidays are quickly approaching which means, holiday parties and functions! From office parties, to holiday gatherings and even school holiday shows, we, at Hourglass Angel, are true believers that you are never over dressed or underdressed in a little black dress. So to help you look your best in your LBD wherever you're going this holiday season, we've paired each style below with our favorite shapewear.
Peplum Dress

Peplum style dresses give the illusion of bottom curves, so this type of dress is great for women who are not as curvy on the bottom, which means they are great for people who are Straight-Figured or Shapely on Top. The mini flare at the hips will make the waist look smaller and the hips look bigger. If you're already Curvy on the Top then the peplum will help give you that Hourglass shape. Now, if you're Straight-Figured you can either enhance your bust or stay with the more slender look (like our model to the left). The peplum will also work on women who are Round Figured because of it's waist cinching feature as well as Hourglass, as long as you don't mind having enhanced curves! Because Curvy on the Bottom bodies are already curvy below the waist, the peplum with fitted skirt would only accentuate the hip area giving you a bigger bottom than you may desire.
Shapewear Pairings:
Left to right: Amia Classic Waist Cincher, Lovely Shapes Mid-thigh Shapewear by Hooked Up, Va Bien Formal Chic Ultra Lift Seamless Bustier
The goal here is to create curves at the waist line since the peplum is already taking care of the hip area. Pair the peplum with the Amia Classic Waist Cincher for an even more stunning silhouette. If you want even more control, say in the thigh and hip area, then check out Hooked Up's Lovely Shapes Mid-Thigh Shapewear, which also provides tummy control and, it hooks to your bra so the shapewear stays in place. To enhance your bust, a strapless bustier is what you'll want. Try Va Bien Formal Chic Ultra Lift Seamless Bustier . If you're going for the slender look, wear an eye catching statement piece on top, that should balance out your new curves!
A-Line Dress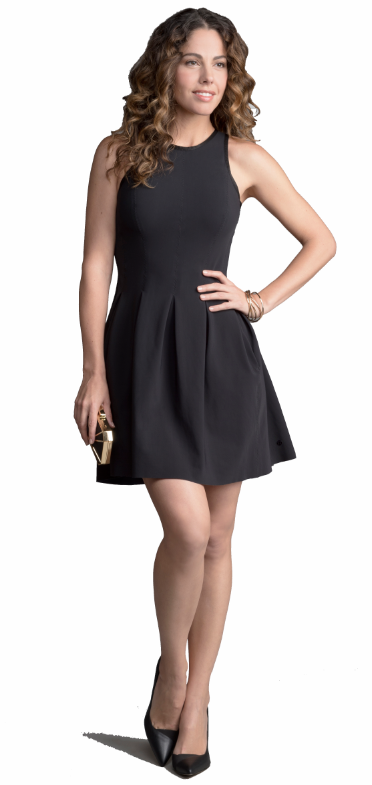 The A-line dress is the go-to dress for all body shapes because no matter what your body shape is, you can't go wrong with this flattering cut. Fitted to your natural waist line, the dress slowly fans out towards the bottom of the hem, creating a triangle shape or an "A" shape. This style draws attention to your waist line and away from your chest or hips, so is great for those who are Shapely on Top or Curvy on the Bottom. For those who are Round Figured or Straight Figured, the A-line dress gives the appearance of curves by cinching at the waist. If you have an Hourglass, the waist line will appear even smaller.
A modified A-Line or Trapeze dress is very similar, but instead of flaring out from the waist, the dress starts to flare out from the shoulders and drapes over your body. This modified A-Line is great for someone who is tall and lean with a Straight Figured body type as they won't get lost in a shapeless cloth but rather have the dress drape beautifully over the body.
Shapewear Pairings:
Left to right: Miracle Vest by Squeem, Lilian Highback Underbust Body Shaper by Vedette
Round and Straight Figured bodies have a relatively undefined waist line, so these body shapes may need a little more help in defining their waist lines. The Miracle Vest by Squeem is a great piece of shapewear because it not only cinches at the waist but also reduces bra bulge and lifts the bust, which creates an even more drastic difference between your bust and waist. For less waist cinching and more overall shaping and control, the Lilian Highback Underbust Body Shaper by Vedette provides all over shaping while giving your bust a little lift.
Sheath & Shift Dresses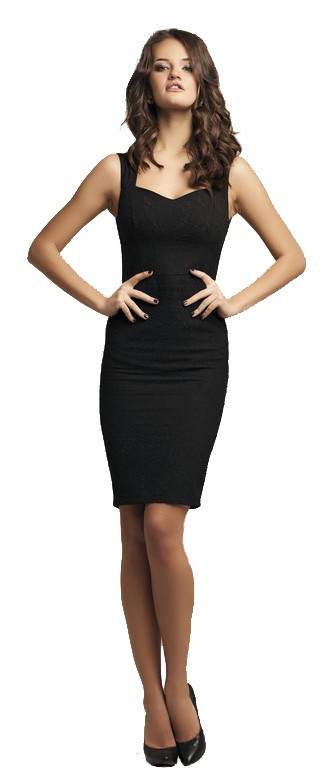 Both are very simple and similar dresses with the only difference being that shift dresses are less fitted than sheath dresses. Sheath dresses uses V-shaped tucks to help shape the fabric to the contours of the body. They are most commonly used around the bust and waist areas. Sheath dresses look best on people with an Hourglass shape or who are Shapely on Top as the form fitting cut highlights a body's proportions.
Shift dresses, on the other hand, look best on Straight Figured body types (who can appear a little taller because of their slenderness) as they can pull off the flowy look better without seeming like they are drowning in the dress.
Shapewear Pairings:
Left to right: Vedette Irina Mid-thigh Full Body Shaper, Amia Workout Band
For the sheath dress, having a well fitted foundation piece is important to help smooth out any bulges. While the Lilian Highback Underbust mentioned above is great, so is the Vedette Irina Mid-thigh Full Body Shaper. This garment also has removable straps in case you decide on a strapless sheath dress. Now, if you really want to cinch that waist so your proportions are more drastic, then try a workout waist trainer like the Amia Active Band. Workout bands have higher compression (read: fits more snuggly) than regular daily waist trainers, so you may see greater waist slimming results. However, with workout bands, we don't recommend wearing them for more than 4 hours, so time wisely if you decide to go this route.
Drop Waist Dress

This silhouette has a low horizontal waist line that usually falls just below the hips which gives the illusion of an elongated torso. This style of dress was very popular back in the 1920's when "flapper" dresses were all the hype and women shifted away from the corset style dresses that was made popular during the Victorian era. Similar to the shift dress, the drop waist dress has a relaxed and comfortable fit; it is great for Straight Figured or Round Figured body shapes as it drapes smoothly over the body and waist area.
Shapewear Pairings:
Left to right: Perfect Curves High Waisted Brief by Hooked Up, Alexa Bodysuit by Ann Chery
While this type of dress is great for those with a Straight or Round Figure, as it hides the lack of curves on those body shapes, it doesn't mean you should forgo curves. After all, as you move, your dress will glide along with your silhouette. A great piece that will smooth out any imperfections as you move is the Alexa Bodysuit by Ann Chery. For ladies with a little more loving, the Perfect Curves High Waisted Brief by Hooked Up is simply amazing and goes from size S to 3XL. Now you definitely won't have to worry about the dress tugging and pulling around the hip and waist areas.
Empire Waist Dress
This style can be traced back to the 18th century, but the term "Empire" was not used to describe this silhouette until it was popularized by Napolean's first Empress, Josephine de Beauharnais. Empire dresses look best on people who are curvier on the bottom because the high waist line, which starts just underneath the bust line, highlights the smallest part of the figure while the rest of the dress helps to lengthen the body. For those with a Straight Figure or Round Figure, the Empire silhouette will add more curves.
Shapewear Pairings:
Left to right: Felina's Essential Seamless Bustier, Irena strapless Push Up, Stay Put Seamless Strapless Bra
Whether the dress is long or short, the Empire waist will cinch just below the bust line, so to enhance this silhouette, a good push up bra, long line bra or bustier will do just that. Try Felina's Essentials Seamless Hidden Wire Bustier Bra for a seamless look. If you're looking for just a bra, then try the Irena Strapless Push-Up Bulge-Free Bra by Leonisa, it comes in black and brown and starts at 36B. If you're looking for a smaller size, the Stay Put Seamless Strapless Bra by Dominique starts at 34B.
Enjoy your holiday parties and soirees. We're sure you'll look fabulous!
Looking for more information to how to best dress for your body shape? Check out our How to Choose Shapewear for Your Body Type blog post.