Posted by hourglass angel on Mar 16th 2015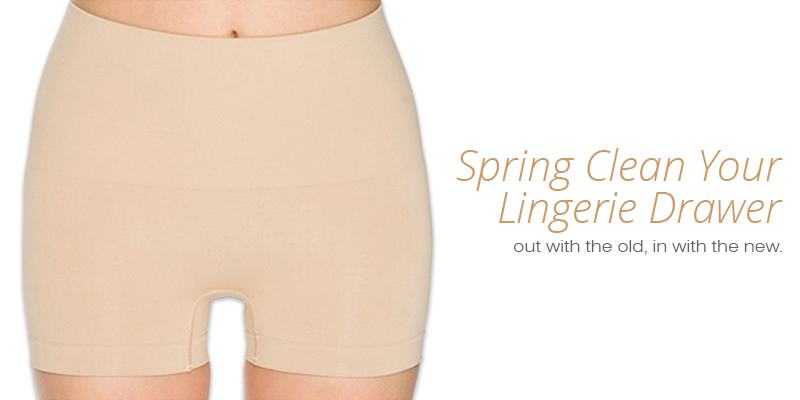 Out with the old, in with the new.
Cleaning out your closet is a given this time of year, but don't forget another often-overlooked area: your lingerie drawer. Here are a few rules to help decide which items to keep and which to purge (and if it's on the border, err on the side of purging). Unlike your closet though, panties don't get donated—they get tossed. Only recycle bras and lingerie that doesn't involve nether-region coverage.
Tips for Bras
Toss anything that has lots its shape or elasticity. This includes worn straps, stretched-out bands, misshapen cups or exposed underwires (ouch!). Another category worthy of tossing? Ill-fitting bras. If it's new, sexy and beautiful, it's still time to let it go if it doesn't fit correctly (but these are great candidates for recycling). You need bras that support, lift and flatter your bust. Also, if you have a larger bust and you're experiencing neck, back or shoulder pain, your bra might be the source. Lastly, you should never have red marks on your shoulders or strap dig-in—another sign you're wearing the wrong size or style.
Now, the fun part! Time to replace everything you threw out. Try this strapless bra for a superior stay-put fit:
Seamless Molded Cup 5 Way Convertible Bra by QT
Tips for Panties
This is an easy one: If your underwear sags or the elastic in the waistband is shot, it's time to say adios. Another thing to look for: any sign of holes, fading or stains. And why not replace your standard panties with shaping pieces for adding body-defining benefits? A few we love:
Starlet High-Waisted Brief by Jennifer
Simply Sleek Boyleg Shapewear 2-Pack by Cass Luxury
Tips for Nylons
Toss anything that doesn't have a supportive waistband. And of course, any pairs with tears, snags, runs or pilling. New nylons and tights go a long way in sprucing up your look. The opposite is also true: an old pair of tights can sabotage a great ensemble. Replace your old nylons with ones that have shaping benefits and fun lace details: