Posted by hourglass angel on Jan 1st 2015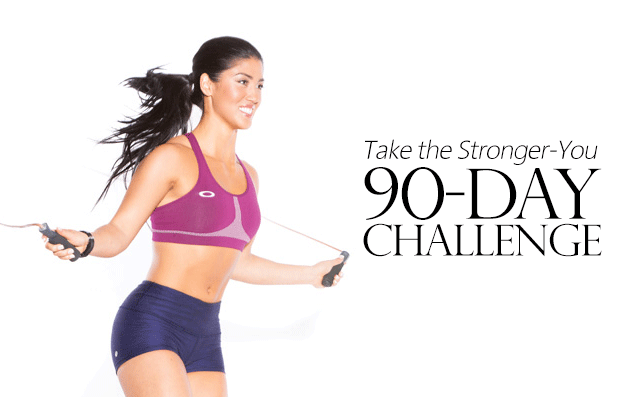 Make your New Year's Health Resolutions a Reality
If you're like most of us, your New Year's resolutions involve the promise of a healthier 2015. Did you vow to fit into that pair of jeans stashed on your top shelf? Or maybe you want to feel more energized?
The difference between the desire to achieve your goals and making them a reality is as simple as our 90-day Stronger-You Challenge: 3 months of handpicked workouts and tips from the experts at Oxygen magazine. This three-month training program and meal plan is designed to burn fat, build muscle and transform your body so you can look and feel your best. It's simple, effective and ready when you are.
Check out the full 3-month plan to see step-by-step instructions and visuals on exactly what to do (and eat!) every day. Don't forget: if you mess up, don't give up. Forgive yourself and start over the next day.
Month 1
Burn fat and build muscle. You'll begin with exercises using only your body weight. Every set and extended set will be taken to the point of muscle failure (that's a good thing!).
Get the Best Body Challenge: Month One workout.
Month 2
The next 4 weeks feature easy-to-use resistance bands and plyometrics—a body-boosting technique originally developed for Olympic athletes.
Get the Best Body Challenge: Month Two workout.
Month 3
The home stretch! You'll focus on a mix of dumbbell-based exercises and intervals of high-intensity cardio.
Ready to begin? Don't put it off -- download the training plan below to get started right away. Good luck, and let us know how it goes! We'd love to meet the NEW YOU in 12 weeks.
Get the Best Body Challenge: Month Three workout.