Posted by hourglass angel on Jul 21st 2014
Get The SHAPE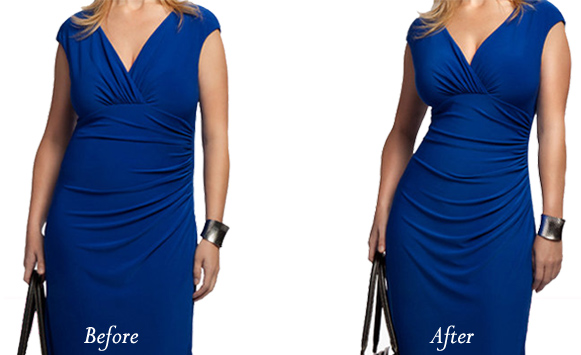 If you're like a lot of women, some of the most frustrating problem areas in your figure are probably around your waist. This is especially true if you've been pregnant, but even if you haven't, you might still battle with your midsection, day after day.
Few things can be more frustrating than trying to look fashionable and attractive when you're combating an uncooperative tummy, sides and back! But you don't have to give in to "love handles" and "muffin top." We have four fabulous midsection garments designed to shrink your waistline, so you'll always look smooth and slender around the middle – and maybe even drop a couple of sizes!

There's a reason this waistline-targeting garment is one of our bestsellers. Wear it and instantly benefit from a flatter tummy and a smooth and trim midsection all the way around, from below the bust to your hip bone. You may be able to wear a size or two smaller just by putting it on. Using Amia's signature PowerLatex fabric, it provides all day firm control, while FlexiBoning ensures unbeatable comfort. While you're wearing it, compression technology works to stimulate thermal activity and perspiration.
2. Black Cashmere Underbust Corset
When it comes to controlling your waist, it doesn't get much more classic – or effective – than a corset. This customer-favorite corset provides maximum compression all the way around the torso for an all-day tall and lean look. Adjustable lacing ensures a perfect fit every time, while steel boning keeps your figure firmly in place all day long. Customer's favorite garment to use for waist training, simply tighten the laces as you size down.
3. Vest by Amia
Unbeatable compression technology meets ultimate comfort and support with Amia's popular vest. Slim your midsection dramatically in a snap when you put on this maximum strength shaper, complete with PowerLatex fabric. The vest's design ensures full coverage and support up the back and over the bra line. As with all of our maximum strength midsection shapers, instantly notice a reduction of 1-3 inches in the midsection.
For no-fail tummy flattening, this panty shaper provides slimming and coverage from above the waist to down over your pelvis, which is particularly effective at taming your lower abdomen or love handles in the back. Maximum compression ensures that you'll enjoy a smooth and slim silhouette from from your hips up to below the bust.