Posted by hourglass angel on Jun 12th 2014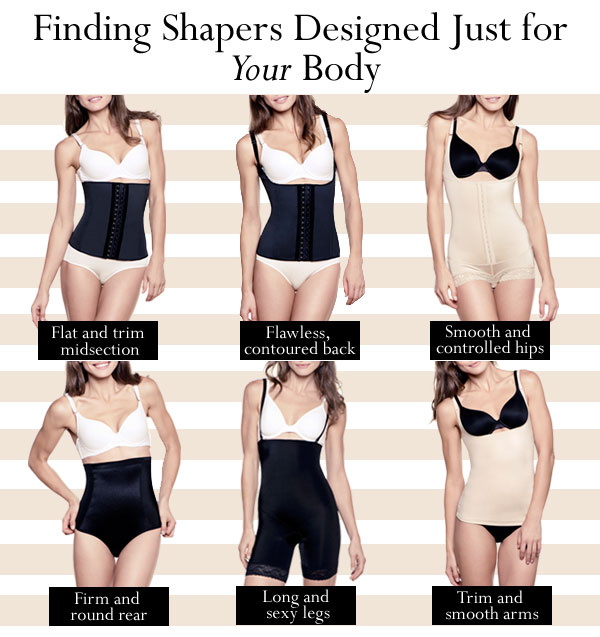 Finding Shapers Designed Just for Your Body
Every woman is beautifully different. You have diverse shaping needs, which is why you have hundreds of options in shapewear to choose from!
Here are some tips to help you find the ideal shaper depending on your goals and trouble areas.
Midsection
The options for trimming your waistline are almost endless. For a basic start, try a cincher that provides compression all the way around your torso and a smooth silhouette between the bustline and hips. You can also try one of our many selections of waist-training garments that are designed for sustained slimming with regular use. Body shapers and corsets also effectively flatten your tummy and slim off inches. For more casual control, try shaping camis or high-waisted shaping pants and leggings.
Shop: Midsection Shapers
Back
You don't have to worry about a pesky muffin top or any other embarrassing bulges on your back with the right smoothing shapewear. Try a bodysuit, corset or cincher with a high back so you can look smooth all the way around your torso. If you're choosing a below-the-bust or open bust shaper, make sure the back goes over your bra line for completely smooth coverage.
Shop: Back Shapers
Hips and Thighs
Curvy hips are something you should flaunt confidently with the right smoothing and control. Try a bodysuit that extends to the thighs. You can also try compression panties, shorts or pants/tights. For dressing up, a shaping slip can do just the trick! We also have a variety of anti-cellulite garments that use compression technology to visibly improve the appearance of your skin.
Shop: Hip and Thigh Shapers
Rear
Need a boost in the rear? Try a variety of butt-lifting products including jeans, shorts and panties with extra support and padding for that round and lifted look. Many of our bodysuits also have rear-enhancing features that will provide your natural curves with a lift. If you want to decrease the attention to your rear, choose a garment with full coverage compression around your rear.
Shop: Rear Shapers
Legs
Compression pants come in a variety of lengths so you'll enjoy long and sexy legs. Choose from garments that go to mid-thigh, knee, calf, or ankle. Anti-cellulite shorts and pants can also do wonders. Finally, have your tried working out in compression pants? It's a great way to provide your muscles and skin with some extra toning.
Shop: Leg Shapers
Arms
Yes, we have solutions for arms too! Try a bodysuit with arm coverage, or shaping sleeves or bands. We also carry anti-cellulite and body-firming products.
Shop: Arm Shapers