Posted by Hourglass Angel on Aug 8th 2018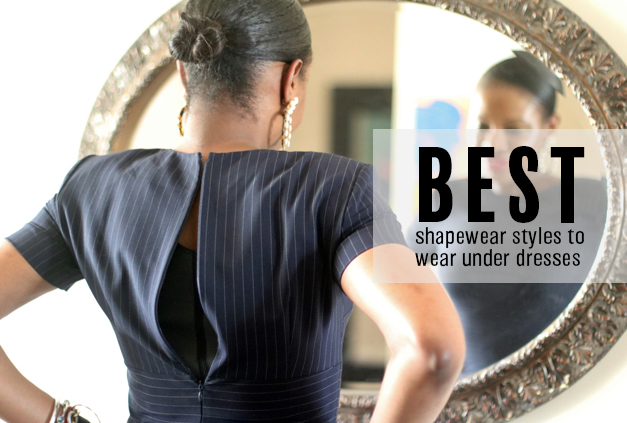 Few things go together better than shapewear and dresses. Whether you're dressing for a formal event in a ball gown or you're going casual for a backyard picnic, your perfect look starts with what you wear underneath your outfit.
Dresses are designed to fit over smooth curves, whether they are form-fitting or flowing. Which shapewear is ideal for your dress naturally depends on the occasion and what style you're wearing.
Here's our guide to choosing the best shapewear for dresses of every style.
Shift Dress
A really easy look that is growing in popularity is the shift dress. This is a short dress that hangs from the shoulders loosely in straight and simple lines, for a "column" effect.
You might mistakenly think that you can use this look to hide your figure, but like any loose dress, your form will still show as you move. That's why we recommend an all-over shaper that flattens the tummy and targets whatever your trouble areas are.
You can go for a bodysuit that primarily focuses on the midsection, or choose a style that provides slimming and shaping from the rear to mid-thigh.
Sheath Dress
Like shift dresses, sheaths are loose, flowing and typically stop above the knee. What makes them different is that they are more fitted than shift dresses, being nipped at the waist, and are designed to cling more to your figure.
For this reason, you'll want to make sure that your silhouette underneath is smooth. The best shaper for a sheath dress is usually going to be a high-waisted thigh slimmer that tucks in the tummy and lower abdomen, while smoothing out your thighs.
Princess Line
This style of dress is fitted at the waist, but unlike other dress styles in which two pieces of fabric come together at the waistline, it uses long panels of fabric without separation at the waist, creating long lines through the waist. The effect is an hourglass shape that really emphasizes the length of the torso.
This can be a flattering look, but the key to pulling it off elegantly is to have a narrow waist. Waist-slimming shapewear like a waist cincher is going to be your best bet.
A-Line
The A-line dress is a classic style that complements every body shape. It cinches at the waist and then gradually widens all the way down to the hem, making an "A" shape. The effect is creating the appearance of a waist and the bottom of the hourglass shape, even if your hips are small in proportion.
When it comes to shapewear under an A-line dress, you can't go wrong with a shaping slip as an all-in-one solution that smooths out your figure from bust to thigh. Your dress will have a smooth foundation to lie on.
Tunic
Tunic dresses are versatile and fun, and they can be styled in many different ways. Depending on the length, you can even wear one over shorts, leggings or pants, giving you a lot of style options.
A shaping cami is going to be your best bet under a tunic, as it will keep your midsection and torso smooth without making you sweat much, making it ideal for warm weather.
Jumper
If you're wearing a jumper, then you know it's all about those legs! Wear a mid-thigh shaper to keep them in check and provide a little more coverage underneath the skirt, while keeping the tummy tucked in at the same time.
Romper
Use the same logic as a jumper for this fun style, except you'll probably want to go for shaping shorts, as the cut might be even shorter.
Bodycon
This seductive style of dress is designed to highlight all of your curves with its skin-tight fit, especially around the hips. You'll want to break out your maximum power all-over shaper for bodycon dresses, to ensure that you've got your hips, thighs and midsection in check. A butt-lifting shaper is also a great option.
Empire Waist
The empire waist dress is similar to the A-line except that the top of the skirt starts just below the bust, making it an ideal option if you have a larger bust and want to hide some of your middle. For the best results you'll still want to create a waistline, so a waist cincher is your best bet for shapewear.
Strapless
The age-old question for a looking great in a strapless dress is what kind of bra to wear with it. Don't settle for a cheap strapless bra; go with a bustier so that you'll get maximum bust support while slimming and creating a slim and smooth waistline.
Halter Dress
This open-back style is a bit tricky when it comes to shapewear, especially if it has a low-cut back. Your key to success is a shaping skirt and whatever bra or pasties work with your particular cut. The skirt will keep your lower half smooth and sexy. You can also try shaping shorts for the same effect.
Sundress
Just because this style is casual doesn't mean that you have to hold back when it comes to wearing shapewear. An underbust bodysuit will discretely keep your midsection, hips and upper thighs smooth and firm so your dress can flow freely. You can also pair it with your favorite strapless bra.
Wrap Dress
This style looks good on many body types because the lines of the fabric create a natural hourglass shape. An all-over bodyshaper underneath with ensure smooth curves from beneath the bust down to the thighs.
Slip Dress
Thin, clingy fabric makes this style of dress almost like a negligée—but you don't want it clinging too much, especially in the wrong places. A shaping slip will ensure that it doesn't stick to your legs and will create a svelte silhouette underneath.
Shirt Dress
Does it count as a dress if it could also pass as your man's shirt? To get the most out of this flirty look, create a slim and smooth foundation underneath with an all-over shaper.