Posted by Hourglass Angel on May 19th 2022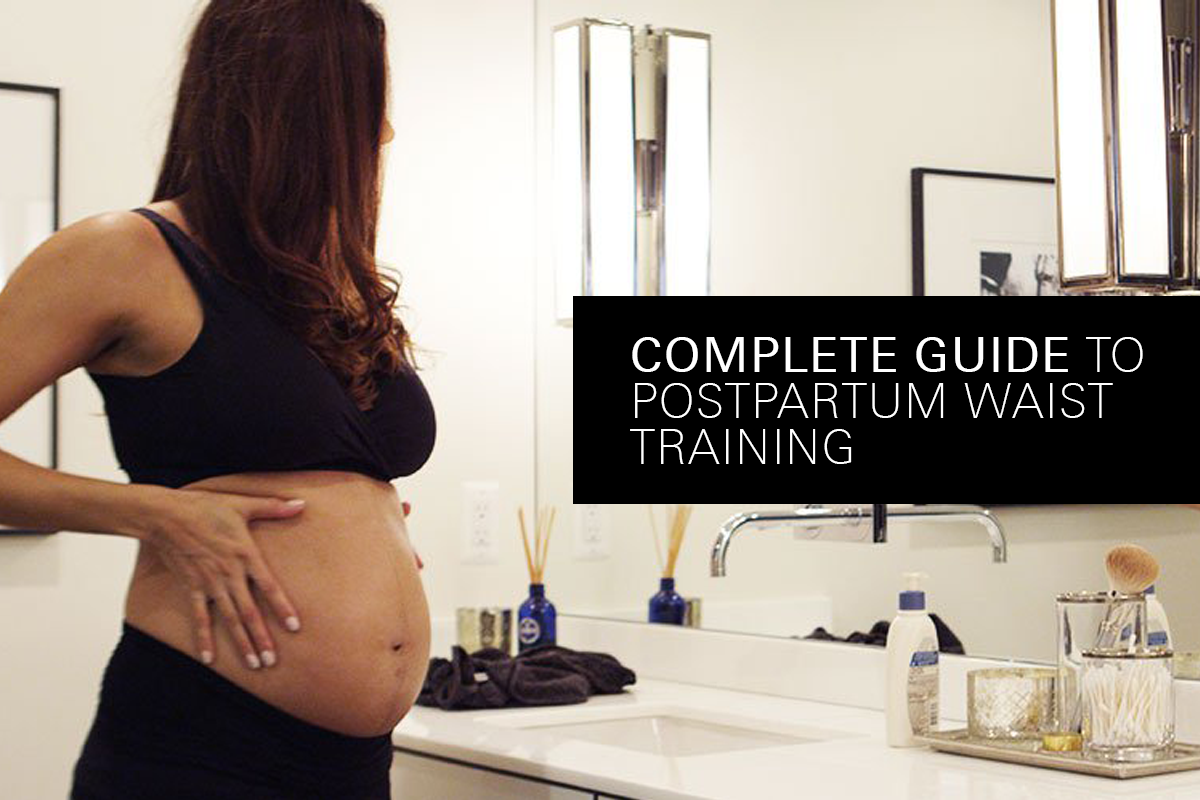 Complete 2022 Postpartum Waist Training Guide: Proven Methods That Support Your Postpartum Recovery
If you recently had a baby or are planning to deliver soon, congratulations! Becoming a parent or adding to your family is a huge change in your life, but it's a special one. Enjoy this time!
During the postpartum period, your body is recovering from major changes it underwent over the past few months. You may notice your waistline expanding, your clothes feeling tighter, and your belly remaining soft and squishy for much longer than you expected. These changes are a part of your postpartum recovery. Your body needs time to heal and adjust to its new normal. But don't worry—your body will return to its pre-pregnancy shape eventually.
Waist training can be a great aid during this time to help you look and feel great while your body goes through its natural healing process. It's a proven method that many of our customers have used to support their postpartum recovery.
If you want to make the most of this time of transition, we've compiled a complete guide for postpartum waist training in 2022.
What is Postpartum Waist Training?
Postpartum waist training is a method that uses a waist trainer to help you slim your waistline during the postpartum recovery period. It can also be used to help you maintain healthy lifestyle practices, such as eating a healthy diet and exercising regularly. When you're following one good habit, it helps you stay motivated and follow through with others!
Waist training is effective in the postpartum period because it can help support your body during this time of extreme recovery. It also works to improve your posture and provide a boost of confidence as it creates a smooth, hourglass shape under your clothes while you're healing and slimming down.
You can wear a waist trainer whenever you want to look slimmer, support your healing core, or add intensity to workouts. For the best results, we recommend wearing your garment daily. While you can start out with shorter sessions, aim to wear your waist trainer for 8 to 12 hours on most days.
How Long Do You Have to Wait to Wear a Waist Trainer After Birth?
The answer to this question depends on your personal preference. Some people want to wear their waist trainers as soon as possible after birth in order to get back into their workout routines as quickly as possible. Others prefer to wait until their body has fully recovered from the delivery, which can take up to several months. The best thing to do is listen to your body and determine when you're ready to wear your waist trainer.
If you're not quite ready to jump into a full waist training routine with a maximum compression garment, postpartum "belly binding" is a great way to help your postpartum recovery. It helps to support your belly, reduce fluid retention, and promote healthy blood flow. Wear a compression garment around the waist in the early postpartum period to help reduce discomfort and swelling, as well as support your core and back.
You can use a regular waist trainer for this practice as soon as you're comfortable; you'll want to use a garment that is loose enough to allow you to comfortably wear it. Gradually tighten it as your body adjusts following the delivery.
If you've had a c-section, you may be wondering when you can start wearing a waist trainer comfortably. It's always best to consult a physician if you have concerns to get the green light. You may prefer to wait until your incision has completely closed before starting a waist training routine. You can also wait to wear your waist trainer until you're ready to resume your normal workout routine or lifestyle.
How to Start Waist Training During the Postpartum Period
Since your body is in recovery, you'll want to take it slow and steady with waist training, especially if you start in the early postpartum period. You can start with a shorter session, such as 30 minutes, and gradually increase your time as you feel comfortable.
You may also want to start with a loose waist trainer to give your body a break, and gradually tighten it as your body adjusts. The most important thing is to listen to your body and adjust your routine as needed. You may find that you prefer to wear your waist trainer for shorter periods at first, or that certain exercises are too much during certain stages of your postpartum recovery.
If you commit to waist training regularly, you'll find it to be second nature after a few weeks. Once you're comfortable wearing a garment daily, keep it up and see the amazing progress your body makes!
How to Use a Waist Trainer in Postpartum Workouts
One of the best ways to recover from pregnancy during the postpartum period and beyond is to exercise. This doesn't necessarily mean you need to run a marathon, but it will help your muscles to heal and regain their strength (which you'll need for caring for your baby!). And a workout waist trainer is an excellent tool to help you with that.
A waist trainer helps to increase the intensity of your workouts by stimulating heat and perspiration when you wear it. This can help you to slim down at any point in the postpartum period, as well as support your core and back while you strengthen them with postpartum-friendly exercises.
Some of the best postpartum workouts to do with a waist trainer include cardio exercises like running, walking, and cycling. You can also wear your waist trainer while you walk around the house or do chores to help you build up your endurance, even if you're not ready to return to your normal workout routine.
When you're ready, incorporate light resistance training into your postpartum workouts, such as holding dumbbells while doing squats and lunges. Avoid exercises that put a lot of pressure on your abdomen before it has fully healed, such as crunches or planks. Your waist trainer can help you avoid "coning" or "doming" your abs in a way that isn't healthy for their recovery.
Five Star Reviews for Hourglass Angel Postpartum Waist Trainers
You don't have to take our word for it; our customers love the results. We have received countless positive comments from women who have been able to achieve their postpartum slimming goals. Here are some of our favorites:
Bye-Bye Baby Body
"One month postpartum from giving birth, wanted a little help getting rid of extra belly and to tone as well. Fits great, at first was skeptical because it was a hassle to get on but must say this, don't give up. Lol work it on and wear at least 5-10 minutes before just tossing the whole idea of this waist trainer out the window. So don't be discouraged. Be Fierce!" –Guest (Hourglass Effects Waist Trainer by Hourglass Angel HA105)
WORKS LIKE A CHARM!!!
"I got the medium and it fit great on the last clasp, a month into wearing my waist trainer daily postpartum and my post pregnancy pooch was down and I was able to reach the smallest clasp setting by 2 months! Worth the money, feels great, improves my posture! I'm saving up to buy the small! I have a diastasis recti and this has helped in my rehabilitation! Thank you hourglass angel!!!" – Ciara M. (Hourglass Effects Waist Trainer by Hourglass Angel HA105)
Amazing