Posted by Hourglass Angel on Jan 9th 2022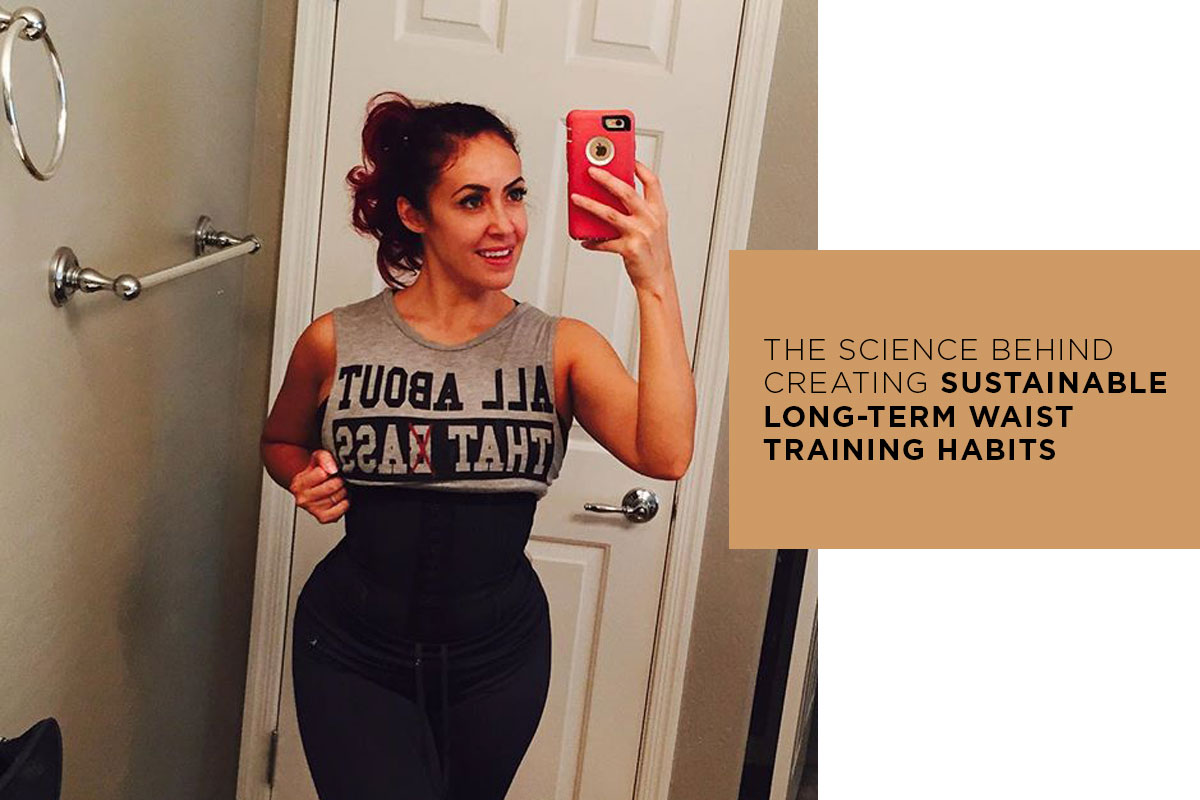 The New Year is upon us, and that means lots of people are working on their resolutions and creating new habits. Since a lot of us may have let things slip over the holidays, now is a great time to jumpstart some health and lifestyle changes. If you're trying to use a waist trainer as part of a routine to slim down, you're not alone at this time of year.
However, recent studies show that most people give up their New Year's resolutions less than three weeks into January. Is it really possible to start a waist training habit and stick with it for the long-term so that you get the results you want?
Of course it is! The key is setting yourself up for success by doing the things that make a new habit sustainable. If you want to keep waist training day after day, week after week, month after month, you need to know the science behind creating sustainable, long-term waist training habits.
We've compiled all the practical advice you need to crush your waist slimming goals this year!
Why Waist Training?
Before we dive in, let's talk about the reasons why to wear a waist trainer in the first place.
A waist trainer is a high-compression shaping garment that you wear around your midsection. You can wear a style that is typically constructed with latex, which fastens in the front with hooks and eyes or Velcro. You can also wear a corset-style garment, which is tightened with laces in the back. When we talk about waist training as a habit, we're referring to the practice of daily wear, for at least 8–12 hours.
Daily waist training works best along with healthy lifestyle habits that include a nutritious diet and regular exercise. You can work out with a workout band style waist trainer and wear an everyday waist trainer as part of your everyday wardrobe.
There are several benefits to wearing a waist trainer every day:
The high compression garment stimulates heat and perspiration around your core. This creates a more intense workout when you're moving and can remind you to keep your core engaged when you're wearing your garment all day.
A waist trainer also slims and flattens your waistline by up to several inches whenever you wear it. It's a fantastic confidence booster and even helps your posture. Many people find this motivating, as they can see the potential for their own figure and keep up with their other healthy habits.
Wearing a waist trainer can also remind you to eat smaller meals throughout the day since your midsection is restricted.
How Long Do You Have to Wear a Waist Trainer to See Results?
Everyone has different results with waist training, so the amount of time it takes you to meet your goals depends on multiple factors, including:
Your starting point: Are you looking to lose a lot of weight, or mostly tone up? Someone recovering from pregnancy is going to see more drastic results than someone who is decently fit.
Your lifestyle: Are you making any positive changes to your diet and activity level?
Your compression level: Are you planning on using lighter compression or firmer?
Your commitment: Do you plan on sticking to an all-day, everyday habit?
In general, the more radical the change you make (and the more committed you are to that change), you will see faster, more dramatic results.
Having said that, we've observed that most people who commit to a daily waist training habit, combined with healthy eating and physical activity, start having noticeable results in just a few weeks. The longer you stick with the habit, the more results you see.
It's important to track your progress so that you can see the change, even if it's small at first. Take progress photos and waist measurements each week and see how your body is transforming! Here are some examples of the results of real people who wore waist trainers for eight weeks.
How to Create a New Waist Training Habit
Now that you know the benefits of daily waist training and what you can expect, here's what you need to know about the science of forming habits and how it can apply to your unique daily routine.
Habits are the little actions you take without putting a lot of thought into them. They are powerful because when they add up, they can contribute to a lifestyle that is either helping you or hurting.
Be Specific About What You Want to Change
When creating lifestyle changes, whether they're New Year's resolutions or otherwise, one easy mistake to make is to be too vague. In this case, don't just tell yourself, "I want to start waist training."
Be more specific. How often do you want to waist train? How long will you wear your waist trainer? Is it something you just want to do while working out, or during the rest of your day? What waist trainer will you use? When will you put it on and take it off?
It can be helpful to write down your routine if you want to create a habit that sticks. Here's an example:
"I want to start a new habit of wearing a waist trainer every day for at least eight hours. After I shower, I will put on my everyday waist trainer and keep it on until a return home from work. On the weekends I will put on my waist trainer after breakfast and take it off after dinner."
Make Your Habit Easy to Follow
The problem with many people's New Year resolutions is that they are too ambitious. While they might initially feel motivated by a fresh start at the beginning of January, they quickly lose steam because it's just too hard to keep up with the change.
To succeed with waist training, come up with a plan that is easy to follow. Take baby steps.
It can take some time before you're comfortable with waist training every day. We recommend starting out just an hour or two and then building from there until you are wearing the garment all day.
Make Your Waist Training Habit Physical
Have you ever noticed yourself going on "autopilot" when you go through a daily routine? You can do things like brush your teeth, take a shower, and even your morning commute without even thinking about it.
That's the power of habit. You do it without having to remember or debate whether you're going to follow through. Make physically putting on your waist trainer a part of your routine that you follow at the same time every day. "Stack" this habit on top of your existing habits, like pulling on your undergarments. After a while, it will feel strange to get dressed without it!
If you find that you're taking your waist trainer off sooner than you want to each day, then create a routine for taking it off as well. If you have a calming evening routine, make the removal of your waist trainer a part of it. Take it off, changing into comfortable clothes, and wind down for the evening.
Create Visual Cues
Many of your daily habits are initiated by something visual. When you see your toothbrush on the bathroom counter in the morning, you may be unconsciously reminded of the desire for your mouth to feel fresh and clean—your mouth might even feel unpleasant! Your response to the visual cue of your toothbrush is to brush your teeth, and you receive a reward of a minty fresh mouth.
Using cues to build new habits is especially important if you don't have a regular schedule, like if you have shift work or a flexible daily routine as a stay-at-home parent.
Use a visual reminder to put your waist trainer on. Keep your waist trainer somewhere that's easy to see—you might even consider creating a related habit of laying out your clothes the night before you dress.
Don't Give Up!
Life happens to the best of us, and even the most disciplined people can drop their habits due to disruptions like illness, stress or schedule changes. If you get out of the habit of waist training, or if your original plan doesn't work like you intended, don't let that be an excuse to give up.
If you don't succeed at first, try to create the habit in a different way using the techniques shared here. Consider what motivates you and try to focus on that as you make it a regular part of your lifestyle and routine. If you get off track due to disruptions in your routine, get back on track as soon as the disruptions are dealt with.
And remember, there's nothing magical about the New Year. You can follow any of these strategies and restart your healthy lifestyle at any time and see some great results.
Are you planning to start a new waist training habit? Let us know how it goes—you can tag us on social media @HourglassAngel. We love seeing waist training results!