Posted by Hourglass Angel on Nov 17th 2021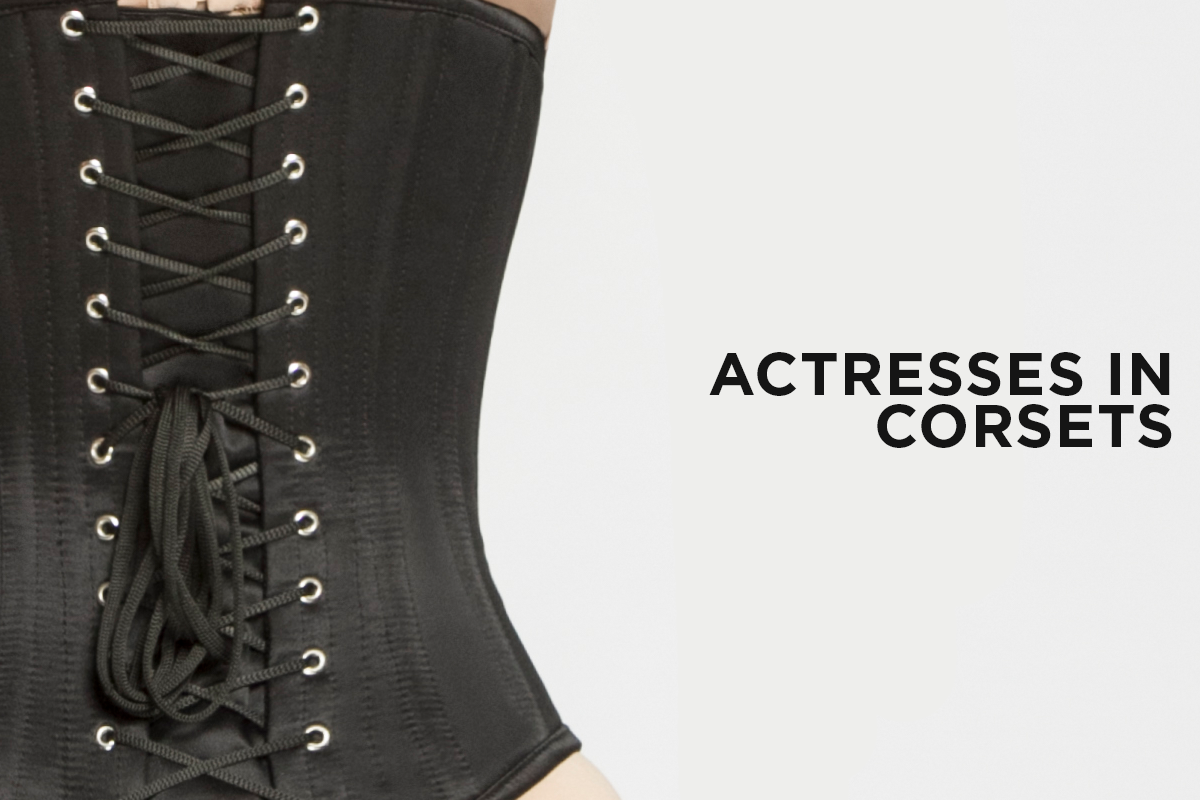 The Truth Behind Actresses Who Have Worn Corsets to Prepare for Hollywood Roles
When you watch actresses in period pieces onscreen, you might not think much about how they prepared their appearance in that role. But many historical films, as well as modern-day narratives, showcase women in corsets, and the actresses had to practice wearing the costumes for long hours before and during filming.
Since corseting is not as common now as it has been historically, it can be quite an adjustment for an actress to wear a corset for long periods of time. But the results are impressive, as some of them have commented about how the costumes can change their body shape.
Seeing these celebrities in corsets can be an inspiration for anyone who aspires to have a corseting regimen, or even use a corset occasionally for dressing up. Here's what you need to know about corseting and how to achieve that Hollywood look.
Corsets in Period Pieces
Historically, there are reliable records of women wearing corsets from about the 15th century onward. Initially, corsets were constructed to sculpt women's bodies into inverted cone shapes that enhanced their busts. In many styles, the corsets were not concealed underneath other fabrics and were shown off with beautiful fabric patterns and trim.
Here are some actresses who have showcased this style in various period pieces before approximately the 19th century, when corset styles evolved away from the cone shape.
Lily James in Cinderella: Her iconic blue ballgown used a particularly tight corset that helped her move delicately across the screen. In an interview with Time, she said, "…In that blue gown—I felt completely transformed. And that's what fairy tales are all about: transformation. When I put that dress on, I felt like I could be a princess."
Emma Stone in The Favourite: While she had to lean instead of sitting when her corset was very tight, she looked elegant as a servant during Queen Anne's reign.
Saoirse Ronan in Mary Queen of Scots: Wearing a corset for 12 hours a day gave this actress's naturally straight figure hourglass curves for the role as a rival to England's Queen Elizabeth I.
Margot Robbie in Mary Queen of Scots: Not to be outdone by Ronan, Robbie showcased many layers of royal costuming over her corset, which helped her capture the likeness of the queen. She commented that the tightness of the corset helped her acting.
Natalie Dormer in The Tudors: In her breakthrough role of Anne Boleyn, she showcased gorgeous period attire that shows off her figure. She has played in other period pieces that have required corseting as well, most notably including Picnic at Hanging Rock.
Keira Knightley in The Duchess: She showed off an hourglass figure in the chronicle of the life of an 18th-century aristocrat. Knightley is accustomed to wearing corsets in other pieces as well, most notably including The Pirates of the Caribbean series and Anna Karenina.
Elle Fanning in The Great: Bringing the infamous Russian monarch to life, Fanning looks stunning in this Hulu series. Speaking about how corsets changed her body, in an interview with Variety, she said, "I'd be like, 'My boobs aren't big. What is this? What have they done? They look great, but wow.'"
Corsets in Period Pieces from the 19th Century Onward
In the 1800s, corset styles started to shift away from the cone shape and into a more natural hourglass-shaped garment that has been well-known from the Victorian era. In the 1900s, underbust corsets came into fashion, so women were able to dress more versatilely in the iconic styles of each decade. You can see some of this evolution in the costuming of recent films and TV shows.
Rachel Brosnahan in The Marvelous Mrs. Maisel: In this comedy series she showcases the best in 1950s and 1960s fashion, including the figure-sculpting undergarments.
Dakota Fanning in The Alienist: She showcases late Victorian-era fashion, complete with the corsets that give the dresses their shape and structure.
Cara Delevigne in Carnival Row: This Victorian fantasy world is complete with corsets in its costuming. Delevigne's winged character takes on a unique look with an hourglass foundation.
How Corseting Works
A corset is a classic women's undergarment that slims the midsection and lifts the bust. There are many ways you can style a corset, as they have been worn for centuries.
Many women have historically worn a corset every day in order to "train" their waists to stay slimmer—and you can imitate this practice today! For the best results, you should consider wearing a corset 8 to 12 hours a day, although some women choose to wear one even longer.
Corsets keep their shape using longing strips of boning. They used to be constructed with long reeds or whale bone. Today, high-quality modern corsets use steel boning. Traditional corsets are fastened with laces in the back of the garment, which makes it tight and stiff.
To prepare for their roles, some actresses must practice wearing a corset leading up to the time of filming. Otherwise, it can be uncomfortable to jump into long hours on the set in a tight corset.
If you want to try corseting yourself, we recommend starting slow. New corsets need to be seasoned, or broken in, before you can pull them tight anyway. Wear the corset for a couple of hours a day for two weeks in order to season it. You can tighten it a little bit as it feels good, but don't force it.
Once your corset is seasoned, you can start tightening it as much as you desire. Gradually wear it for longer stretches each day if you want to practice a daily corseting regimen. After a few weeks, you should be comfortable wearing it all day.
Some people find it easier to start out corseting with a latex waist trainer before moving to a steel-boned corset. A waist trainer can still give you slimming results before you try to achieve more dramatic curves with tight laces.
Even if you don't plan on wearing a corset every day for the long term, you can still benefit from a daily practice if you planning on wearing a corset for a special event, like a wedding. This is the approach that some actresses take; follow a daily corseting plan for a time until the time filming for the role is over.
Imitate Celebrities with the Best Hollywood Style Corsets
It's easy to achieve the hourglass look of your favorite Hollywood starlet with modern steel-boned corsets. These underbust style garments can be worn underneath your everyday or special occasion attire, and can even be styled as outerwear when desired.
Remember to season a new corset before you wear it and adjust to it slowly. Then watch your figure transform into an hourglass shape, inspired by classic corseting styles you see in TV and film.
Underbust Cotton Corset by Hourglass Angel HA202: This underbust cotton corset provides a natural, comfortable feel to your skin as it sculpts your midsection. It uses flexible steel boning for powerful compression without pain, pinching or discomfort, whit the underbust design gently lifts the brush. The cotton material, which comes in black, nude or white, gives it a lightweight feel.
Customer Stephanie M. wrote, "It was all around perfect! It gives me that hour glass figure for sure! and brings my bust up too! I also always had a hunch and as mindful as I tried to be about sitting up straight I wasn't always able to keep that up, but with the corset on it kept me on check!"
The Rapid Fit Fan-Lacing Corset by Hourglass Angel HA208: In this beautiful fan-lacing corset, you can enjoy the slimming benefits without the fuss. Steel boning and tight laces work together to create a tight cinch at the waist and a gorgeous hourglass shape. Unlike standard corsets, this corset is tightened from the sides using a belt. It's as easy as adjusting your bra's shoulder straps, and you get a tight, uniform fit.
Customer Sharine Z. wrote, "I love this corset!! It's comfortable and so easy to wear, put it on clasp it and pull!! POW you are SNATCHED!! No lacing no need to tie easy prays!"
Purple and Black Silk Underbust Corset: This new addition to our curated corset collection is a fashionable maximum control corset that will flatten your midsection and sculpt your figure. Two inner layers of cotton twill provide superior strength and durability, while the outer layer is a metallic purple with solid black satin trim. The corset is made complete with 26 spiral steel stays, a steel busk closure, and six flat steel bars. It's the perfect costume or special occasion piece.
Underbust Waspie Mesh Corset by Hourglass Angel HA201: You'll love the see-through look of this short mesh corset. The breathable design creates hourglass curves with a tight cinch at the waist, perfect under close-fitting dresses, skirts and tops. The underbust design gently lifts the breasts and makes them look fuller.
Customer Jamie S. wrote, "This is comfortable, easy to put on and I have found several outfits that allow me to wear it a full day at work."