Posted by Hourglass Angel on Dec 20th 2022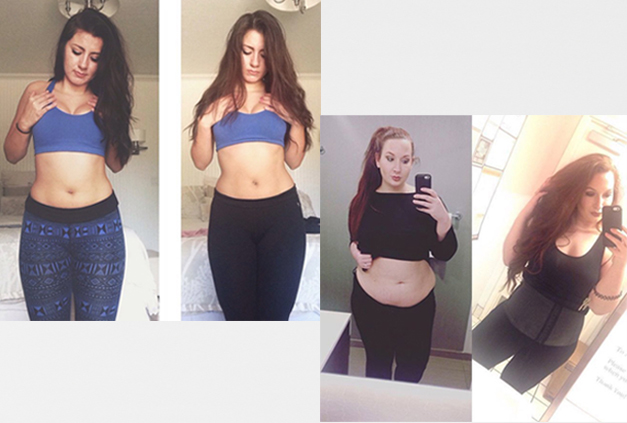 Who's ready to look and feel their absolute best in the new year?
If you're serious about slimming your waist and achieving an enviable hourglass figure in 2023, the key to success is setting realistic goals and sticking to a waist training routine that works for you.
To make sure you're on the right track, choose a regular waist training routine that includes diet and exercise considerations. Planning ahead is essential to ensure that you have time to commit to your waist training routine and be able to stick with it for the long haul. After you've set your goals, create an action plan that incorporates the right diet and exercise regimen to help you achieve your desired waistline.
Here's a breakdown of everything you need to do to kickstart your waist training routine for a snatched 2023.
Set Your Waist-Snatching Goals
Setting goals is an important part of your waist training routine, as it will help you stay motivated and on track. Goals can include anything from wanting your clothes to fit better, losing a certain amount of weight, or just getting into healthier habits.
Having a specific goal can help you focus on the present, while also helping you to remember where you want your waist training journey to take you. Additionally, it's a great way to provide the necessary structure and accountability that you need to reach your desired outcome.
Choose measurable goals that you can realistically achieve within the next few months. It should excite you on those days when you don't feel like following through with your health and lifestyle habits. Write your goals down and think through how you can check your progress along the way.
For example, maybe it's your goal to feel fit and confident at a wedding next summer. Is there an outfit you'd like to fit into? Is there a realistic, healthy waist size that you'd like to have by that time? What steps can you take to help you reach that goal in time for the event?
If there isn't something specific like an event or a size that you want to reach, consider making it a goal to create a new habit. Wearing a waist trainer every 6 out of 7 days a week for three months is a goal that will bring about results. Track your progress on a calendar, and watch that waistline get snatched as you go.
Create Your Unique Daily Waist Training Routine
Once you have a goal in mind, build a waist training routine that works for you and can help you reach that goal.
Waist training is a practice that involves wearing a waist trainer daily to compress and shape your waist. While it immediately slims your waistline by several inches whenever you wear a high-compression waist trainer, over time it can also work in combination with a healthy diet and exercise regimen to help you achieve your ultimate waist-snatching goal.
For the best results with waist training, we recommend wearing a waist trainer for 8–12 hours a day. If you're a beginner, you'll want to gradually build up to this level of use over the course of several weeks. Start out by wearing your waist trainer for an hour or two a day, and then increase your use as you feel comfortable.
When you're planning your waist training routine for 2023, consider where you want to fit it into your life. When you're ramping up, you may want to wear it when it's convenient to take the high-compression garment off after a couple of hours. You may find it easier to wear it during different parts of your day—whether that's at home, at work, and/or while you're working out.
As part of your goal planning and follow-through, write down your daily waist training schedule, including your goals for scaling up in the first few weeks. Periodically evaluate your plan and your schedule if it's not working for you, and tweak it to meet your needs.
Make a Fitness Plan
Waist training is only one piece of the puzzle if you want to truly have Kardashian-inspired, snatched waist. An effective exercise routine is also vital for creating curves.
An exercise routine that builds muscle and burns fat has to have a combination of cardio and strength training. Cardio improves your overall health in many ways including heart health and hormone regulation, while strength training does the "heavy lifting" when it comes to sculpting your waist and toning your body.
Women should aim to include strength training at least two to three times a week, as it helps to build muscle, boosts metabolism, and helps to burn fat. This can be done in the form of weight-lifting, Pilates, yoga, or any other format that you enjoy. Strength training need not be intimidating—start with lighter weights, and increase the amount of weight gradually with time.
And of course, don't forget to use a workout waist trainer as an integral part of your fitness plan. A workout band's high compression around the midsection activates heat in your core and helps you sweat harder, which amplifies your workouts. Plus, you'll love the way it snatches your waist at the gym, which can be a confidence boost and motivator.
Incorporate Other Health and Wellness Elements
Factors like diet, hydration, stress management, and sleep are also huge contributors to how you look and feel. If you're sticking with a waist training and fitness routine but not fueling your body with the nutrients as well as the rest it needs, you're just not going to see the results you're after.
You don't need to be extreme in order to reach your goals. As you're planning 2023, consider focusing on making small changes that will help you feel better overall. While it's important to cut back on sugar, that doesn't mean that you can't ever have it. Set reasonable limits that you know you can stick to.
Working with a nutritionist or coach can be extremely helpful if you're not sure where to start. They can give you a personalized plan based on your unique needs.
Write down the lifestyle habits you want to change in 2023 and incorporate them with your fitness and waist training plan. For example, you might consider tracking your macros, drinking a goal amount of water every day, and incorporating a new bedtime routine to get more sleep. These small tweaks can make a big difference when it comes to your physique.
Follow Through!
It's not enough to just set goals and make plans for your waist training journey. You'll need to track your progress and build accountability into the process if you want to ensure you get results.
You can measure your success in a variety of ways, including tracking your measurements over time, taking before/after photos, and using a points-based system to reward yourself for successes. Make sure that you're holding yourself accountable by reviewing your progress and if necessary, tweaking your plan. Consider tracking your activity and progress through a fitness app or journal. When you write out your goals and record your progress, you can look back and see how far you've come. Additionally, having an accountability buddy or a coach can help you stay on track and keep you motivated.
Get the Perfect Waist Trainers for Your Routine

Once you have your plan for your waist training routine, you'll want to be sure that you have the perfect waist trainers on hand to help you follow through! Here are some of our favorites that we recommend for getting started:
Achieve big results with your waist training goals with this adjustable waist trainer. Featuring four rows of hooks, it provides an ultra-secure fit and more room to size down as your waist shrinks. Crafted with latex core and reinforced with flexible steel boning, it stimulates your core's heat and increases perspiration around your midsection. Perfect for beginners or post-pregnancy slimming goals, it's easy to fasten with the large hook-and-eye closures. Wear it during workouts or under everyday attire and see your figure transformed.
Looking to get a snatched waist and hourglass curves in record time? This waist trainer is equipped with a Velcro strap and zipper, so you can slip it on in seconds and start your workout routine faster. It's built tough for all-day wear and provides powerful shaping to help you reach your biggest slimming goals. And with increased thermal activity in your core, you can maximize the effectiveness of nearly any workout routine.
This high-compression latex vest is designed with thin shoulder straps for extra bust and back support. It instantly sculpts your midsection, instantly reducing your waist measurements by 1-3 inches. Plus, its vest-style design helps you stand taller and straighter for a more confident posture. The vest is reinforced with flexible steel boning for maximum effectiveness and comfort. With three rows of hook-and-eye closures, you can adjust the fit as you reach your slimming goals.
We have many more options available to help you craft the perfect waist training routine for a snatched 2023. Please reach out to our experts if you have any questions about waist training or finding the best waist trainer for your goals.
Happy New Year and best wishes for an AMAZING 2023!