Posted by by hourglass angel on Jun 5th 2018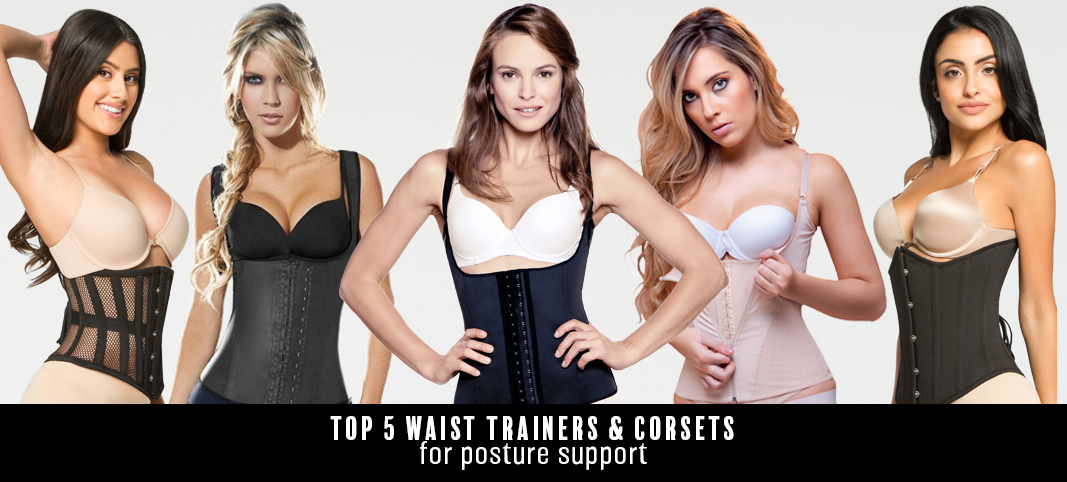 One of the lesser-known benefits of wearing shapewear and waist trainers in particular is how it can benefit your posture while you wear them. As you can see in our before and after gallery and customer reviews, women are surprised and pleased at the way their posture improves, in addition to the slimming benefits.
If you're like most people, you may not be aware of your posture and how it can be affecting your health, confidence and wellbeing.
Why You Should Care About Better Posture
You've probably heard that good posture is important. But in an era when many people are slouched behind desks, hunched over a machine or carrying trays and other awkward and heavy items, it's no wonder that so many of us have anything but good posture! And we're suffering the consequences.
Over the long term, poor posture can cause chronic back pain, which as any sufferer can tell you, affects pretty much everything you do and lowers your quality of life.
Other adverse effects of bad posture include:
Decreased circulation: This can lead to the development of spider veins.
Negative mood and increased stress levels: Yes, simply from the way you hold your torso!
Carpal Tunnel Syndrome: The nerves in your neck and upper back control the function in your arms, wrists and hands, so bad posture can negatively affect these areas.
Pressure on your joints: Not only is there pressure on your spine, but your whole body can be bearing weight in the ways it's not designed to, which means you'll be more likely to get injured or suffer from arthritis later in life.
Decreased confidence and motivation: Just as poor posture can contribute to a poor mood, it can also psychologically make you feel less confident about your self-image and decrease how motivated you feel.
Poor digestion: When you're hunched over, you squish your organs. This can lead to constipation and metabolic issues.
Fatigue: Your body naturally wants to be upright, so when you're constantly slouched over, it consumes a lot of energy because your body will want to fight it!
While the negative consequences of bad posture are alarming, the good news is that this condition can be easily correctible—and you can benefit immediately. Here are several ways that improving your posture improves your overall health and well-being:
Better movements and more energy: When your spine is properly aligned, you will do just about any physical activity better. With more efficient movements, you'll see a noticeable improvement in your energy levels.
Better breathing: Your lungs will be less constricted with good posture. Fuller, deeper breaths mean you can better prevent and respond to stress and anxiety.
Increased confidence: Sitting or standing up straight makes you look more like an authority figure, which affects how other people view you as well as the way you view yourself.
Less pain and better health: Obviously, if you can improve your posture you can lessen the pressure on your spine and other joints, as well as improve your digestion.
If you're wondering what good posture looks like, here's what Harvard Health says to look for:
Chin parallel to the floor
Shoulders even (roll your shoulders up, back, and down to help achieve this)
Neutral spine (no flexing or arching to overemphasize the curve in your lower back)
Arms at your sides with elbows straight and even
Abdominal muscles braced
Hips even
Knees even and pointing straight ahead
Body weight distributed evenly on both feet
How to Have Better Posture Every Day
Good posture is a habit, and it can be a challenge to change something that you do without thinking. But there are a few ways you can incorporate good posture-support habits in your everyday life.
Get up and move: If you're at a desk job, you'll alleviate the pressure on your back by getting up and walking around every few minutes.
Use supportive chairs that are ergonomically designed.
Avoid high heels: We know, we know, this isn't everyone's favorite tip, but heels can wreck your posture. On the days when you're going to be on your feet a lot, try to wear flats.
Strengthen your core: A lot of posture problems are related to weak core muscles. So grab your workout band and start hitting the gym!
Lose some weight: The more weight you are carrying around, the more difficult it is to hold good posture. All the more reason to get on a healthy lifestyle regimen, supplemented by waist training to maximize your workouts.
Wear posture-supporting garments: We'll make this part easy for you! Here's how…
Shapewear and waist trainers specifically can be very effective in helping you change the way you arch your back while sitting or standing. What makes changing your posture difficult is having to think about it all the time—and most of us just don't have the brain space for that.
Waist trainers and other posture-supporting garments apply compression to your midsection, which helps you to keep your back straighter (more on this below). Plus, these garments are easy to incorporate into your everyday wardrobe.
If you're not already wearing shapewear on a daily basis, here are some suggestions for making it a part of your healthy lifestyle routine:
At the gym: Wear a workout band to support your posture, sweat harder and get the most out of your workouts. This is a great place to start if you are new to waist training.
At work: Waist trainers designed for everyday use can be a staple part of your work wardrobe, whether you're behind a desk or on the move. They will pull in your tummy and support your posture, making you look immediately more confident—not to mention making your clothes look more flattering on your figure.
Around the house: While dressing down in casual wear, you can also benefit from waist training. For the best results we recommend wearing a waist trainer at least eight hours a day. Over time, most people find they want to have at least two waist trainers they can rotate through their wardrobe.
It may take some time to get used to incorporating a waist trainer into your routine, but once you've adjusted to the way it feels and looks, you'll start to love your results.
Top 5 Waist Trainers for Posture Support
Waist trainers and corsets are an excellent way to support your posture because of the way they are constructed. Latex cinchers use compression to support your core and prevent you from hunching over. Steel-boned corsets do the same thing using steel boning in the bodice and a lace-up back.
Here are some of our top picks:
Waist Trainer Corset Vest by Amia A103: Our fan favorite waist trainer brand Amia does not disappoint with this vest-style cincher. Using flexible boning and latex panels, it tightly pulls in the core, secured with hook-and-eye closures that you can adjust to a tighter fit once you are ready to size down. But what really provides support for your posture is the open-bust and straps. Sometimes lack of breast support is the culprit for poor posture, so this style gives that extra boost that you can pair with your favorite bra.
Waist Training Double Layer with Zipper by Vedette 940: Vedette is another tried and true waist trainer band that comes through with extra slimming and posture support power with this reinforced waist trainer. It also uses straps that provide support and coverage for the upper back along with optimal support for the bust. But what really gives it extra strength is the zip-up front, which goes over the hook-and-eye closures and ensures that the garment stays firmly in place for all-day slimming and posture support.
Ann Chery Latex Waist Shaper Vest 2027: Ann Chery is well known for its slimming power, but this vest-style waist trainer goes the extra mile. Not only will it slim your waist up to several inches, but the wide straps help provide full back coverage and full bust support.
Underbust Cotton Corset by Hourglass Angel HA202: We didn't hold anything back when creating a corset that is comfortable, powerful in slimming and back support, and affordable. This steel-boned corset provides maximum slimming power with a classic underbust design that lifts and supports the bust. Waist tape keeps the corset in place, ensuring all-day support for your posture.
Underbust Waspie Mesh Corset By Hourglass Angel HA201: With this corset you'll get a lightweight feel that doesn't sacrifice slimming and back support power. This breathable corset uses steel-boning and waist tape and a lace-up back to provide maximum slimming underneath a sexy, breathable mesh bodice. The underbust design provides optimal support for the bust, pulls in your core and supports the back in order to enhance your posture.
Whatever posture and back support corset you choose to incorporate into your life, make sure that you choose the garment that is best suited for your size and figure. Use our customizing size charts and take accurate measurements of your waistline for the best results.
As always, we'd love to hear from you if you have any questions about how waist trainers can help you change your lifestyle for better, more confident posture.