Posted by by hourglass angel on Jan 22nd 2017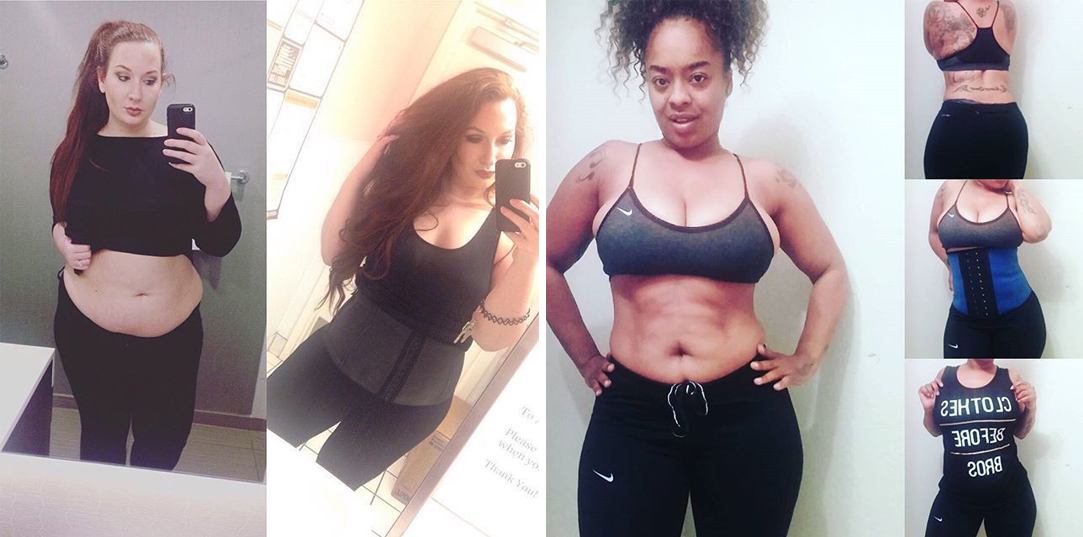 If you've been following any of your friends' or even strangers' waist training journeys for a while, you will probably notice that everybody's results are a little bit different. For example, a petite woman with a straight build in a waist trainer will certainly look different from a very curvy woman in a waist trainer—although both can look very flattering, IF they have the right garment for their body types.
So the question is: what will a waist trainer look like on you?
It depends on your natural body type as well as what type of waist trainer you use. Sometimes women like to have several different types of waist trainers in their wardrobes because of the different results they will produce!
To better understand what your results might be, here are a few examples of different body types, waist trainers and corsets.
Waist Trainers on Different Body Types
Your natural build is very important when determining what types of waist trainers are going to work best on you! Here are some common body types along with their ideal waist trainers.
Petite
If you're shorter than about 5'2", you're going to get the best results in a shorter cut waist trainer; a longer style might feel awkward or uncomfortable. Workout bands are cut short to provide more freedom of motion, so they're also ideal for the petite body type. Check out these recommendations for short torsos as well.
Long Torso
If you're taller than about 5'8", or if women's tops seem to be short on your build, you're going to look best in a waist trainer with a longer cut. This ensures that you get full coverage for your abdomen and lower back; otherwise, you might not like the way it sits. Check out these recommendations for long torsos.
Curvy Bust
If your bust-to-waist ratio is high, you're going to love the extra lift and support that a waist trainer provides. While it's a matter of preference, many bustier women prefer the support of a vest-style waist trainer, which will also provide fuller coverage for your upper back. Check out our collection of vest-style waist trainers.
Straight Figure
Women with a long and lean body type can benefit a lot from waist trainers because they create instant curves. There are a lot of great options if this is you. In general you're going to want to stick to latex cinchers that have only two rows of hook and eye closures, as three rows are better designed more for women who are trying to lose a lot of weight. Try these everyday styles as well as workout bands. You might also like the results you can achieve from a lace-up corset, which can dramatically pull in your waist and give you a custom fit.
Plus Size
Waist trainers can provide stunning results if you are especially tall and/or curvy. But it's very important to get one that's the right size. Some people mistakenly believe that if they order a smaller size, they'll get better results; but the opposite is true. If your waist trainer is too small, you might not even be able to get it on, and if you do, it will create a very unflattering "spillover effect." If you're in the plus sizes, be sure to check out garments designed especially for your build.
"Average" Build and Proportions
If you don't have any features in your body type that stand out—meaning, you're of average height and weight and have relatively proportional measurement ratios—you'll have a lot of options available. Choosing the most flattering garment also depends on your goals, so check out the sections below if you need additional guidance.
Before & After Photos
Curious what waist training looks like when it's done right? Here are some great before-and-after photo examples of the results you might expect.
Other Features to Consider When Choosing a Waist Trainer
Body type can be a big factor when choosing the ideal waist trainer, but sometimes you'll want to consider a few other factors, such as what your goals are, your lifestyle and a few other personal preferences. Here are some additional features in waist trainers that might affect your choice.
Workout Options
Wearing a waist trainer during your workouts can be a highly effective way to boost the intensity of your exercise routine, as well as provide the motivation you need to keep it up. But you don't want to just wear any waist trainer or corset to the gym. Our collection of workout bands consists of garments that are designed to be more durable, provide more freedom of motion and stimulate heat to make you sweat more with less effort. They also tend to come in a variety of colors, styles and patterns, which makes them fun to show off.
When selecting your workout band, just be sure to consider all of the options (such as number of hook rows or garment length) to ensure the best results for your unique body type.
Lace-Up Corsets
While latex cinchers are the more popular option when it comes to waist training, we are also big fans of traditional lace-up corsets. These garments have two benefits: first, since they lace up they are completely customizable and can size down with you day by day for the most dramatic results. Second, since they are constructed with steel boning, they may last longer. You could go down several dress sizes while waist training with the same corset.
2 Vs. 3 Rows of Hooks
If you're planning on losing a substantial amount of weight while waist training, you might consider choosing a cincher with three rows of hooks, giving you the most room to size down as you slim down. These are especially popular among women who are trying to lose post-pregnancy weight as well as anyone trying to kick-start a healthy lifestyle. If you're not planning on losing substantial weight and you're on the smaller side, you'll get better results with two rows.
Visibility Under Clothing
A common question we get is how easy it is to conceal waist trainers under clothing. While waist trainers will be invisible under many styles, you might want to be cautious when you're wearing a top or dress that is especially thin or light in color. In those cases be sure to wear a waist trainer in a color that can be better camouflaged next to your skin, like nude or black. For those occasions you might also consider a no-closure waist cincher to ensure that the clasps won't show through.
Materials and Style
Beyond these basic recommendations, the remaining options have to do with personal preference. If you have a sensitivity to latex, be sure to check out our latex-free options. Beyond that, if you're still have trouble selecting the perfect waist trainer based on your body shape and other factors, be sure to check out the reviews for the garments you're considering. Look for insights from people who share about their own size and shape and what results they experienced. You can also checkout #BeTheHourglass on Instagram and see what people are saying!
Hopefully it's evident from this post that there's a flattering waist training option for pretty much every shape and size! Be sure to research your options thoroughly before making a purchase to ensure that you're getting the best choice for your unique body type. And if you can't decide between garments, why not try both? We highly recommend having at least two waist trainers in your wardrobe that you can rotate, in order to keep them clean and help the latex rest, when applicable. It can also be useful to have more than one option depending on what you're wearing and what you're doing.
If you still have questions, please contact our expert stylists on our customer service team. We are passionate about helping women find their perfect fit…and we wear waist trainers too! Our team members come in various shapes and sizes just like anyone else, so we can make genuine recommendations based on our own experience. Call or email after you've browsed our site and we'll be happy to help you make a decision.