Posted by hourglass angel on Oct 2nd 2016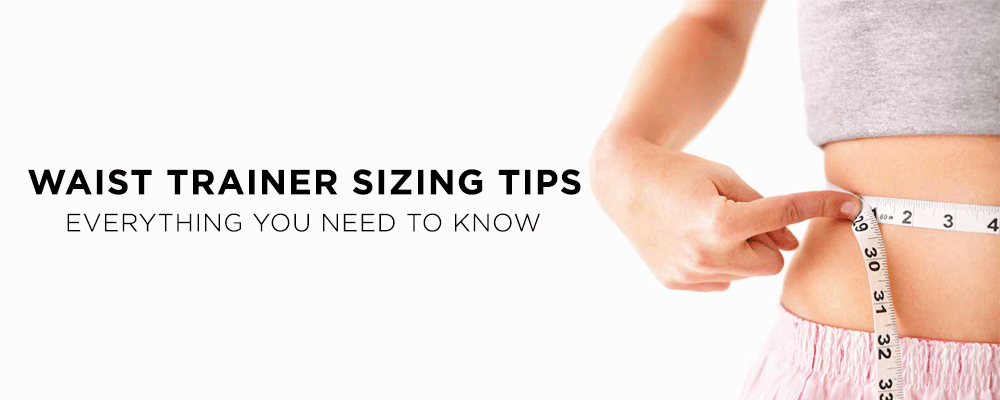 "How do I know it will fit right?"
We get a lot of questions about sizing when it comes to our waist trainers. And we understand—after all, how do you know something fits well when you order online?
Here at Hourglass Angel, we like to think of our online shop as a virtual waist trainer boutique. We curate the highest-quality waist trainers available on the market, using a thorough product-testing process that includes analysis of every garment's sizing tendencies. Our customer service team is made up of expert stylists who use waist trainers themselves and know how they work. So, while you can't physically try on a waist trainer before you order it, if you rely on our expertise we're pretty sure that you'll find the best product to meet your personal needs.
In other words, when it comes to waist trainers, our mission is that every customer will be 100 percent satisfied.
We've compiled all of our sizing guidelines here, including common sizing issues that customers run into when ordering for the first time. Follow this guide to ensure that you get the garment you want!
First things first: research your options
There are a lot of options when it comes to waist trainers, and we highly recommend that you explore them thoroughly before choosing a garment or trying to size it. Our blog and our newsletters are packed with waist training tips that you won't find anywhere else—including the latest trends and newest products.
One thing that's important to consider whether you're buying a waist trainer or any other type of shapewear is your body type. If you have a natural hourglass shape, you're going to have different issues than someone with a "curvy on bottom" shape. And while we think that waist trainers are a flattering option for every body type, it's helpful to know the differences. For example, if you are curvy on top, you may want to consider choosing a vest style for extra bust support and back coverage. If you have a long torso you might consider a waist trainer with longer coverage, while if you're short, avoid those options.
Before you purchase a waist trainer, you'll also want to be clear about what your goals are.
Some questions you should consider include:
Are you committing to an every day waist training routine? Make sure you get a garment that is designed for everyday wear. In fact, you will probably want at least two garments, so that you can keep them clean and rotate them.
Are you planning on working out in your waist trainer? (We highly recommend that you do!) Then be sure you are selecting a garment designed for high-intensity.
Are you using waist training as part of an overall weight loss plan? If you anticipate sizing down significantly, you may want a garment with three rows of hook-and-eye closures instead of two, giving you more room for slimming down.
What kind of material do you prefer? To provide maximum compression and waist-slimming effectiveness, most waist trainers are constructed from latex, although we also have a latex-free line.
How much compression do you want? For the best results we recommend maximum compression waist trainers. However, many people are very happy with lighter compression, which can feel more comfortable for long hours of wear.
Other factors to consider: color, prints, styles, preferred brand names.
When you've narrowed down your selection, another great way to know which product might be right for you is by going over the customer reviews. Please note, however, that what works for one person might not work for another. Try to gather information from reviews that provide specific information, like how committed they are to waist training and the way the garment fit on their particular body type.
If you've done some preliminary research but you're still not sure what you're looking for, please contact our expert stylists on our customer service team. We're here to help!
Taking accurate measurements
The great thing about sizing waist trainers is that they mostly rely on one measurement: you waistline. It is very important that you take this measurement accurately if you want your waist trainer to fit properly!
To take your waist measurement, use vinyl or fabric measuring tape. Be sure that you keep it level with the floor. Measure at your natural waist, which is typically about two inches above your belly button. You can also find it by leaning slightly to the side and observing where the natural bend is.
It can be tempting to want to pull the tape as tight as possible, but for the most accurate result, make sure you can slip a finger underneath. It should lay flat against the skin, but you shouldn't be pulling or tugging on it to make it tighter.
What about torso length?
If you are much taller or shorter than average, it's possible that you'll have some issues with torso length. If you're between about 5'2" and 5'8", most waist trainers should fit fine. If you're shorter or taller than that, you may consider some special options (also see this post on more specific torso length measurements).
For especially long torsos, we recommend the Long Torso Sporty Exercise Band for fuller coverage. If you prefer a less sporty option, you can also pair any of our everyday use waist trainers with shaping leggings to better cover your lower abdomen.
For shorter women, you might consider wearing a workout band for everyday use, since they typically have a shorter length. Check out the versatile Active Band Waist Trainer by Amia, which transitions from workout band to an everyday waist trainer.
Finding YOUR best fit
After you've determined what garment you want as well as your measurements, it is VERY important to follow that specific garment's sizing recommendations. Like many types of apparel, different brands and styles can run large or small. That is why we test each and every waist trainer we sell and have adjusted the sizing charts accordingly.
Look at the product description carefully and note if there are any special instructions regarding sizing. Do not simply rely on your typical dress size and assume that this is going to correspond with your waist trainer size.
Sometimes people mistakenly assume that if they choose a size smaller, it will produce more flattering results. That is a big mistake because in fact, the opposite is true! If your waist trainer is too small, it will be very uncomfortable and will not look appealing (if you can even get it on in the first place). Think about how unflattering it is when someone's clothes are too tight. If you want dramatic results, it's more important to have maximum compression, rather than a smaller size.
For this reason, if your waist measurement falls in between two sizes, we always recommend choosing the larger option. Remember, you can adjust the garment by choosing the tighter set of hook and eye closures, for the best possible fit.
Trying on your order
Once you've ordered your waist trainer and received it in the mail, you'll want to try it on right away. Don't remove the tag yet!
To put it on, fasten from the bottom up. It works best if you fasten each hook while holding it above your waist, and then shifting it down as you move up the hooks.
It can be difficult to fasten a waist trainer the first time you put it on. And it will feel very tight, especially if you're not used to wearing one. But this isn't a bad sign (it means it's working!). You will immediately look slimmer because of the compression in the garment.
Here's how you know it doesn't fit: if there is any pinching or extreme discomfort. If this is the case, take off the garment immediately; you probably need a larger size. On the other hand, if the garment doesn't feel snug or slides around at all, it is probably too big.
If the waist trainer doesn't fit, be sure to take it off after no more than a couple of minutes so that you will be able to exchange it. If it does fit, note that it will take a little bit of getting used to. You will want to wear it for about an hour two at a time to start with, as it breaks in and you become accustomed to how it feels. You can slowly increase the amount of time that you wear it, a little at a time. Ultimately, for the best results, we recommend daily wear for at least eight hours.
When you need to exchange or return
Hey, we know how it goes; sometimes a waist trainer doesn't work out the first time. And if it doesn't fit or you don't love it, we want you to have something different! That's why we have a guarantee: if you return your order within 30 days of your purchase, we'll give you an exchange or full refund. See here for our return/exchange policy.
These are the most common issues we encounter when it comes to waist training sizing, but if you still have questions, just let us know! Don't hesitate to contact our customer service team and we'll be happy to assist you.