Posted by hourglass angel on Jul 8th 2017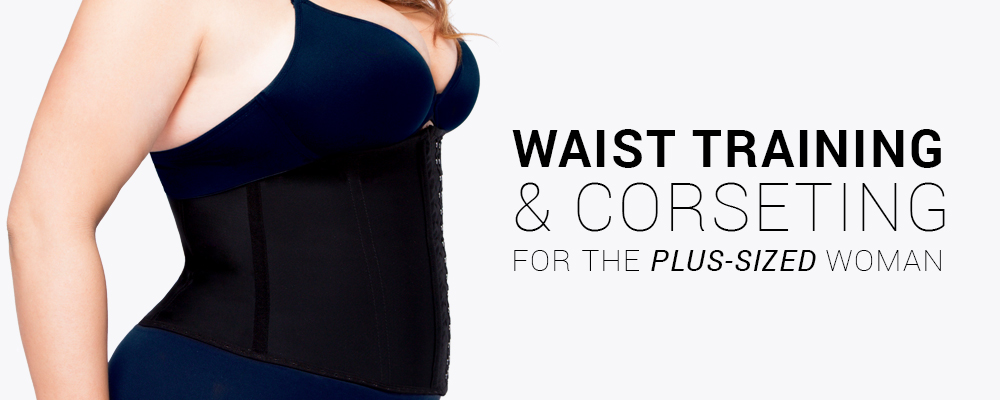 Anyone can have an hourglass waist, no matter what your natural body shape and size. In fact, if you wear plus sizes, you can get dramatic, curvy results with the right waist training cincher or corset.
When shopping for a plus-sized waist trainer, there are several options available and things to consider. Here is a handy overview.
Choosing the Right Size
Getting your size right is the most important factor when selecting the best plus size waist trainer for you. This will ensure the waist trainer is flattering for your body type and comfortable enough to wear all day.
It starts with taking your waist measurements:
Using a vinyl or fabric measuring tape and keeping it level with the ground, measure the narrowest part of your waist. This is typically a couple of inches above your belly button. If you're not sure, bend your torso to one side. Where you see a bend is the natural waist. The tape should be pulled firmly but not so snug that you can't fit a finger underneath.
Once you've determined your waist measurement in inches, consult the sizing chart for waist trainers closely. Don't assume that just because you wear a 2XL dress means you'll need a 2XL waist trainer. Each brand fits slightly differently. We've carefully tested fit for every waist trainer on our website, so follow our customized charts.
Note that when you're measuring for a lace-up corset, the number size of the corset should reflect your waist measurement once the laces are tightened. So the number size should be about 4–5 inches less than your actual waist size; otherwise your corset is going to be too big. Again, trust the sizing charts to get the most accurate fit.
When in doubt or in between sizes, always go up a size rather than down. You can always tighten a waist trainer more firmly if needed. If the waist trainer fits too small, you will be very uncomfortable and will not get the most flattering results. In fact, you might not even be able to get it on at all.
Differences in Materials
There are a couple of noticeably different options when it comes to selecting the type of waist trainer to use. Most waist trainers are either cinchers, which are constructed with spandex and plastic boning, or there are corsets with a non-compression material like cotton with steel boning and a lace-up back.
Both types of waist trainers can be effective for plus-sized women; what works for you really depends on your personal preference.
Latex cinchers are more suitable for workouts (workout bands, in particular) and are generally more versatile for styling underneath a variety of outfits.
Steel-boned corsets will give you the most dramatic hourglass curves and tend to be more durable. Some plus-size women prefer corsets because they know they are built to last, have a custom fit and aren't going to lose their compression power.
We recently introduced the Hourglass Angel Collection of waist trainers, which bring the best of both cinchers and corsets together. You can enjoy the versatility of a latex cincher along with the powerful results and durability of flexible steel boning.
Choosing the Right Style
As we discussed in the last section, there are two main categories of waist trainers: cinchers and corsets. Within those two styles there are even more options.
Latex cinchers come in several styles, including workout bands, everyday wear, and vest. While plus size women can benefit from any of these options, we especially recommend the vest-style for waist training. The shoulder straps provide additional support for the bust as well as coverage for the back.
Steel-boned corsets come in a variety of styling options that are mostly a matter of personal preference. Some can even be worn as outerwear. Some factors you might want to consider if you are plus size is how much abdomen coverage your corset provides. Unless you're very short, you may want a longer style corset that provides full coverage for the lower abdomen.
Other options to consider include material. Satin, for example, is very smooth and creates a foundation that is easy for clothes to slide over. Cotton and brocade are a little bit thicker, but once broken in they can be very comfortable.
Lace-up corsets also come in overbust or underbust styles. Generally the underbust is going to give you the best slimming results and be the most versatile for waist training, but you might enjoy the extra support you get from an overbust plus size corset.
For a bolder look or for costuming, you can use an overbust corset as outerwear. Just note that there is quite a range of quality in this style; many options are designed for style more than function and won't give you the best waist-slimming results, so be sure to read the product descriptions carefully.
Brand Quality
As a plus-sized woman, the quality of the brand is a very important factor when choosing your ideal waist trainer. Generally the cheap waist trainers just aren't going to cut it when it comes to creating that gorgeous hourglass shape, as they either won't last or won't fit quite right.
For plus sizes, we recommend several brands of products:
How to Start a Waist Training Regimen
Usually when people talk about waist training, they're referring to the practice of wearing a cincher or corset for at least eight hours daily with the goal of long-term slimming. We recommend this practice as part of a holistic healthy lifestyle that includes regular exercise that emphasizes core strength as well as a nutritious diet.
If you've never tried waist training before, you must ease your way into it. Your body needs an adjustment period, and your waist trainer also needs to be worn a few times before it is broken in. Waist cincher corsets in particular need to be seasoned, which means that you should only wear them loosely for about an hour a day for at least a week before fully tightening the laces.
A good rule of thumb when starting a waist training regimen is to start at one hour and then add a little time—no more than an hour—each day. If desired, once you start wearing your waist trainer for three to four hours, you may find it more comfortable to break up your wear into two smaller sessions. You can also take a break for a day no more than once a week.
If you're committed to slowly increasing how long you wear your waist trainer, you'll find that it will become natural to wear it all day after a few weeks.
TIP: Be sure to take before and after measurements and photos in order to track your progress. How quickly you see results depends on a variety of factors including your diet and activity level, as well as your natural shape. But in general, you'll find if you stick with it, you're going to love the results.
How to Style Your Waist Trainer
One of the most common questions we get is whether waist trainers can be worn under clothes…and the answer is yes!
How well it works depends on what you're wearing and what kind of waist trainer you have, but there are an endless number of ways to style a waist trainer. Here are a few ideas:
The workout queen: show off your workout waist trainer at the gym along with your favorite sports bra or top and compression leggings.
The office professional: show off those curves in a sleek and professional way by wearing and everyday waist trainer or corset underneath stylish tops and fitted suits.
The corset fashionista: style your corset over a thin top for an edgy or flirty look. We recommend choosing a top that draws emphasis to your shoulders.
Flowing dresses: whether you're dressing up for a formal event or just want to wear something light and fun, wear dresses that emphasize the waist such as A-line cuts. You can also wear flowing fabrics that cling or tunics. For added emphasis, try a belt that hugs your natural waist.
These are just a few styling ideas. Have some of your own or want to get some inspiration? Check out #BeTheHourglass on Instagram.
It's a great time to be a plus-sized woman because there are so many ways you can look curvy and confident with the help of your favorite waist trainer and the style of your choice. And stay tuned, because we'll soon be expanding our plus-size options in our carefully curated collection of waist trainers and shapewear for every women.
Check back soon, and don't hesitate to contact our expert stylists if you need more styling or fitting advice.