Posted by hourglass angel on Dec 10th 2016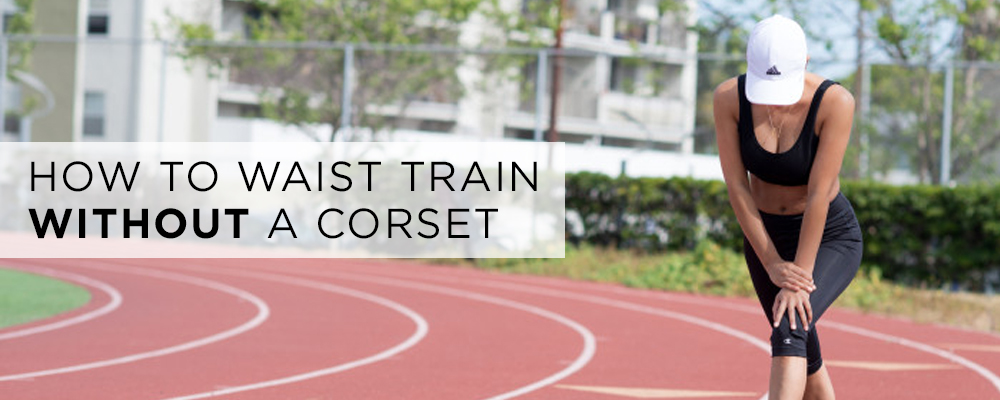 It's no secret around here that we're big fans of waist training as a part of a healthy lifestyle plan. But believe it or not, waist training isn't the only factor when it comes to whittling your waist.
While wearing a corset can be a very effective supplement for your weight loss plan and can really help emphasize those hourglass curves, there are still 3 crucial factors that affect your long-term goals:
Your diet
Exercise consistency
Your overall health
Even if you're a fan of waist training, at some point you might want a break or you may not do it as consistently (for example, if it's summer time and you're spending a lot of time in a bathing suit or in tops that reveal your midsection). Yet you don't want to lose your progress, right?
While nothing can replace the effectiveness of a corset to create a tiny waist and dramatic curves, there are several key healthy lifestyle factors that you should follow should you want to keep that waist looking slim year round. You might be surprised at what they are!
Adequate Sleep
There's a reason they call it beauty rest. Your body not only needs to rest and recharge, but regular sleep also helps regulate your hormone levels. People who regularly experience seven or more hours of sleep are more likely to weigh less than those who experience less sleep—particularly less than five hours.
When you're sleep deprived, your body produces more of the hormone ghrelin, which signals your brain that it's time to eat. What's more, your leptin levels plummet—and leptin is the chemical that tells your brain you're full. In other words, when you're tired you have two forces working against you telling you you're hungry when you really don't need to eat (source).
It makes sense when you think about it, regardless of what hormones are at work. When you're tired and grumpy, you're more likely to reach for that sugary latte for energy or binge eat on those sweets. You're less likely to stick to your exercise plan and go for a power nap or caffeine boost instead. What's more, your metabolism doesn't fire on all cylinders, which means those extra calories get stored as fat.
Motivated to get more rest? Try to go to sleep and wake up at the same times each day. Avoid caffeine 5–6 hours before bedtime. Follow a relaxing bedtime routine and turn off electronics at least an hour before you go to sleep. Don't bring your work to your bedroom—make it a place of calm. Finally, ensure that it is dark and free of artificial light during sleeping hours.
Less Stress
We all know that stress can be harmful to our health, and yes, it can also affect the way we look. When you're under stress, your body produces more of the hormone cortisol, which in turn increases insulin, which in turn makes your blood sugar drop and leads to cravings for sugary and fatty snacks (source). You can see why chronic stress can lead to chronic cravings for sugar! And once again, it makes sense when you think about it—aren't you more likely to reach for the sweets when you're under a lot of pressure?
Stress isn't always a bad thing because it can help you perform under pressure, but if you're constantly under the gun, you might want to consider how you can change it. First, ensure that you're getting enough sleep (see above). Carve time in your schedule for stress-reducing activities including exercise, meditation or prayer, and time with loved ones.
Smart Food Choices
There's a lot of conflicting information out there about what exactly "healthy" means. In general, avoid fads and supplements and stick to the basics: whole, unprocessed foods consumed in moderate amounts.
Go easy on the alcohol. Not only do the extra carb calories go straight to your belly, but alcohol irritates your intestines and can cause bloating. Not flattering. You don't have to give it up entirely, but limit yourself to a couple of drinks a couple of days a week. Your body needs time to recover. And if you do go a little overboard, eat eggs the next morning. They help clean up the toxins in your liver and will help you feel full.
Consume healthy oils. It's generally common knowledge now that the "low-fat" trend of the '80s and '90s was disastrously misleading. The right kinds of fats are an essential part of a healthy diet because they actually help you burn fat—especially around your waist. You'll want oils that are high in omega 3 fatty acids. Great options to include in your diet include oily fish like salmon and mackerel, olive oil, linseed oil, Brazil nuts, hazelnuts and almonds.
Get your whole grains. Many people are fearful of carbs, but like fats, the right carbs are an essential part of a healthy weight. Whole grains help your body burn fat more efficiently. They also aid in digestion, which can clear out toxins in the gut and help you shed excess pounds. And don't just limit yourself to wheat bread; try brown rice, bulgur, oatmeal, corn, whole oats, whole rye and wild rice.
The Right Core Exercises
Think doing hundreds of sit-ups will help? They only target one section of your core muscles, when you really should be focusing on all of them. There are many exercises that are much more effective at strengthening your core and burning fat.
Here are some suggestions to get you started. We also recommend incorporating high-intensity cardio and additional strength training to increase your endurance and boost your metabolism so you can burn away the belly fat. Try this 20-day jumpstart plan, which can be done with or without waist training—although we still highly recommend you at least do you workouts while wearing a workout band.
Remember, just like waist training, the longer you follow these steps, the better! By focusing on an overall lifestyle change, instead of just the instant satisfaction of slimming your waistline with a corset, you could begin to see positive changes in your body (and in your attitud