Posted by by hourglass angel on Apr 10th 2015
It's no secret anymore that celebrities and everyday women alike are jumping into the waist training trend in order to increase intensity during their workouts. The goal is a reduction in the waistline and a toned midsection.
Haven't heard of this increasingly popular trend? Here are the basic principles behind the practice and some of our most popular garments to help you get acquainted with it:
A. About Waist Training
The basic idea behind this exercise trend is to wear a latex corset or a waist cincher during your workouts. When you do this regularly, you will increase perspiration on your front and lower abdominals and obliques.
One of our most popular garments is the Workout Band Waist Trainer by Ann Chery, which comes in several colors to brighten your gym experience. Try the Animal Instincts Latex Waist Cincher by Ann Chery for a sexy print alternative.
B. Benefits of Waist Training
There are several benefits to using a waist trainer during your workouts. First, it helps you maintain good form when weight lifting or doing cardio. It works similar to a weight lifting belt in that it will support your core. Second, it will increase your body temperature and perspiration while you exercise, helping you sweat out water weight. Finally, the main objective for many women who choose to waist train is that it helps mold your midsection into that covetable hourglass shape, which you can see immediately while wearing the waist trainer. Below is a before and after picture of wearing a dress with and without a waist trainer. What a difference a waist trainer does to curve creation and smoothing out the silhouette!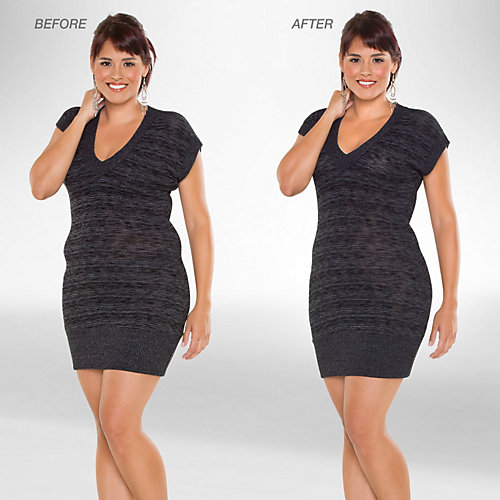 The Latex Waist Cincher Vest by Ann Chery is an alternative to the traditional corset-style trainer and provides additional support through the back and shoulders, while minimizing bra bulge.
C. Combining Waist Training with the Right Exercise and Diet
Using a waist trainer during workouts isn't the only method you should be using to slim your waistline. The technique works best, of course, when used in conjunction with fat-burning, muscle-building exercises and a clean, nutrient-dense diet. If you're not already working out regularly and you want to start waist training, get accustomed to doing some high-intensity cardio exercises first. A good exercise regimen will help you burn fat and increase your metabolism. You may also need to alter your diet for best results. Choose unprocessed foods and avoid sugar as much as possible. And don't forget; stay hydrated!
For you taller ladies, the Long Torso Sporty Exercise Band by Caribbean Shape might be the waist trainer for you.
If you're convinced that waist training might be just the step you need to take to boost your fitness level, you can choose from a variety of options. Don't miss our next post, in which we'll explain the differences between the various types of waist trainers we offer.