Posted by by hourglass angel on Dec 2nd 2016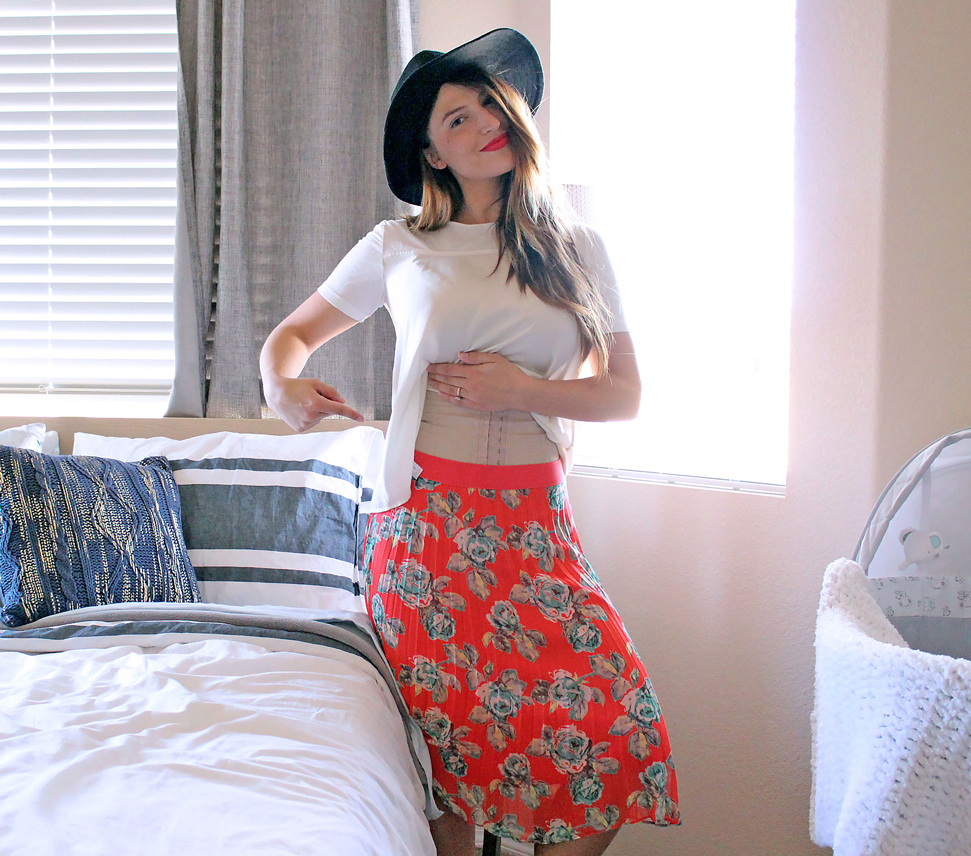 Starting a waist training regimen can be a major lifestyle change. If you're not accustomed to wearing a waist trainer, don't just jump right in without making sure that you're following a realistic plan—one that will produce results!
Here's a handy guide for beginners that explains how to wear a waist trainer corset correctly, how to choose the best garment for your lifestyle and body type, and what kind of schedule to follow when you start.
Defining Waist Training
There's some confusion out there about what waist training even means, so let's start by getting this part straight…
Waist training is the practice of wearing a corset or cincher regularly, with the goals of accentuating your curves and reducing your natural waist. Tight compression around your midsection, ideally in combination with a healthy diet and regular fitness, can help your personal slim-down journey. And the instantly slimming is drastic – often taking 2-3 inches off your waistline while you wear the shapewear.
You can be any body type, any size, to experience success with waist training. It works in several ways. The compression around your core increases thermal activity and perspiration in your midsection, which can be especially effective during your workouts. Waist trainers also immediately improve your posture and help you drop several inches from your waist when you wear them, boosting your confidence and helping you stay motivated on your slim-down journey.
Finally, you may have better portion control when wearing a waist trainer, as overeating will not be comfortable. All of these factors contribute to some incredible results that women of all shapes and sizes love.
How to Choose the Right Waist Trainer
Our expert stylists at Hourglass Angel have curated and tested countless waist trainers, and we only offer the very best that are available. But if you take a glance around our store, the choices might still feel overwhelming! Let us help you narrow it down; there are several factors that you may want to consider when choosing your perfect waist trainer.
Lifestyle:
Do you plan on working out in your waist trainer? (We highly recommend it!). Be sure to snag a workout band, which helps you sweat more in all the right places when you exercise.
Are you a career woman who needs to look sharp every day at the office? Try an everyday cincher in a neutral color that is easy to hide underneath your clothes.
Are you a new mom wanting to lose the baby weight? Try a garment with three rows of hooks so you have lots of space to size down.
Material:
The most popular material used for waist trainers is latex, which is durable and provides firm compression all day.
Have sensitivity to latex? No problem.
For a more traditional lace-up style of corseting, try a steel-boned corset, which can provide even more dramatic results.
Want something light and comfortable? Try a light compression cincher.
Body Type:
If you're petite, you may need a shorter waist trainer.
If you need extra bust support, consider a vest style (and if your bust-to-waist ratio is particularly large, consider one with adjustable straps for the ideal fit!).

Need more help finding the perfect waist trainer? Check out more details from this guide.

Can't pick just one? We actually recommend that you use two or more! This way you can rotate them through your wardrobe, let them rest and keep them clean.

How to Order the Right Size

Once you've found your perfect match, it's vital that your waist trainer fits like a glove. Our customized sizing guides are there to help you pick the right size. Don't rely on your dress size or pant size, as these might not be consistent with each garment. Different brands can run large or small, so trust us—we've tested them.

The most important measurement for your waist trainer is obvious: your waist. Use a vinyl or fabric measuring tape to measure the narrowest part of your waist, which is about two inches above your belly button, where there is a natural bend in your torso. Make sure that the tape lies flat against your skin (or over a light tank) and that it is level with the floor. While the tape should press against you, it should not be pulled so tight that you couldn't slip a finger underneath.

Once you've taken your waist measurement—which you should do whenever you order a new waist trainer—consult the corresponding sizing chart posted on the product page carefully. If the waist trainer comes in a number size, don't assume that the number is the same as your waist measurement. This is especially important for lace-up corsets and a few select brands of waist cinchers.

Need more sizing help? Check out our sizing guide.

How to Put On Your New Waist Trainer

This is one of our favorite parts! Waist trainers can be a little tricky to put on if you've never tried them before. They will feel very tight, but you shouldn't have to yank on the clasps in order to get them on (otherwise you risk damaging them!).

With a waist cincher, start clasping the hooks at the bottom of the garment in front of your body. It works best if you clasp them around the narrowest part of your waist and then pull the garment down over your abdomen as you go. Ideally when you start a waist training regimen, your garment should fit best on the loosest setting so that you have room to size down. Wear your waist trainer for about an hour at a time the first couple of times you wear it so it can break it in.

If you are using a lace-up corset, the process is different because you'll be lacing it in the back. This takes some practice and you might want to ask someone to help you the first couple of times you do it. It's somewhat like tightening shoelaces, only you work from the top and the bottom of the corset towards the middle of your back.

Once it is tight, fasten the laces. Note that corsets need to be seasoned (broken in) before you pull them as tight as they will go. For the first several times you wear one, don't pull it as tight as it will go but only as firm as it can stay on comfortably without sliding around. Wear it for an hour or two at a time for a few days before you lace it up tightly. Check out the ultimate corset training guide for more tips specific to steel-boned corsets.

If your waist trainer appears to cause any bulging, pain or shortness of breath, it does not fit correctly and you should take it off immediately. If you are not accustomed to wearing one it may be uncomfortable to wear for an extended period. That's why we recommend a gradual introduction to waist training to help your body adjust.

7-Day Plan to Start Waist Training

Once you have the ideal waist trainer and have ensured that it fits and is broken in, the best way to get started is to jump right in! Here's a 7-day plan for beginners. By the end of a week you should have a pretty good feel for what an ongoing waist training regimen should feel like. Be sure to take a selfie and record your waist measurements before you start so you can track your progress.

Day 1: Aim for 2 hours of wear for your waist trainer today.
Day 2: Wear your waist trainer for 2–3 hours. Try incorporating cardio with a workout band and see how it feels.
Day 3: Aim for 3–4 hours today. If needed, you may break it up into two shorter sessions. Remember to be drinking at least 8 glasses of water a day and consuming nutritious foods in small portions throughout the day (5–6 small meals is ideal).
Day 4: Today you should be wearing your waist trainer for 4–5 hours. If you haven't already, try doing some strength training exercises that focus on your core.
Day 5: You guessed it, we're up to about 6 hours by now! Remember to break it up if you need a breather.
Day 6: Almost there! Aim for 6–7 hours.
Day 7: By the end of the week you should be wearing your waist trainer for about 8 hours, or a full work day. This is the recommended minimum for an ongoing waist training regimen. As you grow accustomed to how it feels, you can aim to wear it for 8–12 hours on most days.

Remember to listen to your body and adjust if necessary. Everyone's body is different when it comes to a lifestyle change, so be patient and take care of yourself.

When You'll See Results

You'll notice right away that the waist trainer makes you look slimmer, and hopefully that will help you stay motivated to keep wearing it! Long-term results depend on a variety of factors including your fitness level before and during your waist training plan, how committed you are to waist training, your diet, your natural body shape and your genetics. Generally, many women tend to see noticeable results after a few weeks of dedicated wear. Be sure to keep track of your progress by measuring your waist and taking progress pictures, so you can keep track of your results!