Posted by Hourglass Angel on Oct 31st 2018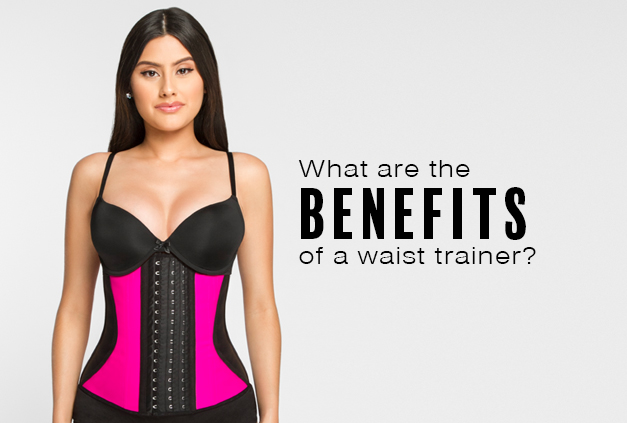 Over the last few years, you've probably noticed how popular waist trainers have become. Whether it's a celebrity on Instagram or your friend at the gym, people of all shapes, sizes and backgrounds have been wearing them everywhere!
But you may be wondering, what are the benefits of a waist trainer, anyway? Are they the real deal?
Here at Hourglass Angel, our expert stylists have talked to countless women about how waist training can be a part of their routine, helping them feel attractive and confident while sticking to their health goals. We've seen firsthand (and experienced for ourselves) the benefits of waist training. There are several you can count on.
What is Waist Training?
Before we dive into the benefits, it's important to define what we mean by the terms "waist trainer" and "waist training."
A "waist trainer" is a specific style of slimming garment designed to slim the midsection through firm compression. Waist trainers come in several forms. Everyday waist trainers are usually constructed with a latex core and fasten in the front using hook-and-eye closures. Workout waist trainers are similar, except they are usually shorter and more durable, since they are designed to be worn during vigorous movements. Both workout waist trainers and everyday waist trainers come in a "band" style or a "vest" style with shoulder straps. Vests provide more support for the bust and coverage for the upper back.
"Waist training" is the practice of wearing a waist trainer daily as part of a healthy lifestyle routine, with the intent to slim down the midsection. You can also wear a waist trainer without intending to participate in a daily waist training regimen, such as for special occasions or as a piece of shapewear underneath your clothes.
It's worth noting that steel-boned corsets can also be used for everyday waist training, a practice otherwise known as corseting. Corsets provide compression for the core using tight lacing and flexible steel boning instead of latex. Wearing a corset will result in a more dramatic hourglass cinch at the waist.
Read more: The Ultimate Guide to Waist Training
1) Instant Slimming and Figure Enhancement
The first and most obvious benefit of wearing a waist trainer is that it will immediately slim and enhance your figure. Simply by putting it on, you will drop up to several inches from your waistline.
What's more, a waist trainer will eliminate trouble spots that many women experience at the midsection, including "muffin top" on the top of the pant line and love handles at the sides. The garment creates smooth hourglass curves, which makes it ideal as a slimming undergarment.
Waist trainers also lift and enhance the bust and help support the breasts. Since they leave the bust open, you can wear your own bra, giving you the custom lift and support you desire. Vest-style waist trainers are extra supportive of the bust and also provide coverage over the bra line. This effectively eliminates the appearance of back fat and "bra bulge" at your bra straps.
For these reasons, waist trainers are a favorite choice of shapewear under both everyday and special occasion apparel. You'll find that your clothes glide easily over a firm and smooth foundation, the way they might fall on a mannequin at the store. Even if you're not interested in a daily waist training regimen, we highly recommend having at least one waist trainer in your wardrobe as part of your shapewear collection.
2) Workout Enhancement
A lot of people get started with waist training by wearing a waist trainer while they exercise. Workout waist trainers not only make you look great during workouts, but they also help you get the most out of your exercise routine.
The latex core in a waist trainer stimulates heat and perspiration around your midsection. So when you wear a waist trainer during a workout, you're literally getting more "burn"—you'll feel it in the way you sweat. Some people find they're sweating in places they didn't even know they could sweat! You'll certainly know you're workout is working.
You can wear a waist trainer during workouts that don't require excessive twisting or bending at the waistline. We especially recommend waist training while you're doing cardio, HIIT or strength training. You can also get a good sweat going even if you don't have time to go the gym—simply wear your waist trainer while you're taking your dog for a walk or cleaning the house.
3) Supported Posture
Many of us live and work in spaces where slouching is the norm, whether we're at a desk, behind a counter or on a couch. The consequences of poor posture may include back pain, poor circulation, low energy and even diminished mood and confidence.
Wearing a waist trainer supports your torso so that you can sit and stand with better posture. You just might be surprised at just how much having good posture affects your day-to-day life, both physically and emotionally. Not only does having better posture reduce the likelihood that you'll feel back pain, but you'll also be getting more oxygen in your system, which in turn will affect your mood, confidence and productivity. Who knew?
3) Confidence
Imagine looking in the mirror one day and being a size smaller, with a flat belly, and no lumps or bumps around your midsection. How would you feel about yourself as you left your home that day, in an outfit that showed off your smooth features?
A lot of women would feel more confident and poised. In fact, that's what several have said in our before and after testimonials. Not only did they feel more confident in the way they looked, but their friends and family also started noticing that they had changed.
We believe that beautiful women come in all shapes and sizes. A waist trainer helps you look your best and feel great about yourself.
4) Waist Training as Part of a Healthy Lifestyle
In addition to an instant confidence boost, another benefit of waist training is the role it can play in a healthy lifestyle.
We don't recommend relying on wearing a waist trainer alone to slim down, especially if you're not in the habit of exercising and eating well. But, if you begin a waist training regimen to complement a healthy diet and exercise plan, you're going to have the best results.
There are several ways waist training can contribute to your healthy lifestyle. First, many people find that wearing a waist trainer can be a great motivator. When you see yourself in the mirror with a waist trainer looking slimmer, you can see a very realistic vision of yourself if you stick with your healthy habits. That's one reason we recommend that people take photos of their progress—you'll see your body changing in small steps, which can be effective in propelling you forward. What's more, sizing down your waist trainer can be a fun way to reward yourself for your progress and another motivating factor.
As discussed above, waist training is an effective way to boost your workouts by stimulating body heat and causing you to sweat harder. What's more, you just might enjoy working out more! Fitness bands in bright colors and patterns were made to show off. If you put your waist trainer somewhere visible to remind you to go the gym, you just might be more motivated to follow through with your workout.
Finally, wearing a waist trainer can be a constant reminder to eat more sensibly. With firm compression around the midsection, many people find it uncomfortable to eat large meals. Eating 5–6 small meals a day is better for your metabolism than large meals and is better for weight loss.
5) The Style Benefits of Waist Trainers
One more benefit of wearing a waist trainer worth mentioning is how it can add to your personal style. Not only can waist trainers function as shapewear underneath your clothing, but some styles are designed to be worn as outerwear, so you can get an hourglass look as well as make a statement with your outfit.
Corsets can add a sexy vintage vibe to a number of outfits, especially thin tops and dresses. In particular, we love the way a mesh waspie looks as outerwear, with the added benefit that its breathable design will keep you cool.
And, as we already mentioned above, workout waist trainers can add sexy flair to your workout wardrobe. Gone are the days of baggy sweatpants and old t-shirts when you go to the gym or for a run outside. Try a workout band pair with a pair of shaping leggings for a knockout look while you work up a sweat.
We hope we answered your questions about what the benefits of a waist trainer are! Be sure to see our wide selection of different styles—and check out the customer reviews to see for yourself what people are saying about how waist training is helping them. If you need help finding your ideal waist trainer, be sure to check out more tips here on our blog, or contact our expert team of stylists.