Posted by Hourglass Angel on Mar 20th 2019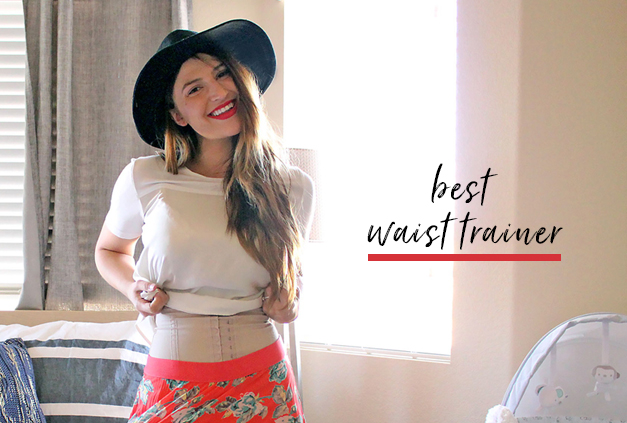 When you discover the world of waist training, you may be surprised at how many options there are!
From colorful workout bands to lace-up corsets, the possibilities are endless when it comes to slimming your waist. But if you're just getting starting, there's probably just one question on your mind: what is the best type of waist trainer to buy?
As you might expect, the answer to that questions depends on what your goals are with waist training. We'll walk you through the different approaches to waist training so you can decide for yourself what the best waist trainer is for you.
Approaches to Waist Training
Before we get into the different styles of waist trainers, let's first define what waist training even is. When you hear the term "waist training," it can refer to several different approaches to a practice of slimming your waist.
Wearing a waist slimming garment as shapewear: someone might say that they are "waist training" by wearing a high compression slimming garment under their clothing. While this is a great way to get a slimmer figure instantly and fit better into your clothing, we prefer not to refer to this as actually following a "waist training" practice.
Wearing a slimming garment during workouts: by wearing a specific type of waist trainer, you can get a more effective workout. Through compression, the waist trainer will stimulate thermal activity in your core and help you sweat harder, so you can feel the higher intensity of your workout without actually exerting more effort.
Wearing a waist slimming garment as a daily regimen: this is the most effective way to wear a waist trainer. You can follow a daily waist training practice to complement a healthy lifestyle with the intention to slim your waist. This is our favorite approach to waist training, as it is all-inclusive; you get great shaping results and can also incorporate a workout routine into the practice!
With these approaches in mind, let's talk about the different types of waist trainers that you can use.
Different Types of Waist Trainers and Cinchers
Everyday waist trainers: these waist slimming garments are ideal whether you want to practice waist training daily or want to wear waist-slimming shapewear as desired. Typically they are constructed with latex, which provides all-day maximum compression. The results are a slimmer waist, a flat tummy and midsection, bust support and a straighter back.
Latex waist trainers are usually fastened with hook-and-eye closures at the front of the garment. They can come with two or three rows of hooks so that you can achieve a custom fit and size down when needed.
Some alternative styles that can be beneficial based on your preference include latex-free if you have a sensitivity, vest style with shoulder straps and additional upper back coverage, and styles designed for plus size or petite women.
Workout bands: these waist trainers are designed specifically for working out. They are slightly different than everyday waist trainers because they are typically shorter and are constructed more durably. This allows you more freedom of movement during exercise and ensures that you won't damage the garment during rigorous activity. While workout bands are typically constructed with the same hook-and-eye closures as everyday waist trainers, one of our favorites uses a double Velcro closure that makes it quick and easy to put on.
Steel-boned corsets: you may not think of wearing a corset for waist training, but this traditional style of garment is actually the original way waist training was practiced! They can be very effective for everyday waist training (although we do not recommend using them during workouts.
Corsets are different than latex waist trainers because they provide compression through tight lacing and steel boning in the bodice. They are fastened in the back. When tightened fully, they can create a classic cinch at the natural waist that creates a dramatic hourglass effect.
The Best Everyday Waist Trainers
Here are some of our most popular, highly rated waist trainers ideal for everyday wear, along with customer reviews.
"This is the second time I have ordered this specific product…I wear it everyday at least 8 hours at my job and I stay busy moving and bending over constantly. The waist cincher stays in place and also adds some support for my back in addition to smoothing out my curves under my clothes. I love it and will continue to stick with this particular product on my fitness journey." – Caitlin
Classica Latex Waist Cincher by Ann Chery 2025
"When I first got this I knew I made a great purchase since it was very difficult to put on. That means well constructed and I won't seize down in a day and a half. It pushed my saggy mommy boobs to new heights and I hadn't seen that figure since I was 23. Whoa I'm in love and could totally see myself wearing a different corset every day of the week. I love how it makes me feel and the length pushes my mommy pouch in so I don't feel like I'm about to hatch a baby kangaroo. Love it and will be buying much more." – Meagan
The Best Workout Bands
These are our customer favorite workout bands along with their reviews
Latex Workout Band Curve Creator by Hourglass Angel HA101
"I love it! This waist trainer combined with the amp your curve gel will make you sweat and you'll see results." – Keiara
"Love this! This waist trainer is amazing. I have already purchased a couple buying a couple more for my friends." – Guest
Workout Waist Trainer by Ann Chery 2026
"Love this! Great trainer to work out in! Comfortable to wear, and you can see results!" – Carly
"I love this waist trainer! Immediately I felt my posture was better. After just one week I feel like my waistline is trimmer. This product is super sturdy and should last quite a while." – Stephanie
The Best Steel-Boned Corsets
These are the corsets we recommend for maximum slimming results.
Underbust Cotton Corset by Houglass Angel HA202
"I've ordered from you guys before and couldn't have been happier…it lasts so long and is definitely well worth the money." – Nicole
Short Underbust Satin Corset by Hourglass Angel HA207
"It's perfect, the quality is great and it looks gorgeous!" – Dewliy
Still need recommendations about the best kind of waist trainer to buy? Contact our expert stylists and we'll be happy to assist you!