Posted by Hourglass Angel on Oct 2nd 2019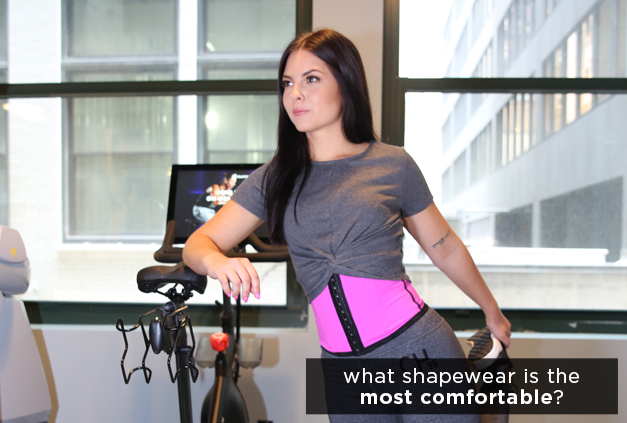 Adding shapewear to your wardrobe, whether for work, casual attire or workouts, can make a big difference in creating a look you love that enhances your best features.
But if you're planning on wearing shapewear every day, comfort is a must.
So what is the most comfortable shapewear?
Not all of it is created alike. Some shapewear is ideal for special occasions or other specific outfits, while some is better suited for everyday use.
There are several features to look for if comfort is your number one priority in shaping attire.
Related: What to Look for When Shopping for Shapewear
Shapewear Compression Level
The first feature you'll want to consider when choosing comfortable shapewear is compression level. High compression shaping garments will give you dramatic sculpting results ideal for formal attire or a waist training regimen. Lighter compression shapewear provides more of a smoothing effect and has more flexibility.
If comfort is your priority, you'll generally want to steer toward lighter compression garments.
Shapewear Breathability
Another feature that affects how comfortable your shapewear may feel is breathability. Some styles are designed to stimulate heat in your target areas and have limited airflow. Others are designed to help your skin breathe.
If you live in a warm climate, you may want to lean toward more breathable options, especially if you spend time in the heat. Choose hosiery weight, cotton or mesh styles that allow for the most airflow.
Shapewear Materials
The materials that shapewear is constructed from make a difference in comfort. Look for these types of fabrics to better anticipate how comfortable your shapewear will feel:
Latex: This is a compression material frequently utilized to provide slimming and shaping in most styles of shaping garments. It typically provides high compression, so you will experience less flexibility in the shaper. Latex also restricts airflow and is often designed to stimulate perspiration (such as in a waist trainer). Keep in mind that while many people love the results they get from latex, some people are sensitive to it and prefer alternatives.
Cotton: This is a soft and breathable fabric that many of us love. It is often used in the lining of shapewear to help your skin breathe and feel cool. If you want high compression with a lighter touch, be sure to check out options with cotton lining.
Spandex and Polyamide: These are synthetic materials that provide an alternative to latex. Depending on the blend, they can provide light to firm compression. They can also be more breathable, but again this depends on the blend. Read your garment's specifications to determine compression level.
Boning: Corset-style garments and waist trainers often use thin, flexible strips of plastic or steel to reinforce the bodice and provide firm compression. Boning creates dramatic slimming results, but it requires an adjustment to the way it feels, especially when worn for long hours.
Mesh: Some corsets combine the shaping of power of boning with the breathability of mesh to create a dramatic hourglass waistline with a light and airy feel.
Shapewear Style and Cut
Shapewear comes in many styles and cuts that are designed to target different areas of your body. Depending on your body type and shaping needs, you can maximize your comfort by selecting shapewear that slims and smooths your figure exactly where you need it to, without overdoing it.
Here are some of our favorite comfortable shapewear styles that are ideal for everyday use:
Shaping panties: You're going to be wearing panties anyway, so why not wear some that enhance your figure at the same time? Most shaping panties feature a high waistband that uses compression to tuck in your tummy and slim your midsection. Choose a compression level that provides the shaping power you desire.
Some shaping panties also feature rear enhancement. Many people are surprised by the results and comfort they experience using an open-bottom panty that naturally lifts the rear.
Shaping camis: These are must-have shaping garments for your everyday attire and are also useful as workwear. Light and soft, they provide a smooth foundation for a variety of outfits, making them a favorite for layering in any season.
The most comfortable style of cami we recommend is open-bust, meaning it can be paired with your bra of choice. This enables you to get the support and shaping you need from your bra, paired with the figure-perfecting power of your tank.
Thigh shapers: If you want a smoother slimmer look for your hips and thighs, thigh shapers are a must whenever you're wearing skirts, dresses and pants that show off your figure. Choose a hosiery-weight shaper with an open bottom, a firmer compression shaper than minimizes the rear, or a variety of styles in between.
Coverage of thigh shapers can range from just the tops of the thighs all the way to the knees. Which style will be more comfortable will depend on your personal preference and shaping needs. You're bound to find one that you love.
Shaping leggings: Stretchy leggings are a go-to when women want to be comfy, so shaping leggings are naturally one of the most comfortable shapewear options. We recommend working out in them in order to look and feel great, and of course they're useful for relaxing in as well.
Growing More Comfortable Shapewear with Time
In addition to choosing shapewear styles and fabrics that suit your preferences, another way to get comfortable with shapewear is to wear it often—so that you grow accustomed to the way it feels.
To get the best results with high compression shapers like waist trainers, you'll want to wear them every day (starting with just an hour or two and increasing the amount of wear each day). After a couple of weeks, your body will adjust and you will feel comfortable wearing high compression for many hours at a time.
We hope this answers your questions about the most comfortable shapewear. Still not sure what you need? Contact our expert stylists and we'll be glad to help.