Posted by hourglass angel on Jan 14th 2017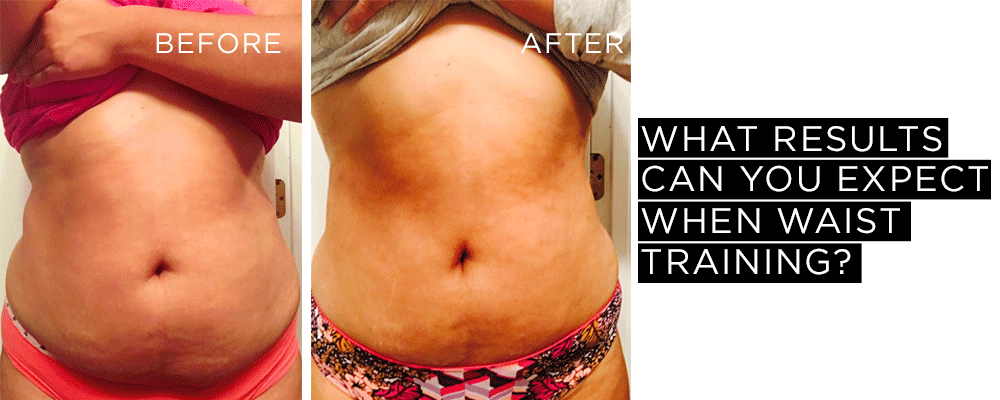 Many people ask us what kinds of results to expect from waist training. Understandably, it can be difficult to predict exactly what it will be like for them. As we often say, every body is different, and results can vary quite a bit depending on a combination of factors.
These factors include:
Natural body shape: if you are petite for example, your results are not going to be the same as someone who is tall and curvy.
Goals: are you trying to slim down after pregnancy or lose a lot of weight? Or are you simply trying to enhance your figure without losing much weight? Your results will vary depending on what you're trying to accomplish.
Lifestyle: are you already active or planning to be active? Is your diet going to change when you start waist training? Those factors have a huge influence on your overall results.
Genetics: there are a lot of ways your genes influence how much your body can change. For example, how elastic is your skin? How tall are you? Where do you tend to carry your weight?
Waist training plan: Someone who wears a waist trainer sporadically is not going to have the same results as someone who is dedicated to wearing a waist trainer the recommend 8–12 hours a day.
That being said, we can still confidently say that you will get results no matter what your conditions are! Your results might not look like someone else's, but if you are dedicated, you will see them. It's important to track your progress with photos and waist measurements so that you can really see the gradual progress you make.
If you're still curious, here are some real results that our customers of varying shapes, sizes and lifestyles have experienced. You might get a little glimpse of what your results will be like if you take note of each of these women's experiences.
The Busy Nanny

One of the biggest challenges to implementing a healthy lifestyle change is finding the time. Desire is a young nanny with a demanding schedule. She knew that she wanted to change, but she just didn't see how she could fit it into her schedule.
She started seeing friends posting their experiences with waist training on Instagram and was intrigued. Why not give it a shot? Immediately after wearing it for just a few weeks, she started seeing substantial changes in her most stubborn trouble areas: her waist, lower abdomen and back.
Her waist trainer of choice as a beginner was the Classica Latex Waist Cincher by Ann Chery. She explains her decision for this particular trainer: "Personally, I love the latex feeling because it's tight and doesn't more around. I also love this cincher because it comes with 3 bracket levels. As you begin to lose inches from your waist, your cincher becomes looser. With the 3 rows of hook-and-eye closures, I was able to find more use it in rather than purchase a new cincher every couple of months. After finally putting the trainer on, I felt like a million bucks. I loved how it enhanced my waist and how much slimmer I felt."
While she started out with just waist training, she began to get more motivated about changing her whole lifestyle by working out for 30 minutes a day and eating clean. She felt compelled to continue making changes because she started feeling so much more confident about herself! Her friends and family noticed her changes, and she loved the way she looked in the mirror.
The Fashionable Interior Designer

As an interior designer, Suzie knows that the first impression can mean a lot when she meets with clients. She's very conscious about the way she looks and presents herself. When she first heard about waist training, she thought it would be a great way to slim her midsection and emphasize her already lovely curves. She was surprised to discover that it did much more!
She started out initially using a basic garment: Perfect Waist by Squeem. She loved it from the beginning and eventually wanted to take her waist training regimen up a notch with the Classica Latex Waist Cincher by Ann Chery.
Suzie illustrates just how much waist training can do when you're dedicated to it for six months:
"I can see drastic results. My body has always been more of an hourglass shape, so it really helped emphasize that. I get so happy because I've had people tell me they really like how my waist is cinched, and that's been when I'm not wearing one! I lost 4 inches more than I expected!"
Like many others who start waist training, she started to eat better and become more active. She walks 4–7 miles a day and practices better portion control and food choices; the waist trainer has motivated her to start signing up for fitness classes as well.
"These garments have given me so much encouragement! I feel great every day and they gave me the confidence to pursue my fitness goals further! I am now looking in to signing up for workout classes. I smile every day because of the changes I'm seeing in my body, thanks to my waist trainers."
The Stay-At-Home Mom

Lillie is the proud mom of a toddler and needed to slim down for her upcoming wedding day. No matter how hard she tried, she just couldn't shed the extra 20 pounds of baby weight she had put on. She saw waist training results on Instagram and knew she had to try it. She chose Ann Chery Workout Trainer and documented her journey online.
Her results are truly inspiring. She worked her way up to wearing the waist trainer more than 8 hours a day. She finally started slimming down and was further motivated to eat smaller portions and work out 5 days a week with online exercise videos. She noticed results after just a few weeks and kept it up in anticipation of the big day!
"The waist trainer absolutely met my expectations and then some! I honestly had a curvy hourglass shape naturally and didn't think it was going to make a huge difference in that area. Turns out that there was a wonderful difference made that I am beyond excited about! I am not only tiny all around, having almost completely lost my belly pooch, back fat, and side fat, but I'm also so much curvier than I ever thought I could be!"
We hope you're inspired by the real results that women like you have experienced with waist training. No matter what your goals are, we hope you try it for yourself and see what it can do for you.