Posted by hourglass angel on Jun 23rd 2017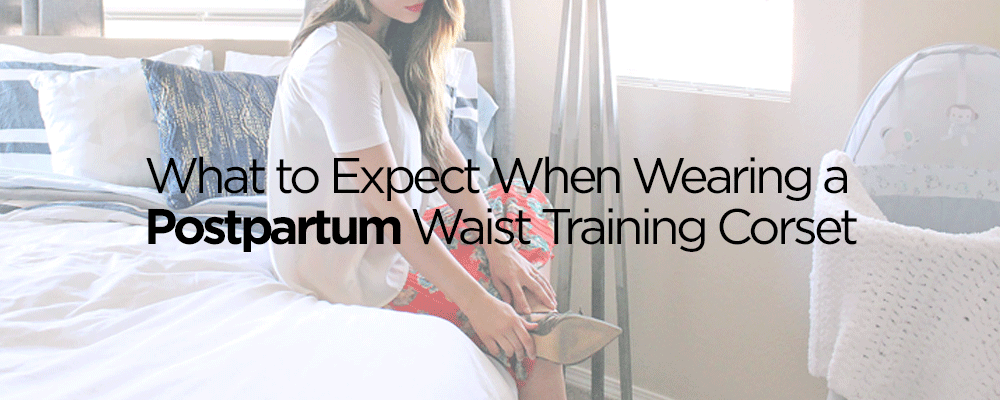 New moms are discovering a secret to slimming down their post-baby bodies quickly and effectively: daily waist training.
Celebrities and everyday women alike are showing off their post-baby figures at the gym, on social media, and even dressed in casual clothes.
Note that your body should be completely healed from childbirth before you start wearing a high compression waist trainer (prior to this we suggest a gentler post delivery girdle or even a post-surgical girdle). A good indicator is when your physician gives you the go-ahead to start exercising again.
Your body undergoes a lot of changes during pregnancy, so reshaping your figure is going to take time and dedication to a healthy lifestyle and wearing a corset every day. If you think waist training is a good fit for you as a new mom, here are several things to expect when you get started.
It Will Feel Very Tight
Many women can be quite surprised when they try on a waist trainer for the first time. It should feel very snug, will trim a couple of inches from your waist measurement, and will hold your back in a very straight posture. You may even be tempted to think that it's too small. However, these are all signs that it is working just the way it is supposed to.
A waist trainer that is too small will be very difficult to get on. When you try on a waist trainer, fasten it at the narrowest part of your waist, working your way from the bottom up and pulling the garment down over your lower abdomen as you go.
While it will feel tight, you shouldn't have to yank on the hooks or pinch any part of your body. Severe discomfort is not normal. If you have trouble breathing, take off the garment. Otherwise, if it fits and creates a flattering hourglass silhouette, you're good to go!
It Will Take Time to Adjust
After seeing the results for the first time, you may be tempted to keep your waist trainer on forever. But we recommend that you ease your way into a routine gently. Your body will need some time to adjust to the way it feels, and the garment will need to be broken in as well.
Start out wearing your waist trainer for just an hour or two, and then slowly add a half hour to an hour every day after that. Once you're up to several hours a day, you may even want to break it up into a couple of sessions. You should be comfortable with wearing your waist trainer every day for at least eight hours once you've been incrementally adding more time for a few weeks.
Everyone's Results Vary
Women want to know: how long before they see results? That can largely depend on where you start from. If you're still just a few weeks out from birth and still have a lot of baby weight to lose, you might see some drastic results in just a few weeks. If it has been a few months since you delivered the baby, or if you've already shed a lot of your baby weight, your results might not be as drastic.
There are a variety of other factors that affect your results, including your lifestyle. If you are working hard to stay active and eat nutritious food in sensible portions, you can be sure your hard work is going to pay off. Other factors that can affect your results are your natural body size and shape, your skin's elasticity, and how dedicated you are to your waist training practice.
We strongly encourage everyone who tries waist training to keep track of their own results—so you're really only competing against yourself. Take photos of yourself as you progress, as well as waist measurements. When you compare where you are to where you've been, it can be very motivating to see your progress. Remember it's not a race; be proud of however far you've come!
You Can Customize Your Fit As You Go
We get a lot of sizing questions about waist trainers, which is great because using the right size is critical if you want to get the best results. Some women wonder if they should order a smaller size if they have drastic goals.
Our answer to most sizing questions is this: take accurate measurements and follow each garment's sizing chart. Do not ever get a size smaller than you measure. As you progress towards your slimming goals, remember that most waist trainers are designed to be able to size down with you; in fact, that's part of the fun. Being able to tighten your waist trainer to the next row of hooks is a reason to celebrate, and ordering a whole size smaller once you've sized down is a reward in itself.
If you plan on losing a significant amount of weight during your waist training journey, you may want to consider a waist trainer that is even more customizable. Three rows of hooks give you more rooms to be able to tighten the same garment; while lace-up corsets and even Velcro closures can be adjusted as tight as you need them.
If you're considering the ways you can work on working off the baby weight, waist training might be just the thing you're looking for. Not only will it help you stay motivated and help you reach your goals in the long run, but you'll start looking slimmer immediately, as waist trainers pull in your waist and eliminate muffin top and love handles simply by putting them on. While you will undoubtedly be busy and tired taking care of your new little one, we think that waist training is a no-brainer for the new mom. You've worked hard to bring life into the world and care for it; do yourself a favor so that you can look great, feel great, and be the best mom you can be.
Be sure to ask our team of expert stylists if you have any questions about sizing or style. We'd be happy to help!