Posted by Hourglass Angel on Jul 31st 2019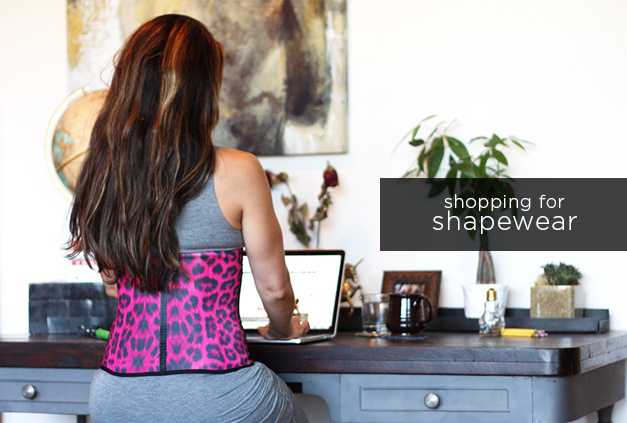 Looking for shapewear for a special event? For the office? For workouts? For waist training?
The possibilities are endless when it comes to smoothing out your figure and creating the perfect foundation for your wardrobe.
If you're wondering what to look for when shopping for shapewear, it starts with what you hope to get out if it. Different materials, cuts, compression levels and other styles are suited for different purposes and different body shapes.
Keep this in mind when browsing shapewear options: you will probably want different pieces for different purposes. That's why it's smart to have a wardrobe with multiple shapewear options—so you can look your best no matter what the occasion.
Material
Shapewear can be made from a variety of different material. Here are some options to look for:
Latex is one of the most powerful synthetic shaping materials available. You will find it in most waist trainers and high compression garments. It will provide maximum slimming results.
Latex is also effective at stimulating heat and perspiration. This is beneficial if you're practicing a waist training regimen or using a workout waist trainer. But it can be uncomfortable if you're in a warm climate and want to stay cool.
Note that some people have sensitivity to latex and will prefer another type of material.
Synthetic blendslike polyamide, elastane, spandex and nylon are alternatives to latex that provide varying levels of compression. Nylon especially is more breathable if you prefer a lighter feel to your shaping garment.
Cottonis a material often used for comfort, particularly in the lining of high compression garments like waist trainers. It feels soft against the skin makes a more breathable shaper.
Steel or plastic boning is another feature to look for in shapewear, especially waist-slimming garments like corsets. Boning is flexible yet firm and will help maintain the shape and compression of your garment.
Compression Level
We've already discussed how different materials can create varying levels of compression in shaping garments. But what is compression and why does it matter?
High compression garments provide more powerful shaping and sculpting power, giving you more dramatic slimming results. Shapers designed for special occasions like bodysuits typically have high compression material to create a stunning silhouette. Effective waist trainers and corsets also feature high compression to provide waist-slimming results.
But you may not always desire high compression material in your shapewear. The higher the compression, the less breathable and flexible the garment is. Medium and light compression garments like shaping leggings, camisoles and shaping panties provide smoothing effects and may be more comfortable with casual or work attire.
Target Areas
Another factor to consider when shopping for shapewear is what areas you want to target on your figure and how you want to target them. Do you want to slim your thighs and butt? Or do you want to create more shape? Do you want a tight cinch at your waist?
Here are some solutions you can shop for based on your slimming and shaping target areas:
Waist slimming: The midriff or waistline is one of the top trouble spots on the average woman's body. These body shapers are designed to flatten the stomach and create an hourglass silhouette.
Thigh shapers: Redefine your lower half with targeted sculpting from compression garments. You'll find various levels of compression and coverage.
Butt lifting: Whether you have a naturally curvy figure or you need help creating one, butt shapers can lift, shape, and enhance your derriere in several ways. Check out open-bottom cuts to create a stunning new lift for the curves you already have, or browse a variety of shorts, leggings and panties that enhance every body type.
All over shaping: Sometimes all-over control is needed to highlight curves and slim your entire silhouette. There are many kinds of full body shaper and waist trainer items to choose from. You'll find full body shapewear garments in varying degrees of shaping intensity to ensure you reach the results you want.
Tummy control: Target your lower abdomen with tummy control shapewear that provides coverage for the whole torso, top to bottom. This kind of shapewear for your lower stomach flattens and shapes that pesky target area so that you can dress with confidence.
Bra bulge: The key to looking smooth and flawless all the way around is having bra shapewear for your back that covers your bra and accentuates your best features. There are a variety of garments that provide the support and coverage for a sexy figure, including all of your back.
Bust enhancement: With the right garments you can naturally enhance your bust and add balance to your figure, without sacrificing comfort or convenience. You can find shaping solutions for petite women or any woman desiring to have a fuller figure on top.
Posture support: You can gain more back support, better posture and a smoother silhouette at the same time. Choose from a variety of shapewear, from waist trainers that give you a more confident posture, to body shapers that smooth those pesky back bulges.
Style and Cut
Aside from fit and target area, there's also a lot of personal preference when it comes to choosing your perfect shapewear.
Some questions to ask when shopping for shapewear include:
How much coverage do you want? Do you want a longer waist garment that covers your lower abdomen? Do you want thigh coverage? Upper back coverage?
Do you want shoulder straps? They can provide extra support and lifting for the bust.
Do you want an underbust cut, or do you want a built-in bra?
What colors and designs do you want? This is especially the case with waist trainers.
Do you want a seamless look so your shaper won't poke through your clothes? Be sure to choose one that is designed with this in mind.
Is your shapewear functional only? Or do you like it to look more like lingerie?
What is the cut of the clothing you'll be wearing over your shapewear? Do you need to choose a cut that will work with a low back, lots of leg or a plunging neckline?
How adjustable do you want your garment to be? If you're hoping to lose weight, you may want a shaper that has the ability to size down with you, as many waist trainers are designed to do.
Do you want shapewear built for everyday use or built for workouts? If you're choosing shapewear for workouts, be sure it's designed for that purpose if you want it to last.
Do you want butt-enhancement? Do you prefer padding, an open-bottom cut, or strategic seaming to help you achieve this goal?
Fit
No matter what style of shapewear you use, the right fit is essential in order to attain the best results.
Some people are mistaken to think that they can get slimmer by ordering a size smaller than their measurements. But ill-fitting shapewear can actually make your figure look worse. It's important to accurately measure yourself and to follow our customized sizing charts posted with each garment in our shop. Remember, different brands may fit differently, so take the time to measure and check the sizing chart!
When taking your measurements, use a fabric or vinyl tape measure. Hold it level to the ground (you may need to use a mirror or ask a friend for help). The tape should lay flat directly against your skin or a very light undergarment. Yet it shouldn't be stretched or pulled tight. You should be able to slip two fingers underneath it.
Here's how to correctly take each measurement:
Bust: measure around the fullest part of your chest.
Waist: measure about two inches above your belly button, where there is a natural bend at the torso.
Hips: measure around the fullest part of the hips and rear.
Most people don't have perfectly proportioned measurements, so your numbers may not line up perfectly on the sizing chart. That's okay. A good rule of thumb is to always go with the largest measurement in order to get the best fit from your shaping garment. If your measurements are more than a size out of proportion (like if your hips put you in a size L but your waist puts you in a size S), you'll probably want a garment that is adjustable—with shoulder straps or at the waist.
You'll also want to consider the cut of your garment. For example, if you want shaping panties, your bust size won't be relevant. If you're getting a waist trainer, the most important measurement is the waist.
When shopping online, make sure to try on your shaping garment before removing any tags or lining. In general it should be snug, but not so tight that it pinches. Try on your regular clothing over it. It should be flattering to your figure and make you feel great about the way you look.
Make Shapewear Shopping Fun
There are so many options to consider with shapewear…just remember to have fun when you're shopping. Try lots of different things. And if you want help, ask one of our stylists. They're happy to help!