Posted by hourglass angel on Dec 30th 2013
It's that time of year again when we renew goals for the future while trying not to get too discouraged about resolutions of the past. This year, give yourself a hand up in achieving your goals by pairing firm and comfortable shapewear with your diet and exercise plan for instant results. Hit the ground running this new year and get what you want with confidence inside and out.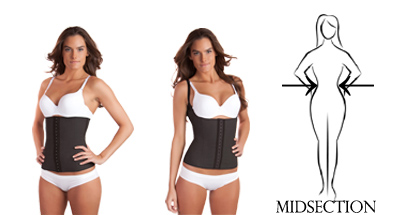 Midsection
For ultimate, carefree midsection control, invest in the Almighty Cincher or Almighty Vest by AMIA. AMIA midsection shapers instantly deliver the tummy control and back support that you need now and has lasting results. The Almighty Cincher and the Almighty Vest both visibly reduce the waistline by one to three inches, with many users reporting one to four inches of sustained loss after wearing the shaper for 30 days.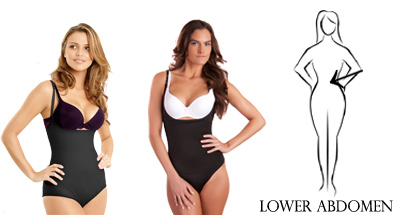 Lower Abdomen
The lower abdomen is one of the most difficult areas of the body to control and minimize, even with proper exercise and diet. Postpartum mommies and post-surgical patients especially struggle with getting adequate support for this area. Luckily, the Supreme Panty Shaper by AMIA utilizes a Supreme PowerLatex core to instantly smooth and reduce the midsection, while the tri-layer shaping technology lifts the bust and lengthens the spine for an overall longer, leaner appearance. Likewise, the Squeem Compression Panty Shaper has the proper reinforcement to firm and flatten the lower abdomen while promoting long-term weight loss.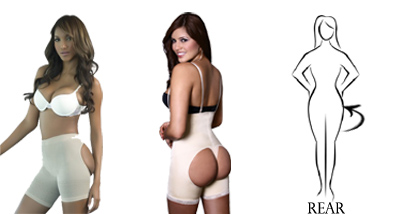 Rear
The struggle of shapewear is achieving a sleek silhouette without flattening a curvy bum. The Alexandra by Vedette can whittle your waist while celebrating your curves and giving your rear a lift. Don't hide it - flaunt it! The Perfect Butt Thermal Pant by Flakisima is the ultimate rear shaper if you don't want shaping control throughout the entire midsection. This lightweight rear shaper comes up just above the navel for lower abdomen support with its thermal tummy control panel, but the real treat comes from its open-back design that lifts and rounds out the derriere.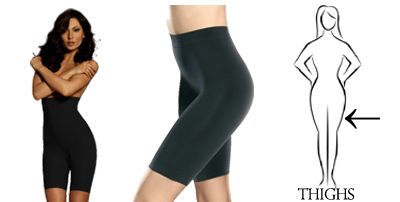 Thighs
Thigh shapers are wonderful in that they typically shape the lower abdomen, hips, rear, and thighs all at once. If you're looking to slim down your thighs without sacrificing your sexy shape, try The Catwalk Firm Control High-Waist Long Leg by Body Wrap. This ultra lightweight thigh shaper provides excellent control while remaining breathable all day. The Slimming Thigh Shaper by Lytess is also an excellent choice, especially if you don't need the full coverage of the long leg, high rise Catwalk Firm Control shaper. The Slimming Thigh Shaper offers hip reduction up to 5.5 cm and thigh reduction up to 3.1 cm via caffeine micro-capsules that mobilize and reduce fat in problem areas.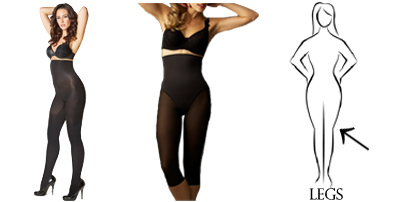 Legs
Nothing completes an outfit like a great set of shapely legs and a confident strut. The High Waist Get Fit Tight by ShaToBu trims and tones while increasing calorie burn as you go about your regular day, as it incorporates the principles of resistance training with special bands woven directly into the tights. For less coverage with the same comfortable, firm support, try the Smooth Couture High Waist Tight by Va Bien. This high-waist, capri-length thigh shaper is equipped with a seamless control waistband, reinforced tummy panel, and Power Net control.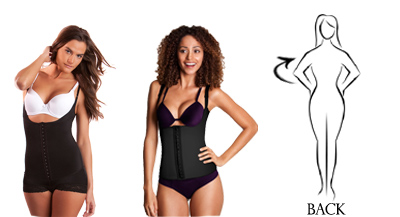 Back
One place that most of us overlook when considering shapewear is the back. The back is subject to getting lumps created by restrictive bras and other clothing, and sometimes just needs some extra support during a long day. The SlimVest by Squeem visibly reduces the waist and tummy by one to four inches in the long-term while instantly slimming you down up to three sizes. The Diva Corselette by AMIA also supports your back, and it has the added benefit of a PowerLatex core and tri-layer slimming technology. The Diva Corselette is a step-through undergarment that also pays special attention to the hips for a smooth silhouette throughout.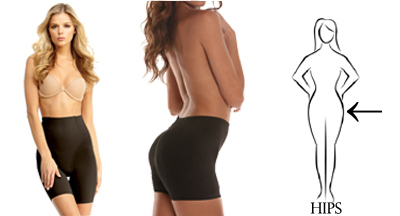 Hips
Some women want to slim their curves, and others want to enhance them. The Hippie Hip and Butt Padded Brief by Bubbles Bodywear gives you a bit of oomph around your derriere. This shaper instantly enhances curves with two removable pads that reach from the hip around to the center of the backside. For those that would prefer to slim the hips, go for the High Waisted Shaping Shorts by MeMoi. This lightweight fiber hip shaper is perfect for daily wear, smoothing throughout the midsection down to the lower thigh for an overall bombshell shape.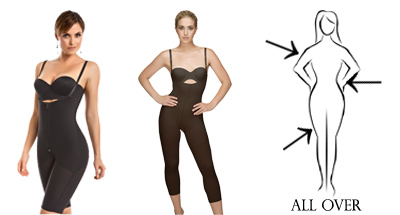 All Over
What do all female (and some male) celebrities have in common? Body shapers! It's Hollywood's little secret, and now you can pull it off, too. For all-over control and a phenomenal figure, try the Celebrity Style Body Shaper by Leonisa. This airy, lightweight shaper utilizes PowerNet construction for great control and reshaping from the underbust to the mid-thigh. To look your best from head to toe, you should also go for the Sophie Braless Long Leg Bodysuit by Vedette. Vedette, a staple brand in the shapewear industry, has created a lightweight full body shaper that controls the hips, tummy, and love-handles with instantly lean legs and thighs.