Posted by hourglass angel on Apr 30th 2017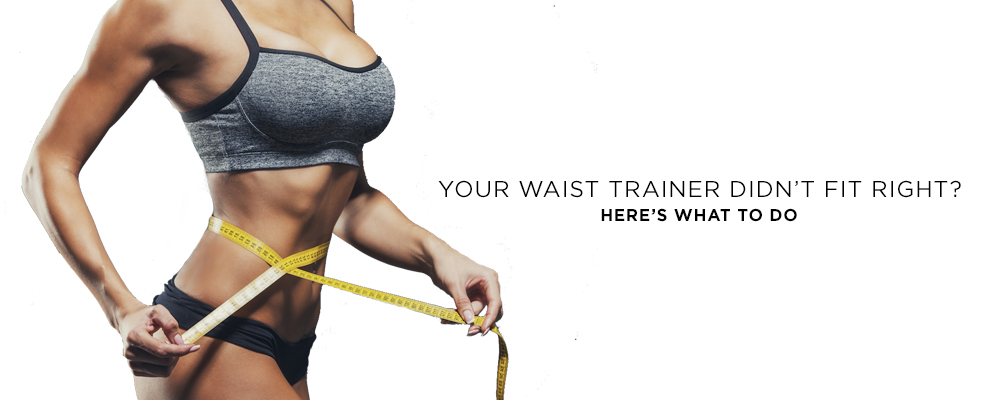 When you're ordering a waist trainer online, especially the first time, an understandable concern is whether or not it will fit properly. While we provide lots of tips to help you get your waist trainer order right the first time, we understand that some customers need to try on their garments before they can determine if it's the perfect fit.
While it can be disappointing when you discover that the size wasn't quite right, try not to worry. Sometimes it can take a little bit of trial and error to find what exactly you're looking for. So don't fret—follow these tips to ensure that you do in fact find the right fit with your shapewear.
How to Try On a Waist Trainer Correctly
First, before you convince yourself that your waist trainer isn't a good fit and send it back, you'll want to make sure that you're trying it on correctly in the first place.
If you are using a latex waist cincher that fastens with hook-and-eye closures, it can be a little tricky to try on for the first time. The hooks should be in the front of the garment. Start with the hook and eye at the very bottom of the garment and fasten them at the narrowest part of your waist.
Work your way up the front of the waist trainer, pulling it down as you go. It will feel very snug, but you shouldn't have to yank on the hooks, as you risk damaging them. If you find that you need to use a lot of force to get the garment closed, it is too small and you shouldn't force it.
If you have a lace-up steel-boned corset, trying it on is a little different. The steel busks should be in the front and the laces in the back. Loosen the laces generously and then step into the garment. You will probably need help, or at the very least, a large mirror. Pulling the corset up over your waist, slowly tighten the laces from the top and bottom towards the middle, similar to the way you would tie shoelaces. Note that you do not want to pull it as tight as it will go because you will need to break it in first. Tie off the laces when the corset is snug but not constricting in any way.
How a Waist Trainer Should Fit
If you were able to try on your waist trainer, you should be able to tell relatively quickly whether or not it fits well. A cincher should feel very tight, but it shouldn't pinch or cause any discomfort. Ideally it should be on the loosest row of hooks when your first start out so that you'll have room to tighten it later as your waistline slims down. If the garment doesn't provide firm compression or provide a flattering hourglass shape, it is either too large or possibly the wrong style of garment for your body type.
When you're trying on a corset, it should likewise create a very flattering hourglass shape, even when it's not tightened all the way. If it sits very awkwardly on your waistline or if it seems very loose even when fastened tightly, these are indicators that it doesn't fit correctly.
How to Return or Exchange Your Waist Trainer
If you're certain that your waist trainer isn't a good fit, not to worry—we want to make sure that you are 100 percent satisfied with your order. Within 30 days of your purchase, you have the option to return or exchange it. It must be unwashed and in its original condition, which means that the tags are on and that it doesn't have any damage, markings or odors. It should also be in its original packaging. To begin the return or exchange process for purchases that meet these conditions, click here.
How to Take Measurements and Size Correctly
Once you start your return, it's back to the drawing board; we want to make sure that you get the right garment this time. First, you'll want to ensure that you are in fact taking correct measurements and ordering the right size. Here are a few tips we recommend.
First, the most important measurement for a waist trainer is, unsurprisingly, your waist. Use a soft vinyl or fabric measuring tape and measure at the narrowest part of your waist, a couple of inches above your belly button where there is a natural bend in your torso when you lean to one side. The tape should be level with the ground, and snug but not so tight that you can't slip a finger underneath (it shouldn't be digging into your skin).
Once you've taken your measurement, please look closely at the sizing chart for the garment that you want to order. We have carefully curated and tested each and every waist trainer in our shop, including sizing trends. Different brands will fit a little bit differently, and we have adjusted our sizing charts accordingly. Some brands go by number sizes, while others use sizes like S, M, L, etc. Don't refer to what you think your dress or top size is; go with each garment's specific guidelines. You might also want to check out customer reviews and see what others are saying about a particular garment's fit.
Please note that if you are ordering a steel-boned corset, the number size does not correlate directly with your waist size. Instead, it will be 4–5 inches less (Ideally, what your waist size will be once you are wearing the corset). Again, follow the size chart carefully to determine your exact size. It might not be what you think it is at first glance!
If you're in between sizes, whether corset or cincher, our advice is always to go up rather than down. The logic is that when you're in between, you can always tighten a waist trainer when you need to, but you can't make it larger. If your garment is too small, you will not have the most flattering results.
How to Pick the Perfect Waist Trainer
Sometimes you can technically have the right size waist trainer, but it still doesn't seem to fit quite right. Here are a few other variables to consider if you're having trouble finding the perfect waist trainer:
Petite: If you have a small build, you might find that certain waist trainers are too long or just don't look quite right. If your waist trainer is too long, it might pinch or dig into your ribs or hips. Furthermore, if it doesn't provide a flattering result, it just might not be the right cut for you. For example, perhaps you ordered a cincher with three rows of hooks and shoulder straps. Generally that style is going to work better on a woman with a curvier build. We recommend that if you're petite, you choose from our selection that tends to fit that body type better here.
Tall: If you have an especially long torso (particularly if you're taller than about 5'8"), you might find that certain styles of waist trainers don't provide the best coverage, particularly on the lower abdomen. If this is the case with you, look at these waist trainers that come with a longer cut.
Curvy: You might find that a vest style waist trainer with straps is a lot more support and comfortable—not to mention, it will provide better coverage for your back, especially over your bra line. If you are planning on losing more than a few pounds of weight, you might also prefer a cincher that has three rows of hooks instead of two, so you'll have more space for sizing down. Note that depending on how curvy you are, you might prefer a garment with adjustable straps to ensure that you're getting the tightest fit around your waist.
Plus size: We carry a selection of waist trainers that range from 2XL to 5XL. Again, be sure to refer to our sizing charts to determine your best fit.
A special note for workout bands: these garments are designed for use during exercise but are not intended to be worn all day. In general, they are cut a bit shorter and provide slightly more freedom of movement in order to optimize your workouts. On the flip side, everyday waist trainers aren't designed for vigorous movement. These are factors to consider when you order your waist trainer and try them on; imagine how you will feel wearing them for the activity they are intended for.
We hope you've found these sizing tips and instructions about what to do when your waist trainer doesn't fit useful. Remember, if you need help or would like to provide feedback, please contact our customer service team and we will be happy to answer your questions. We also encourage you to leave a detailed review about any waist trainers you've tried so that you can pass on anything you've learned about sizing to other customers who are looking for the perfect fit.