Posted by Hourglass Angel on Aug 16th 2022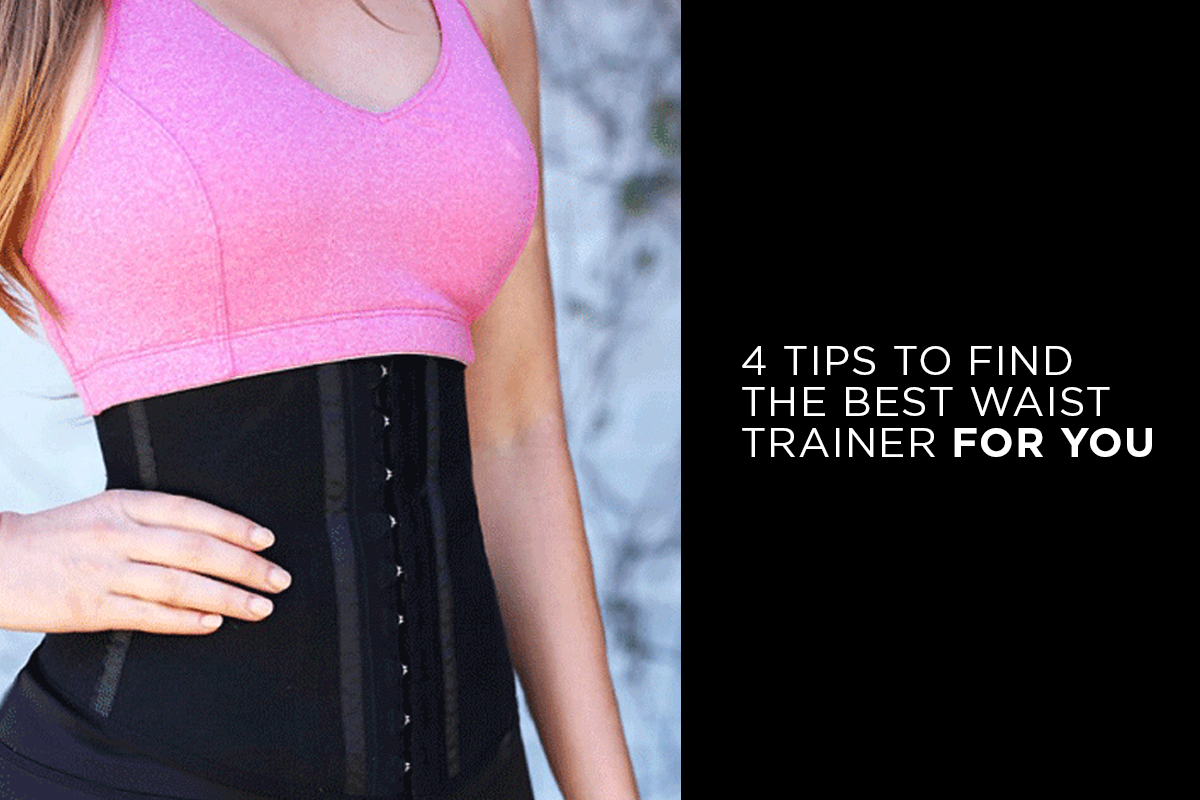 You probably already know that waist trainers are an effective way to slim your waist and help you feel more confident. There are many styles available, so you may be wondering which is the most effective at creating a smooth, hourglass shape.
There are several factors about your unique needs and preferences, which you should consider when choosing the most effective waist trainer. These include:
Your waist training goals
Your lifestyle
Your experience with waist training
Your body shape and size
Based on these factors, here are four tips on how to find the best waist trainer that is most effective for you.
1. Know Your Waist Training Goals
The effectiveness of a waist training routine largely depends on the goals of the person using the waist trainer. If you want to use a waist trainer as a way to smooth your midsection underneath your outfit, you are going to have different results than someone who wants to use waist training to amplify their fitness routine or slim down significantly.
Consider the following goals:
Using a waist trainer as shapewear:A waist training garment can be used as desired to enhance the way you look in certain outfits. For example, if you wear a waist trainer under a form-fitting dress or top, it will instantly create a smooth, hourglass shape and slim your waist 1–3 inches.
Using a waist trainer to enhance workouts: Waist trainers that are designed for exercise will help you sweat harder and feel more intensity during your workouts. When used as part of your fitness routine, a waist trainer can effectively amplify the level of your workouts whether you're doing strength training, cardio, or even going for a brisk walk.
Using a waist trainer as part of a slim-down regimen: If you are looking to slim your waist significantly, a waist trainer can help you get there along with changes in your diet and activity level. For the best results, we recommend using a waist trainer for 8–12 hours a day (once you've gotten used to wearing it) and following a sensible diet and exercise plan. If you plan on losing a lot of weight, choose a waist trainer with room to size down.
2. Consider Your Lifestyle
Closely related to your waist training goals, you'll want to consider realistically what your lifestyle will be like when you're waist training. Ask the following questions in order to further determine which style of waist trainer will be most effective.
Commitment: Will you be willing and able to commit to a daily waist training regimen of 8–12 hours a day? If you're intending to use your waist trainer as part of a daily regimen, you'll want a waist trainer that is designed for that purpose and is comfortable for all-day wear.
Healthy choices:Will you be able to stick to a sensible diet and exercise plan that will complement your waist training regimen? Choose a waist trainer that will assist you in these lifestyle choices.
Fitness level:Will you be able to do waist trainer workouts 4–5 days a week? To get the most out of a workout band, you'll want to have a good plan to use it.
The way you dress:Do you want to see dramatic waist slimming results for special occasions or certain outfits? If so, you'll want to have a maximum compression waist trainer to have on hand for those situations.
You may find that having two or more waist trainers in your wardrobe will help you achieve your waist training goals based on your daily lifestyle. For example, you could have an everyday waist trainer for maximum comfort throughout your daily routine, a workout band for when you exercise, and a maximum compression waist trainer for special occasions.
3. Experience Matters
If you're new to waist training, your experience will be different than that of someone who has been doing it for months or years.
A beginner who is losing a lot of weight will find a latex waist trainer with a lot of room to size down is highly effective. But if you're someone who is experienced in waist training and is at peak fitness, you'll find that a maximum compression waist trainer or steel-boned corset is much more effective at achieving a more dramatic hourglass waist.
Some experienced people who waist train may also reach a level when they simply want to maintain their slimming results, in which case they will need a waist trainer that is comfortable and makes them look and feel their best.
4. Choose a Waist Trainer for Your Shape and Size
While waist trainers generally can benefit any shape and size by slimming the waist and creating an hourglass shape, there are some styles that are more effective for different body types. Here are some features to consider when searching for the most effective waist trainer:
Vest style waist trainers:These waist trainers provide firm slimming along with extra support for the bust and coverage for the upper back. If you have a larger bust size and/or bra bulge, this is a great style to consider.
Long or short waist trainers: If you are petite, or if you have a long torso, you may want to consider a waist trainer that is extra short or long. Not only will it be more comfortable, but it will create more effective and flattering results.
Plus size waist trainers:Not every style of waist trainer comes in all sizes, so if you are curvy, be sure to look at our selection of waist trainers that come in sizes up to 5XL.
Waist trainers with room to size down: If you are currently at a size that you hope to slim down significantly, you'll get more use out of an adjustable waist trainer with lots of room for tightening. Three or more rows of hooks, or a waist trainer with a Velcro closure, can be very effective.
How to Choose the Right Waist Trainer
With these tips in mind, here are some suggestions for effective waist trainers for everyone.
Size Me Down Adjustable Waist Trainer by Hourglass Angel HA113: This garment uses high compression and four rows of hook and eye closures, making it an ideal garment for beginners who want to start a waist training regimen and hope to slim down significantly. You'll instantly drop several inches from your waistline just by putting it on, and you can wear it daily. It is available in sizes XS to 5XL.
Zipped Up and Snatched Workout Waist Trainer by Hourglass Angel HA108: This garment is a fan favorite workout waist trainer that can be adjusted to a custom fit and creates a serious burn during workouts. It can be slipped on in seconds with a high-strength zipper, with extra reinforcement by a double-Velcro strap, for that "snatched" look.
Latex Waist Trainer Vest by Hourglass Angel HA103: This waist trainer provides firm compression around the core along with shoulder straps that offer upper back coverage and support for the bust. The high compression latex is reinforced with flexible steel boning for maximum effectiveness and will maintain your hourglass shape all day.
Hip Control Latex Waist Trainer by Hourglass Angel HA109: This shaper is a great solution for anyone with a longer torso or who wants coverage and shaping for the lower abdomen and hips. It can be used as an everyday waist trainer or for special occasions. Utilizing 11 columns of flexible steel boning, it provides powerful shaping of all sides of the lower torso, while three rows of hook-and-eye closures provide a secure fit from bust to hip.
Petite Latex Waist Trainer by Hourglass Angel HA100: This garment is cut shorter and gives a tight cinch at the waist, making it a perfect accessory if you're petite or short-waisted. It provides the same stunning curve creation you expect from all of our waist-slimming garments and slims the waistline 1–3 inches as soon as you put it on. We've also incorporated steel boning into this garment for strong and effective compression.
Underbust Cotton Corset by Hourglass Angel HA202: This beautiful garment uses laces and steel boning to create a high compression fit, making it the perfect option for the experienced waist trainer or for a special occasion. The underbust design creates a fuller look for the bust, while the powerful slimming from the tight laces sculpts your midsection powerfully. It is constructed with cotton, resulting in a lightweight and breathable feel whether you're wearing it every day or for a night out.
These are just a few of the options available in our collection of specially designed and curated waist trainers, made for people who are serious about quality waist trainers. Be sure to check out our full collection, and contact our experts if you need assistance selecting the most effective waist trainer for your needs.