Posted by Hourglass Angel on Aug 30th 2022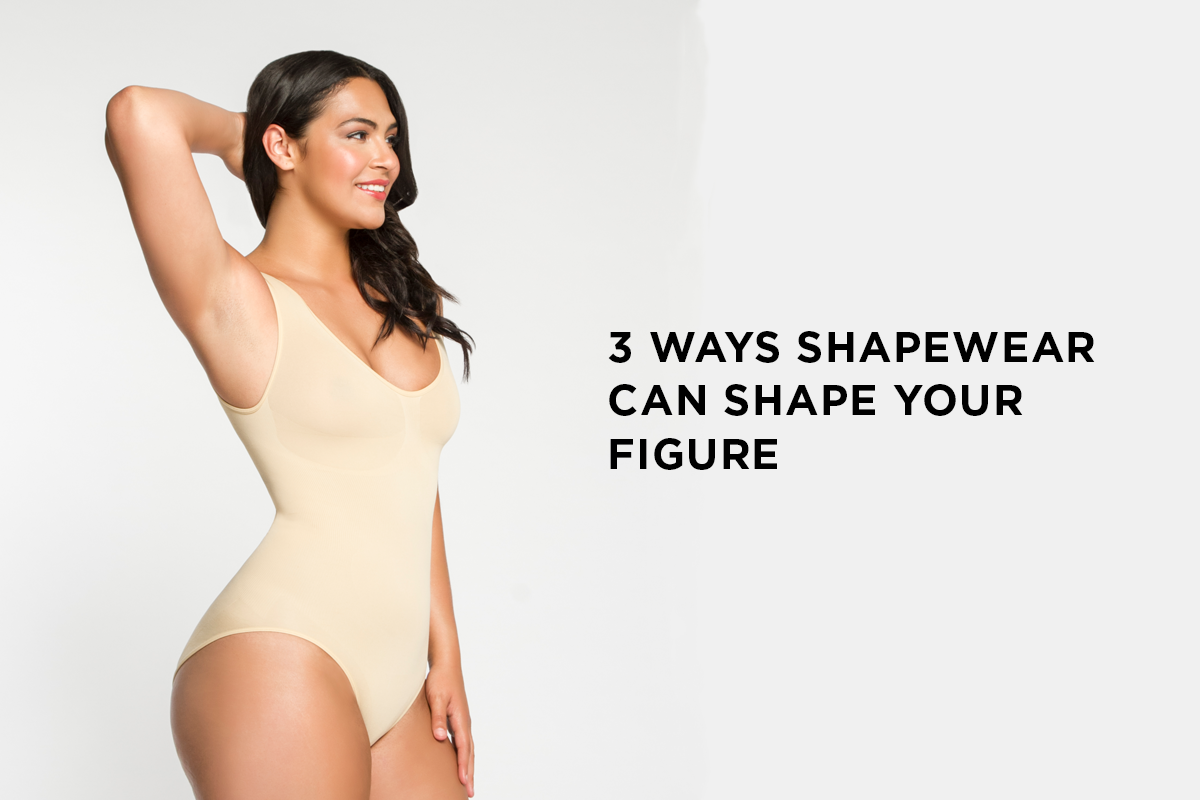 Shapewear is a must-have item for every woman's wardrobe, whether your body type is toned and slim or curvy and full. In recent years, it's no secret that celebrities like the Kardashians, Jessica Alba, and many others use this powerful type of undergarment for fitness, the red carpet, and casual wear. But it's not just celebrities who can benefit from wearing shapers.
If you're new to shapewear, there are a lot of options to consider. It comes in a variety of styles and materials, and it can be used in a variety of ways depending on your body type, the outfit you want to wear, and your shaping goals.
In this article we'll demystify the different types of shapewear and the ways it can shape your figure, so you can figure out how to wear shaping garments every day in a way that works best for you.
What are the Benefits of Wearing Shapewear?
There are multiple benefits to wearing shapewear, so before you pick it out, be sure to know what you want to get out if it. Here are the main reasons why you might want to wear it:
Stand/sit straighter: Certain types of shapewear can help you hold your body in a more upright position, which improves your posture when you wear it.
Create curves: Shapewear doesn't just hide or smooth out trouble spots; it can also lift and enhance your curves exactly where you want them.
Build confidence and motivation: When you look good, you feel good, and that can help you stay motivated to stick with the goals that matter to you.
As you get more comfortable wearing shapewear, you'll want to wear it more often. You can build more confidence and motivation by wearing it daily, a few times a week, or whenever the mood strikes.
3 Ways Shapewear Can Shape Your Figure
With all of these benefits in mind, here are three ways you can use shapewear to enhance your figure based on your unique needs and shaping goals.
1. Slimming
This is what shapewear is perhaps best known for: slimming common trouble areas like the waist, hips, and thighs. Slimming shapewear helps you create more of an hourglass shape even when you might naturally carry your weight in the areas you don't want to.
All body types can look more flattering with a slimmer waist. For the most benefit, use a high compression waist slimming garment like a waist trainer. Garments like the Best Waist Trainer by Hourglass Angel HA102 can take 1–3 inches off your waistline instantly and effortlessly. This is especially helpful if you're wanting to fit into a particular waist size for a particular outfit.
Likewise, thigh slimming shapewear like these Thigh Trainers by Amia A105 can help you have slimmer hips and thighs, creating a more balanced look when you want to wear tight skirts, pants, and dresses.
Some people like to use waist trainers daily as a part of a slim-down regimen. Waist training can be effective as part of a lifestyle plan with a nutritious diet and a variety of regular exercise to slim the waistline. A workout band like the Zipped Up and Snatched Workout Waist Trainer by Hourglass Angel HA108 can be used to enhance a fitness routine, while an everyday waist trainer like the Size Me Down Adjustable Waist Trainer by Hourglass Angel HA113 is ideal for wearing all day.
2. Smoothing
Shapewear isn't just designed for slimming; it can also be used to smooth out your silhouette and create a firm foundation for your clothing. This is especially helpful for anyone who struggles with muffin top, poochy tummy, bra bulge, or cellulite.
Shapewear comes in varying levels of compression. High compression garments are firm and provide powerful sculpting and smoothing. Some people like the way they feel and are comfortable wearing garments like waist trainers every day. Others prefer more lightweight garments with a lower level of compression. These may not provide as dramatic slimming results, but they are comfortable and quite effective at creating a smooth silhouette.
The High Waisted Panty by Amia A109 is an example of a smoothing garment that takes care of love handles, muffin top and other trouble spots. Two control panels provide moderate slimming and control around your midsection, waist, and lower abs. It's invisible underclothing and can be worn comfortably all day.
3. Lifting
Finally, shapewear is effective not only for hiding what you don't want to see, but enhancing what you do want to show off. In particular, shapewear is ideal for women who want to accentuate their bust or their backside, creating a curvier, fuller look.
Lifting shapewear can work in a variety of ways. Many garments with features that lift work in combination with slimming and smoothing features.
For example, garments like waist trainers not only slim the waist but create a significant lifting of the bust, using an underbust design. Pair this with your favorite bra for a fully enhanced bustline that will look flattering in almost anything.
There are also many butt-lifting options for shapewear. Garments like the Perfect Butt Thermal Pant by Curveez 1478 are cut with an open bottom to naturally boost your natural curves in a way you might not even think possible. Some people prefer garments with curve-creating seams like the Captivate High Waist Butt-Lifting Sghapewear Shorts by Lt. Rose 21990 instead. You do you!
Butt-lifting jeans are another great option for anyone who wants to lift their booty naturally. Using stretchy denim, a high waist, and unique seaming, garments like Brazilian-style Flawless Butt-Lifting Jeans by Hourglass Angel 3810 lift and sculpt your backside in a way that draws attention in all the right places, no matter what your natural body shape.
How Do You Wear Body Shapewear? Tips for Every Day
Wear a waist trainer: We've already discussed how you can wear a waist trainer as part of a daily regimen. It's a great way to slim down under most outfits and can help you reach your waist slimming goals.

Mix and match based on the outfit of the day: Some styles of outfits at different times of year may require more shaping power than others. Choose your shapewear accordingly. You might want higher compression shapewear for more revealing garments, and lighter, smoothing shapewear to wear under bulkier clothing.
Wear shaping workout attire: Workout bands and shaping leggings are a great way to wear shapewear while you exercise, enhancing your workouts as well as the way you look.
Utilize shaping attire: We love how butt-lifting leggings are a simple way to have an amazing pair of jeans that shapes and sculpts. Try shaping leggings too!
Make it comfortable. Different types of shapewear are going to feel different to different people. Sometimes all it takes is wearing a garment regularly to break it in and grow accustomed to the way it feels. This is our recommendation for waist training, that you start out gradually and build the habit of wearing it all day every day.

If you're not planning on waist training, choose the fabrics and compression levels that look and feel best to you. You may want to save high compression, full body garments for special occasions, and softer, more breathable options for everyday wear. And don't forget, what's comfortable in summer may be different than what you prefer in winter.

Keep your shaping garments clean and on rotation: You'll get the most out of all of your shaping garments if you take good care of them and have lots of options to choose from.

Keep experimenting: Cultivating the perfect shapewear wardrobe takes time. It may also evolve over time, especially as styles change, or if your weight and size fluctuations, such as with a pregnancy. Figure out the styles that you like for different occasions.

If you need further help or inspiration for discovering how shapewear can shape your figure and how to wear it daily, our expert stylists are glad to help. Follow our blog or our social media channels for the latest tips and trends.