Posted by Hourglass Angel on Mar 23rd 2022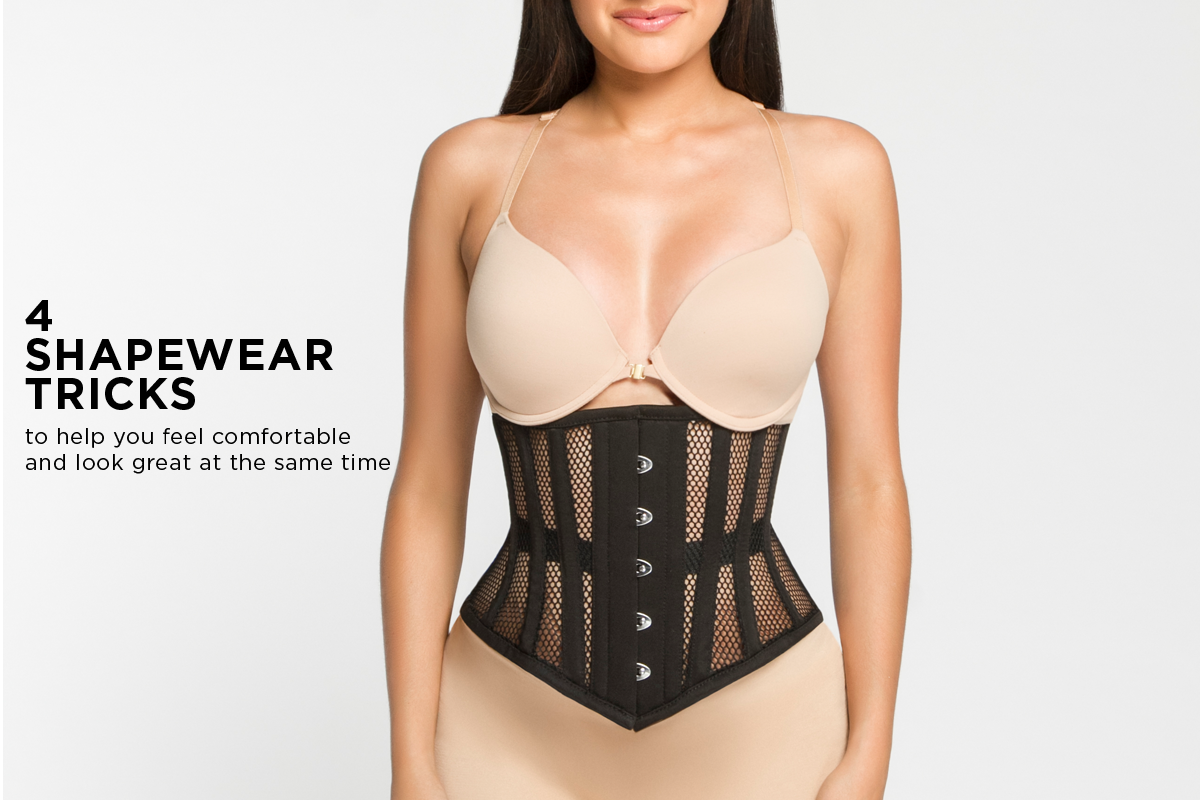 For anyone who wants to look their slimmest, curviest, and fittest, shapewear is a must-have. Celebrities have spilled their secrets about how they pull of their most stunning looks on the red carpet—and those secrets nearly always include shapewear of some kind.
And shapewear isn't just for special occasions. You can use it to look your best whether you're walking down the aisle, working out, or even relaxing comfortably with your significant other.
If you're not accustomed to wearing shapewear, it can be a challenge at first to know what kind to wear and when, or how to stay comfortable all day, every day. That's why we want you to know how to get the most out of your wardrobe. Here are four shapewear tricks to help you feel comfortable and look great at the same time!
1. Have a Variety of Shapewear
Not all shapewear is made alike. Different styles target different areas of the body and enhance the body in different ways. They also have varying levels of compression, which can create more pronounced results.
If you have a variety of shapewear to choose from each time you dress, you can ensure that you have the exact solution you need for the circumstances. Here are a few types that we recommend everyone keeps in their wardrobe:
Shaping panties: This style of garment substitutes regular panties and is useful for keeping your tummy smooth and flat. Shaping panties are typically made with a high waistline to eliminate muffin top and love handles. They'll help your pants, skirts and dresses fit smoothly.
Waist cinchers and corsets: If you want firmer control and more dramatic slimming, a waist cincher (also called a waist trainer) or a corset snatches the waistline and lifts the bust. You can wear one daily for the best results or keep one on rotation in your wardrobe for special occasions. There are also workout waist trainers that help amplify your workouts.
Shaping leggings: Get smooth, firm legs, along with a booty lift and waist slimming, depending on which style you use. This is a useful garment with all-over benefits, which you can use for workouts or casual attire.
Thigh shapers: These garments provided targeted sculpting for the hips, thighs and bust, and provide compression around the waist. Use them under form-fitting dresses, skirts, and pants for the best results.
All-over shapers: When you need an all-over solution under a dress or other form-fitting outfit, an all-over shaper can, as the name suggests, do it all. Choose a style that targets your target areas best, including bust, waist, butt, hips, and thighs.
Butt-lifting jeans: The right jeans can do double duty as sexy pants and shapewear. These Brazilian-style stretchy jeans use seaming in just the right way to emphasize your curves. With a high waist they also slim the lower abdomen and prevent muffin top.
With many options to choose from, you can always look and feel your best, no matter what the occasion or activity.
2. Choose Compression Levels Based on Desired Slimming/Sculpting
Shapewear comes in a variety of compression levels. In general, the higher the compression, the more dramatic the results. But the firmer the compression is, the stiffer (and less comfortable) the garment can feel. Some people find it difficult to wear high-compression garments for long stretches of time.
By choosing your compression level based on the occasion, you can take a break from high compression all day every day. Save your high-compression garments, like all over body shapers, for those times when you want to show off the most curves. These types of garments are designed for special occasions.
For everyday use, you may be more comfortable in garments with lower compression that are designed to be flexible. They may not provide the most dramatic sculpting, but for many occasions that might not be necessary anyway. You can benefit tremendously by wearing shapewear that gently smooths out your tummy or thighs, as it will help your clothes fit better and help you be more confident.
One exception regarding compression is with waist trainers (waist cinchers or corsets). Many people wear a high-compression waist trainer daily with stunning waist-slimming results.
The key to daily waist training is to practice until your body gets used to the way it feels and the garment breaks in. Start out by wearing a waist training garment for just an hour or two at a time, and then gradually increase the amount of time you wear it each day. After a few weeks of daily waist training, you'll find it completely natural and comfortable—not to mention flattering.
It's also worth noting that if you don't want to wear a high compression shapewear garment every day, you can make it more comfortable by breaking it in. For example, if you're planning on wearing an all-over shaper for a wedding, treat it like a new pair of heels by wearing it a few times before the big day.
3. Dress for Your Body Shape
To get the most out of any shapewear garment, you'll want to choose one that enhances and shapes the right areas based on your natural body shape. Not only will you look great, but you'll be most comfortable by only using the combination of shapewear that's just right for you.
Most body types benefit from waist-slimming garments, so you can't go wrong with those. Here are some other body shape tips:
Pear shape: thigh-slimming and bust-lifting shapewear
Apple shape: waist-slimming and butt-enhancing shapewear
Rectangle shape: waist-slimming, butt-enhancing, and bust-lifting shapewear
Hourglass shape: waist-slimming and all-over smoothing shapewear
Inverted triangle shape: butt-enhancing and waist-slimming shapewear
Bust: measure around the fullest part of your chest
Waist: measure two inches above them belly button, where there is a natural bend when you lean to the side
Hips: measure around the fullest part of the hips
Pair your shapewear with clothing that draws attention to your best features and conceals trouble spots. This will ensure you'll be wearing clothes that look good and feel good, which will help you feel comfortable all day.
4. Make Sure Your Shapewear Fits!
When it comes to shapewear comfort, as well as effectiveness, wearing garments that fit makes a huge difference. We can't emphasize this point enough.
When you order new shapewear, be sure to take your measurements for each garment—even if you think you already know what size you are. Shapewear sizing doesn't line up with sizing you might expect in other clothing, and what's more, your body can gradually change size and shape without you realizing it.
There are three key measurements for shapewear: bust, waist, and hips. You only need measurements for the parts of the body that the garment covers. For example, for a waist cincher, you usually only need a waist measurement.
When taking a body measurement, use soft measuring tape made of fabric or vinyl. Pull it firmly, but without tugging or stretching, over the skin in desired area. You should be able to slip a finger underneath. The tape should be parallel with the floor, so you may need a mirror or someone to help you get an accurate measurement.
Here's where to take each measurement:
Bust: measure around the fullest part of your chest
Waist: measure two inches above them belly button, where there is a natural bend when you lean to the side
Hips: measure around the fullest part of the hips
Once you have your measurements, consult the sizing chart for your desired garment. Each shaping garment in our online shop has a custom sizing guide, so be sure to follow it!
If you are in between sizes, or if two or more of your measurements don't line up precisely, always go with the larger size. You will get better results and be more comfortable by sizing up instead of down. Many garments, such as waist trainers and items with straps, are adjustable and can be tightened to your desired compression level.
Once you receive your shapewear, be sure to try it on before you remove the tags or start to wear it. It should be tight when you put it on, but not so tight that it pinches or requires you to yank on it to put it in place. Move around in it and see how it feels. Is there any bunching or rolling? This indicates that you don't have the right size or perhaps that this style of garment isn't ideal for your body shape.
Finally, put clothes on over your new garment and move around again. How does it look and feel? If something's not quite right, you can exchange your shapewear for something that fits better and helps you achieve your shaping goals.
See our sizing guide and returns policy for more guidance about finding the perfect fit. You can also contact our expert stylists for advice about the right garment for you.
With these simple shapewear tips, you can look amazing and feel comfortable at the same time. Be sure to browse our extensive curated collection of the best shapewear, waist trainers, and compression activewear to achieve your shaping goals.