Posted by by hourglass angel on Feb 26th 2018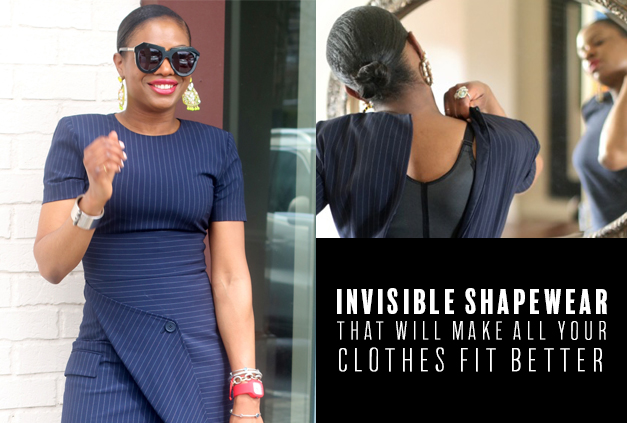 Spring is almost here!
As the seasons change, you're probably thinking about how to update your wardrobe. But have you considered updating your shapewear wardrobe? This is the best place to start, because having the right shapewear can help you rediscover the clothes you already have.
The right shapewear can make your old favorites fit well again. When you have the right piece as a foundation, all of a sudden that top or dress that didn't lay quite right over your figure will suddenly look much better. Shapewear can smooth out your trouble areas and enhance your curves so that clothing can fit the way it was designed to.
Whether those jeans from last year are a little tight or you don't like the way that sweater fits, don't throw it into the donation pile just yet. Update your shapewear collection first, and then build your new wardrobe from there.
Here are a few styles of invisible shapewear that can help you refresh your whole look, plus tips on how to wear it best so that it doesn't show through.
The Shaping Panty
You're going to be wearing panties every day anyway, so why not wear some that double as shapewear? A shaping panty will slim your waist, flatten your tummy and prevent muffin top. You may find that your jeans fit in a much more flattering and comfortable way when they have a smooth foundation underneath.
Check out the Perfect Curves High Waist Brief By Hooked Up 1070. This garment provides firm control for your whole midsection, ensuring that you have a smooth waistline all around and flat abdomen. What makes this particular panty unique is that it actually hooks into your bra! So it essentially acts like a full-body shaper, but it's easier to get in and out of, and it pairs easily with your favorite bra. And you'll never worry for a second about rolling or sliding because the top is securely in place.
For invisible shaping with this or other style of panty shaper, make sure that you use a color that matches your skin tone or matches the fabric that you'll be wearing over it. Most panty shapers provide slimming and coverage to at least the natural waist, so no one will suspect your secret.
The Shaping Tank
This is a staple wardrobe piece, especially for seasons when you're going to be wearing layers. As with shaping panties, you're probably going to be wearing a light tank under your tops anyway, so why not wear one that enhances your figure?
The Thermal Control Tank, By Diane 2205 provides firm slimming for your figure with the no-fuss style of a tank. Its open bust design allows you to pair it with your favorite bra, so you can provide extra support and lift for your bust while slimming and smoothing your waistline. This particular tank is ideal for fitted sweaters and thin tops.
For an invisible body shaper, your shaping tank and bra should be similar in color. Also make sure that you're aware of your straps and what kind of coverage your top provides if you don't want them peeking out. Otherwise, a shaping tank should be invisible under most outfits, especially seamless tanks like the one by Diane.
The Thigh-Slimming Shaper
When you're wearing tight pants or dresses and skirts, you want to have smooth, slim thighs and a round, lifted butt. You can also get great results with a thigh-slimming shaper.
The Vedette Amelie Open Bottom Mid Thigh Shaper 914 is a versatile shaper that can be a staple in your wardrobe, especially for days you want to wear a skirt or dress. With an open-bottom design you'll get a natural, firm lift to your butt along with smooth slimming from your waist to the mid-thigh. The open bust and adjustable shoulder straps provide extra lifting and support with your favorite bra.
Check the length of any skirts or dresses your wear with your thigh shaper to make sure it won't poke out (if you have a particularly short skirt, try a body shaper, below.) Also choose a color that is close to your skin tone or the fabric of the outfit you're wearing. Otherwise, you can feel confident that your shapewear will not create a visible panty line because of its longer length.
The Body Shaper
Anytime you want some all-over slimming for a dress, jumper or other outfit that shows off your silhouette, an all-over shaper is an obvious choice. You can slim and control your midsection, lift your butt and support your bust with one piece.
The Seamless Firm Control Body Shaper by Ann Chery 4012 is a powerful piece that creates a smooth foundation using three latex slimming layers do to all of that. This is a must-have for any figure-hugging outfit. This garment is also completely seamless, making it invisible under your outfits. If you're using any lighter colors or fabrics, this feature is important to consider.
The Bustier
Lastly, for all of your strapless outfits, and especially strapless dresses, you'll want a quality bustier in your wardrobe. It's like a cross between a strapless bra and corset; you'll get unbeatable bust support along with slimming and smoothing for your waist.
The Formal Chic Ultra Lift Seamless Bustier By Va Bien 1503 is a classic piece that is ideal for bridal and other formal attire. This garment provides firm slimming from the bust to the hip. It works well under strapless dresses, particularly a-line and other styles that emphasize the waist. It is also seamless, meaning it will remain invisible under lighter fabrics.
Whatever bustier you choose for your strapless looks, it's always a good idea to try it on well in advance of your event to makes sure it fits correctly. This will ensure that you experience the most flattering results (this is actually true of any shapewear style!).
We hope you're inspired to give your wardrobe a shapewear makeover, so you can rediscover what you have and feel confident in whatever you're wearing!