Posted by Hourglass Angel on Dec 30th 2020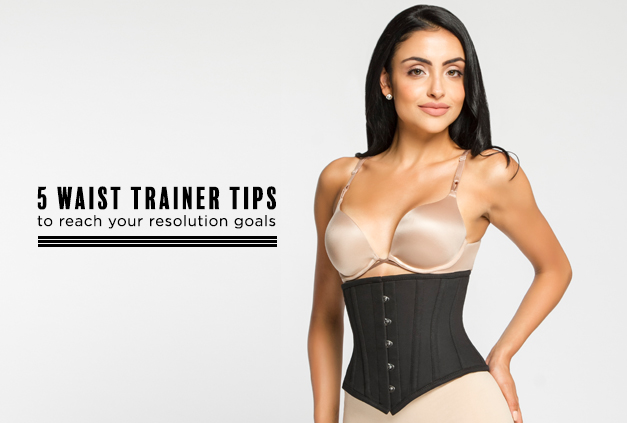 A New Year is almost upon us (finally!), which means you're probably thinking about your resolutions and goals for 2021. If losing weight and getting fit is on your list, you're not alone! Now is a great time to get serious about a waist training, fitness and nutrition regimen.
Creating resolutions is one thing. Following through with them is another. If you don't want to be among the 75 percent of people who drop their goals by the end of January, and over 90 percent who don't reach them after that, then it's important to come up with a plan to follow through.
Fortunately, waist training can naturally help you stay motivated with your resolutions next year. Here are five waist trainer tips to reach your resolution goals in 2021 and beyond.
1. Get Specific About Your Goals
What's going to be motivating for you?
Is there a particular dress or other outfit you want to look good in?
Do you want to feel more confident at the beach next summer?
Do you want to be able to keep up with your kids at the park?
Maybe you just want to improve your fitness level and overall health. For a specific goal, you could focus on changing your habits, such as working out five times a week, limiting desserts to the weekend, or even just making the commitment to wear your waist trainer daily.
Whatever your goals are, there are many ways a waist trainer can help you achieve them. Wearing your favorite workout band every day can play a part in building that workout routine; wearing a waist trainer under your clothes for most of the day can remind you to eat smaller meals.
2. Be Realistic About Your Goals
Few things are more self-defeating than goals that are unrealistic.
Not everybody can be a size 4, for example. And that's okay! Be honest about what kind of goals you can set and still have a healthy body image.
Also consider that goals vary in their scope. For example, if you want to run a marathon and you're new to running, that's a pretty big goal and you might lose motivation if that's the only goal you set. You'll probably want to set smaller goals along the way, like running a 5K, a 12K, and a half marathon race first. Think of how the marathon example might apply to your own goals. What smaller goals can you reach before the big one?
One way to be more realistic about your waist training goals is to discuss them with a friend and to keep a dialogue going about how it's going. A true friend will tell you what's going to be healthy for you and what's not. And she can also hold you accountable to your progress (and hopefully you can offer her the same).
Also consider who your role models are when it comes to health and fitness. Do they have a similar body type to you? If not, perhaps you can reconsider and set your sight on people who can inspire you in a more realistic and healthy way.
3. Create a Timeline
Setting a goal without some sort of deadline or timeline can lead to overwhelm and burnout. Depending on what your goal is, consider how you might map it out on your calendar.
Just because you're starting to work on a new goal at the beginning of the year doesn't mean you need to take a year to reach it. It may not need that much time; or it could need more!
Let's say you have a wedding to attend a year from now and want to drop three sizes before then. How much progress do you have to make every month in order to achieve that goal? What habits and do you need to start (or stop) in order to get there?
Map out a timeline of the progress you hope to make. If you're new to waist training, you might take the first month to focus on making it a habit to wear a waist trainer every day, with a little more time each day. On the second month, you might focus on amplifying your workout routine. By the third month, you might hope to tighten the hooks on your waist trainer. And so on.
And remember, nothing is set in stone; you can adjust your timeline as you go so that you stay on track towards the bigger goals.
4. Track Your Waist Training Progress
If you set a goal, the only way to know if you're hitting it is to track your progress! Start out by writing down your goals and keeping them in a place you won't forget them.
Once you're ready to begin your lifestyle changes to meet your goals, document how it's going. If you're focusing on fitness, particularly if you're waist training, there are a couple of ways to approach this (and they don't include the scale!).
Start on day 1 by taking a picture of yourself. This is your "before" picture. We also recommend taking waist measurements at the same time, with your waist trainer off at the narrowest part of your waist.
Over the course of the week, track your habits and take notes about how well you're sticking with your goals. Did you wear your waist trainer every day? For how long? Did you stick to your nutrition plan? Did you work out?

After seven days, take your picture and waist measurement again. Be sure that any photos you take are at the same time of day, with the same lighting, same location, and same clothes (if possible). Make notes of how well you stuck with your routine over the week as well as how you felt about it.
Do this every week, and you'll start to notice some patterns as well as progress. This can be very motivating as you see that your efforts really work! You may also find that you're not the only one who notices; your family and friends will start to see changes too and will probably want to know what your secret is.
5. Celebrate When You Reach Your Goals!
Whether you hit a big milestone or just a step along the way, you can keep yourself motivated by treating yourself to a reward. That doesn't necessarily mean you should chow down on a huge ice cream sundae, but it does mean you can indulge a little bit.
It helps to choose rewards that are related to your goals. If you're wanting to size down, a new outfit is always fitting!
You may also find that you're eager to try a new waist trainer or corset if you've been consistent about wearing one. You may need a smaller size, or you may want to amplify your results with a garment that provides more compression. Whatever the case, a new waist trainer not only will help you feel rewarded for your hard work, but it can also keep you on track so that the progress continues.
Get Started with Your Waist Training Plan This Year
Got any questions about waist training or finding the perfect waist trainer that'll help you meet your goals? Contact our expert stylists and we'll be happy to help.
How Do You Maintain Your Fitness Resolution?
If you try a new waist training and healthy lifestyle routine, we'd love to hear what keeps you motivated and on track with your goals. Tag us on social media @hourglassangel, and use the hashtag #BeTheHourglass to share what's working for you and be an inspiration to others!
Here's to a happy and healthy New Year, angels!