Posted by Hourglass Angel on Jan 26th 2022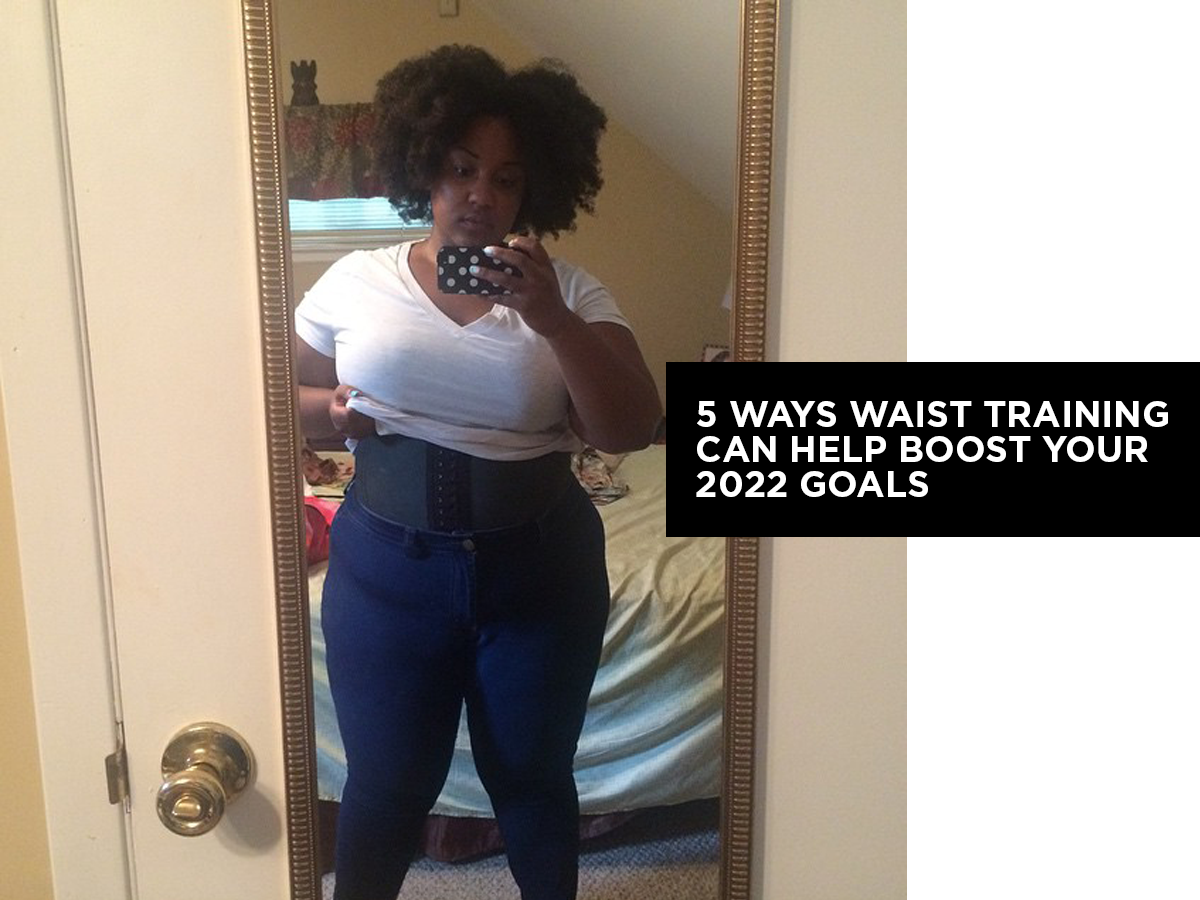 For many people, the beginning of the year marks a period when they implement new habits to reach goals related to fitness, slimming, and wellness. But after a few weeks go by and the freshness of a new beginning wears off, it can be difficult to stay on track.
If you're wanting to make some lifestyle changes but find yourself getting stuck, or if you just want to keep positive momentum going and set yourself up for success, waist training may be exactly what you need! Wearing a high-compression waist slimming garment every day (ideally for at least eight hours) can work hand-in-hand with your other lifestyle and wellness plans.
Discover these five ways that waist training can help boost your 2022 fitness, waist slimming, and wellness goals.
1. Amplify Your Workouts
Wearing a workout band during exercise is an easy way to boost the intensity of your workout routine. This style of waist trainer is designed to target your core, stimulating heat, blood flow, and perspiration. You can feel it working as it boosts the intensity of your workout.
Workout bands are ideal for several types of fitness activities including cardio, strength training, and HIIT. Many of our favorite styles come in bright colors, so that you can feel great and look great when you're at the gym or posting your workout of the day online.
You can also benefit from wearing a workout band during everyday activities, like cleaning the house, walking the dog, or biking to work. Anytime you're moving, you can maximize the intensity.
With a waist trainer, your fitness habits can be a lot more effective and fun—and you'll be much more likely to see results!
2. Make Your Clothes Fit Better
Waist trainers not only help you work on your lifestyle habits, but they provide instantaneous results. Wearing a latex waist trainer slims your midsection by up to several inches as soon as you put it on.
When you have a smooth foundation for your torso with amplified curves, your clothes will fit in a most flattering way. You may even fit into a size smaller! So even before you see long term results from weight loss or toning up, a waist trainer can give you a jump start to a slimmer, more shapely figure.
3. Set Realistic Slimming Goals
Have you ever sent ambitious—yet unattainable—goals to lose weight and get in shape, only to lose momentum and eventually give up? It is more effective to set small, trackable goals. A waist trainer can help you be more realistic and stick to small but steady progress.
Since a waist trainer makes you look slimmer instantly, you can get a vision for what kind of progress you can expect and feel good about if you stick with healthy lifestyle practices. Rather than trying to lose ten pounds what if your goal was to tighten your waist trainer to the next row of hooks? That can seem less daunting.
Once you're able to tighten your waist trainer, you can then set the next row as your target, or perhaps a new garment altogether like a smaller size or a steel-boned corset. Waist training can be fun in this way because there's always something new you can try to give you the results you want.
4. Stay Motivated and On Track
Most people give up after a few weeks of a new goal. It's hard to stay on track with a lifestyle habit, especially if it feels uninspiring or like a chore. There are several ways that a waist trainer can boost motivation.
First, just wearing a waist trainer can boost your posture and your confidence and help you feel positive about your body image. This feeling reinforces itself when it compels you to make healthier choices like nutritious snacks and following through with exercise goals.
By wearing a waist trainer, you can also get a vision for what the slimmer version of yourself looks like. Who needs to look up to a celebrity when you can see a healthier you right there in the mirror?
And by following a waist training regimen and tracking your progress, you'll keep up momentum towards your goals. Try taking weekly photos or waist measurements. Slowly but surely, you'll see results, which can help you stick with your wellness habits for the long term.
5. Maintain Wellness Around the Clock
Wearing a waist trainer most of the time also provides a gentle reminder to stick to healthy lifestyle habits throughout the day. Your garment will prevent you from slouching and remind you to sit up straighter and with more confidence, which can boost your mood and energy. This can help you follow through with healthy choices, like drinking water and working out, and prevent you from giving into the poor choices that can come with fatigue and stress.
Your waist trainer can also assist with a healthy diet because it is not comfortable to eat large meals while wearing it. When you wear one all the time, you'll be more likely to stick to small, more frequent portions and keep your appetite more steady over the course of the day.
Does Waist Training Help with Weight Loss?
To sum it all up, hopefully it's clear that waist trainers do so much more than supplement your weight-loss journey. They can play a supporting role in your mindset as well as many health and wellness practices that help you look good and, more importantly, help you feel good about yourself.
The 5 Best Waist Trainers for Getting Started with Fitness, Slimming, and Wellness
If you're feeling motivated and inspired to get serious about waist training in 2022, here are some recommended garments to help you achieve your goals. Choose your favorite or keep several of them on rotation in your wardrobe!