Posted by by hourglass angel on Jun 26th 2018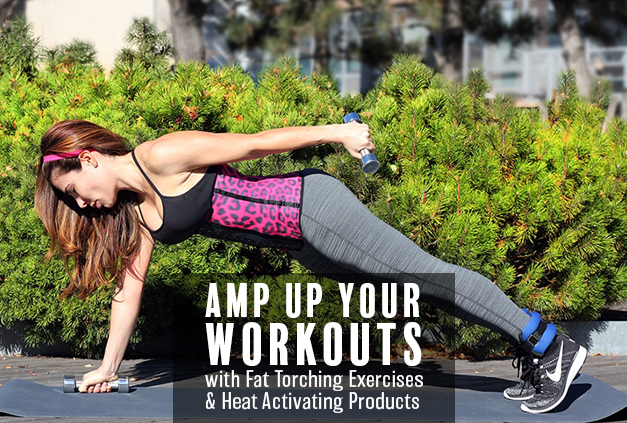 Ready to get fit this summer?
If you want to kick your workouts up a notch, one effective way to do this is with the right workouts and the right gear. A fitness routine of varying intensity that combines cardio with strength training will burn fat, while compression activewear will make you sweat harder and amplify your results.
Below, we've compiled some of our favorite workout moves, weight loss and waist training tips, along with the best activewear, so that you can get the most out of your workouts this summer.
No matter what fitness level you're at, you can work towards your personal goals by incorporating these tips and products into your exercise routine.
Ready? Let's do this!
Waist Training Exercises for the Best Results
To get the most out of wearing a waist trainer during your workouts, we suggest doing a combination of exercises that work every major muscle group, including your core, back, butt, legs and arms.
You'll also want to incorporate both strength training and cardio into your workouts—aim for 5 to 6 days a week for the best results. While you can occasionally do longer stretches of cardio on gym equipment, running or biking, you'll also want to be doing varying intensity in order to burn fat. One of our favorite ways to approach this is with HIIT (high intensity interval training).
The goal with HIIT is to get your heart pumping and your whole body sweating, which your waist trainer will help with. Check out this video to get an idea of what it can look like: 7 HIIT Leg Workouts for Strong, Sexy Legs.
To replicate this workout, here's what to do: Do 4 rounds of 45 to 60 seconds per exercise with short breaks between exercises, with a one minute between rounds, depending on your experience level.
Squat jumps
Curtsy lunges
Curtsy lunges with squat
Squat jump claps
Reverse lunge single leg lifts
360 pulse squats
180 squats
Do HIIT workouts no more than 2–3 times a week to avoid overtraining and injury. When you're not doing HIIT, you can still work on strength training and lighter cardio on your off days.
Bianca Jade, a.k.a MizzFit, demonstrates a killer exercise routine: How to Maximize Your Workout with Shapewear.
For this routine, you can do several sets of each exercise. Take a 30-second break between each set and a 1-minute break between each exercise. If you want to push yourself, repeat the whole circuit!
Bridge pose: 4sets of 20 reps
Leg lifts: 4 sets of 15 reps
Plank twists: 3 sets of 20 reps
Leg extension crunches: 3 sets of 20 reps
Oblique hop plank hold: 4 sets of 20 reps
Side crunch leg extension: 6 sets of 15 reps
Fitness and Waist Training Tips
In addition to these exercises, be sure you're following these waist training and fitness tips for the best results:
Stay hydrated: You'll be sweating a lot, so be sure to give your body the water it needs to keep your muscles strong and your energy high. Drink half an ounce to an ounce per pound of water weight—and aim for more on the days you work out. Keep your water with you and take small sips throughout the day. Flavor it with fruit infusions like slices of lemon!
Eat clean: It would be a shame to undo all of your hard work with poor eating habits. While you shouldn't feel guilty about the occasional treat, prep your meals in advance so that you can avoid refined sugars and processed foods. Eat several small portions throughout the day.
Get your beauty rest: This will help your body build muscle and give you the energy you need so that you're not fatigued. Aim for eight or more hours a night.
Be consistent: Not only do we recommend working out five days a week, but we highly recommend everyday waist training too! Keep the thermal activity in your core going throughout the day and watch the results. Aim to wear a waist trainer for at least eight hours a day (although be sure to switch out of your sweaty workout band to wear under your other attire).
Make goals and track your progress: Whether you're aiming for weight loss or want to tone up, take measurements and photos so you can stay motivated.
The Best Compression Activewear
A quality waist trainer will be your favorite workout buddy, as it will help you sweat harder and get the most out of your workouts. In fact, we've designed our own line of workout waist trainers to meet your needs and get you results:
Latex Workout Band Curve Creator by Hourglass Angel: We designed this Velcro-closure waist trainer with steel boning for a custom fit with maximum compression. It's also made with the busy woman in mind, so you can simply strap it on and go.
Petite Latex Waist trainer by Hourglass Angel HA100: Women come in all shapes and sizes, which is why we designed a premium workout band with the petite figure in mind. If you have a shorter torso or have shorter stature, you'll love this waist trainer option with three rows of hooks that will provide maximum results as it sizes down with you.
Hourglass Effects Waist trainer by Hourglass Angel A105: We created this high-compression fitness garment with a curvy hourglass design. You can drop up to three inches from your waistline as soon as you put it on, as it combines high-compression latex, flexible thin steel boning and three rows of large hook-and-eye closures. Get a flatter tummy, posture correction, and of course heat in your core.
Floral Latex Waist Trainer by Hourglass Angel HA106: Get the waist-slimming power you love in this feminine, flirty print. Like our other workout waist trainers, this garment provides maximum compression with a latex core, flexible steel boning and 3 rows of hook-and-eye-closures for up to 3 inches of slimming.
We hope you're inspired to take your workouts to the next level! Be sure to share your results with us! #BeTheHourglass