Posted by by hourglass angel on Dec 29th 2017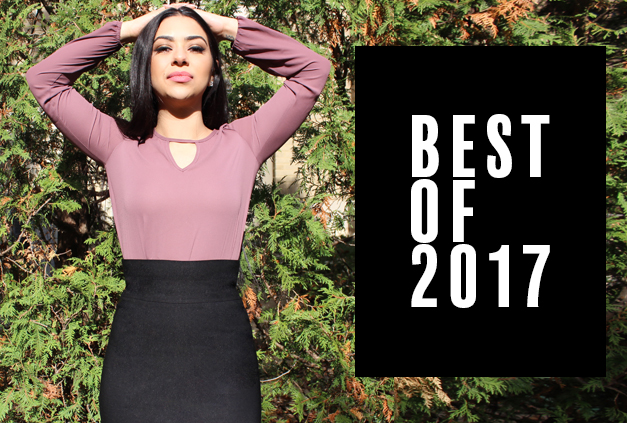 Here at Hourglass Angel, we're proud to have a carefully curated selection of waist trainers, shapewear and accessories that make you love the way you look and feel. We've seen thousands of women transform their figures, shine with confidence and slay their body image insecurities.
As 2017 comes to a close, we're excited to share our customers' top picks for the year. So with no further ado, here are our top ten body-sculpting products!
We're thrilled to see this recent addition to our collection of accessories top the list. This special formulated gel pairs perfectly with any waist trainer and will tighten, tone and smooth your skin.
Customer Suzy N. says, "Bought this and [was] kinda skeptical but the result is amazing! I used to buy similar gel that I used with waist training and cost me $60 bucks! This gel is way more affordable and works the same! Buying more soon!"
We introduced this workout waist trainer this past year with the curvy woman in mind. Many plus-size women wanted more options for waist training, and so we had this garment specially designed! It uses a unique combination of flexible steel boning and high-compression latex to produce maximum results.
Michaela G. says, "This is by far the BEST waist trainer I have used. I usually wear corsets, but I found Hourglass Angel, and I am HOOKED! (No pun intended!) This trainer is SO comfortable.. you really look forward to putting it on. And the best part— it is invisible under clothing! During all of my daily activities, I am smiling, just knowing that my waist training goals are speedily being met."
One of the waist trainer features that more women are loving this year are three rows of hook-and-eye closures. This allows you to use the same waist trainer even when you size down dramatically. And of course, the Ann Chery brand sets the standard for quality and results.
Celeste E. says the best thing it has given her is confidence: "Amazing!! Yes it does help with slimming the waist and giving it the hourglass appearance. However to be honest the best thing I like about it is that it corrects my posture. I stand and sit taller, making me look taller and leaner and giving a bit of confidence boost. Remember no matter the size confidence is the sexiest feature a woman can have! Love it."
You don't have to break the bank to get started with waist training, and that's why we recently introduced this budget-friendly waist trainer. But just because it's inexpensive doesn't mean it doesn't work! This is a great option for beginners and provides instant results.
Customer Inehita N. was hooked: "This waist trainer really exceeded my expectations. It has already been two weeks and I've lost about 1-2 inches off my waist. Comfortable, true to size, and will definitely be ordering another one soon!"
This everyday vest-style waist trainer is a customer favorite because of its power and versatility. The underbust design with shoulder straps provides maximum coverage and support for your bust and back, all while delivering the powerful waist compression that you can expect from Ann Chery.
Alexandria K. says, "It looks AMAZING! I have never gotten this kind of shape out of any shaper I've ever owned! While not invisible under tight clothes, the front close is also MUCH less bumpy than other cinchers/shapers. I can't get enough of the hourglass I get in this!"
Amia is one of our signature brands and is known for its innovative approach to design and an unwavering attention to quality. This workout waist trainer will maximize your sweat and enhance your workout. And it provides instant slimming of 1-3 inches.
Many customers are raving about this product. Shelby H. says, "I had a hard time deciding which trainer to buy I'm glad I decided on this one! I'm 5'0 tall and this is perfect for my short torso. I wear it while exercising and to work during my 12 hour shifts. I can tell a huge difference in my posture and definitely increases sweating to my core. Currently getting ready to order a smaller size!"
Get instant slimming and lifting in this powerful waist trainer that you can wear every day. This is the garment you want to rotate through your wardrobe along with your favorite workout band. It's designed to wear under your clothes so you'll feel comfortable and confident on any occasion. It's no surprise that this has been a top seller for five years in a row!
Angela V. says, "I'm seriously in love with this waist trainer. It hugs me in all the right spots and fits so well."
This newer style from Ann Chery was also a big hit this past year, as three rows of hooks are becoming more popular. Customers love its slimming power and fast results.
Linda C. says, "I am so obsessed I wish I knew about this a long time ago. I wear it to work for 8 hours and don't even know it's there. So far I've got tons of compliment from my co-workers, friends and family. My jeans and work pants use to be tight on me now they are so loose."
This waist trainer has been a top-seller for five consecutive years because it gets results! Its classic waist-slimming design produces instant results as well as quality you can rely on every day.
Kristine is one of many people who are thrilled with their results: "I just had a baby 4 months ago and this wrap has helped my confidence so much! I just started using it a week and a half ago and I already notice the difference! I love it."
And of course, it's no surprise that this renowned workout band from Ann Chery tops the list again for the fifth year in a row. Many women have used this powerful slimming garment as a must-have workout companion because of its unbeatable results.
Check out Amanda H.'s story: "Though I was in very good shape I could never get rid of some problematic areas. I even had a surgeon say the only way was through lipo! Within two weeks my stubborn areas on my back and flanks were gone and everything was very toned (I don't lift weights, just running). It keeps my posture straight and controls my breathing when running. I've found I can go much harder with my workouts, though it does take a week or two to get used to. If I don't wear it during my workouts now I feel completely off. I swear by this product it's a must have!!"
That's a wrap for 2017! We can't wait to see what the next year brings. Be sure to capture your own transformation and share with us! #bethehourglass