Posted by Hourglass Angel on Oct 24th 2018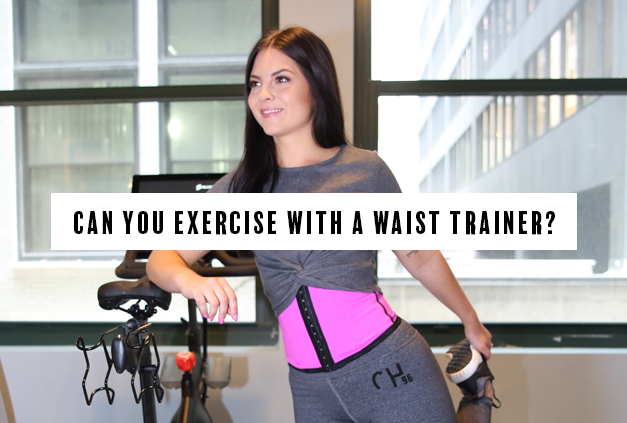 If you've seen waist trainers, it might be hard to believe these are garments you're supposed to exercise in. Are they really designed to work that way? Won't they break? Won't they restrict your range of motion?
If you're wondering if you can exercise with a waist trainer, the expert answer is an emphatic yes!
But—and this is important—not every waist trainer is designed for exercise. So be sure you know which waist trainer is best for exercise and how to use it before you jump in.
Benefits of Working Out with a Waist Trainer
If you've never worn a waist trainer and want to try one, we highly recommend using a workout band. This style of waist trainer is fun and colorful, and you only have to wear it for short periods, making it an easy adjustment to your everyday routine.
Wearing a waist trainer during exercise is beneficial because it boosts the intensity of your workouts without requiring any extra effort on your part. Firm-compression latex stimulates heat in your whole core, which in turn makes you sweat harder and experience a higher level of intensity. Customers like Yuliza found this to be very effective in creating harder workouts.
What's more, because of a waist trainer's slimming effects and figure-enhancing effects, you'll immediately feel more confident just by putting it on. This can be a big motivator—you might even enjoy your workouts more because of the way you feel. You'll also get a vision of what your figure can look like if you stick with your workout goals, which provides further inspiration to get your body moving each day.
Desire is a customer found that she was able to stick to her daily workout routine while wearing a waist trainer and saw great results!
What Type of Waist Trainer to Work Out In
Not every waist trainer is made alike, which is why it is important to only wear a workout-style waist trainer during exercise.
Workout bands are constructed differently than other waist trainers, like everyday latex cinchers and lace-up corsets. Generally they are shorter, giving you more range of movement during your workouts. They are also constructed more durably, making them less likely to sustain damage during rigorous movement.
Some people like a band-style workout waist trainer, while others prefer a vest style. A vest will provide more support for the bust as well as coverage for the upper back, making it an ideal choice if you have a large bust or want coverage over your bra straps in the back.
Workout waist trainers can be worn hidden under clothing, but many people love to show them off—especially those that come in bright colors and patters. You can comfortably wear a waist trainer over a light top, paired with your own favorite sports bra.
What Types of Exercise Can You Do with a Waist Trainer?
Waist trainers can be worn to enhance a variety of exercises. Here are some of our favorites:
High intensity interval training (HIIT): Doing circuit sets of things like sprints, burpees and other moves that crank up your heart rate quickly is a great way to get in an effective fat-burning workout in a short amount of time. (Need ideas? Check out this no gym HIIT workout.)
Cardio:Planning on going for a run, biking or using a cardio machine? Wearing a waist trainer is a no-brainer way to increase the intensity of your cardio workout easily.
Strength training: If you're serious about getting fit, we highly recommend incorporating some resistance training into your routine. Whether you use weights or your own bodyweight for resistance, you'll strengthen your muscles and burn fat at the same time. While strength training can sometimes be a less sweaty type of workout, wearing a waist trainer can remedy that!
Going for walks or doing housework:Hey, maybe you can't fit in a full workout, but you can still wear a waist trainer even if you're just walking your dog or picking up around the house. Break a little sweat while living your everyday life!
Mix and match your workouts for the best results with your waist trainer and your overall fitness. The only workouts that we don't recommend wearing your waist trainer for are any activities that require more twisting at the torso, such as sports or yoga. But otherwise, your options are fairly open!
Tips for Getting Started with Waist Trainer Workouts
Wearing a waist trainer for the first time can feel different because of the amount of compression it puts around your midsection. In fact, you might not feel comfortable wearing one for more than about an hour at a time at first. Don't worry; this is normal.
Wearing a waist trainer feels a lot like a firm hug, but it should not restrict your breathing or circulation in any way (which really wouldn't benefit your workouts!).
Stick with working out and wearing your waist trainer daily for the best results. On days when you're taking a break from higher intensity workouts, you can still benefit from wearing a waist trainer during lighter activities like we mentioned above—things like walking your dog or playing at the park with your kids.
Some people find that, since you sweat so much when you wear a waist trainer, that it is much more comfortable to wear a light cami underneath. This can also help your waist trainer last longer by preventing it from absorbing the oils in your skin.
Lastly, be sure to stay hydrated, since you'll be losing more water when you wear a waist trainer. Drink a lot of water, and also hydrate your skin regularly with a high-quality lotion or waist training gel to prevent it from drying out or becoming irritated.
To sum it all up: you definitely CAN exercise with a waist trainer, and get great results.
We love empowering our waist training customers with fitness advice, so be sure to check out more tips on health and fitness, or contact our expert stylists with your questions. And don't forget to share your workout results with us! #BeTheHourglass