Posted by Hourglass Angel on Nov 27th 2019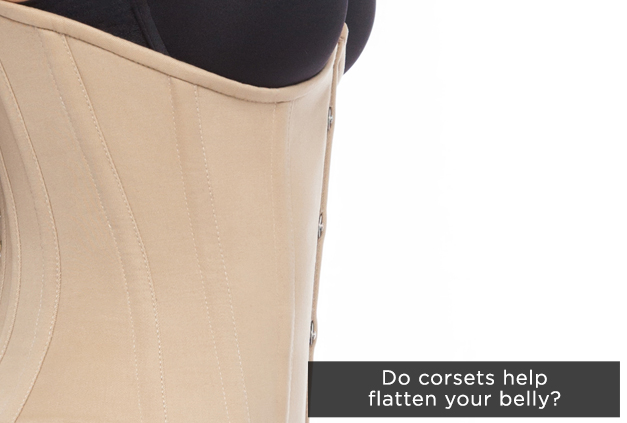 One of the most common questions we hear at Hourglass Angel is "Do corsets help flatten your belly?"
And the short answer is: yes, absolutely!
Corsets use firm compression to flatten your stomach, usually with steel boning, latex or other materials, giving your figure a classic hourglass silhouette. This flattening happens immediately and continuously for as long as you wear the corset. When you take it off, your figure returns to its regular shape.
Now, some of you may be wondering, "Do corsets flatten your stomach in the long term?"
That question deserves a longer answer. Here's what you need to know.
How do corsets help flatten your belly?
Women have been using corsets for hundreds of years to dramatically slim their waistlines. And while the garments themselves have evolved over the years, the basic concept hasn't.
So, how does it work?
●Corsets use a variety of innovative construction methods and materials to tightly compress your midsection, from your hips to your underbust.
●Typically, corsets are clasped in the front and laced up in the back for extra compression.
●The fabrication of the garment is designed to reinforce the compression, helping to keep your figure looking slim and smooth all the way around.
●Inside the corset, there are thin, flat pieces of boning that run vertically to help hold the compression. Typically made of steel, the boning does most of the heavy-lifting, helping to sculpt your hourglass curves.
●The boning is very strong, but also flexible. So unlike those wickedly-rigid corsets of the Victorian era, today's steel-boned corsets can actually be quite comfortable, especially when you get used to wearing them.
Another popular form of corset uses latex with flexible boning and hook-and-eye closures (without laces). These are slightly different from corsets and generally referred to as waist trainers -- but the concept is the same: dramatic slimming and sculpting of the midsection.
They flatten your belly instantly
The best part of wearing corsets and waist trainers is that the belly flattening is instant.
No waiting for results. No spending hours on the Peloton.
That's why many women wear corsets for special occasions. They can be hidden discreetly underneath dresses or other clothes to achieve a slimmer figure. It's a quick and simple way to give yourself a gorgeous hourglass silhouette, whenever you want. (And, newsflash: celebrities do it all the time. If you've ever wondered how those A-listers always look so perfectly curvy, it's because many of them are using hidden corsets and other high-compression shapewear to pull it off.)
Good for your everyday attire, too
So-called "everyday waist trainers," cinchers and some corsets can also be worn underneath your day-to-day outfits.
Same goal, different application … these garments allows you to flatten your belly, so you look your best at work, at the office, or out with friends. Additionally, the compression helps you to sit straighter and prevents you from slouching, so you have a more confident posture.
The highest-compression steel-boned corsets may not be ideal for wearing all day, but several styles are. At Hourglass Angel, we have many styles to fit you and your lifestyle.
What about long-term slimming?
It should come as no surprise that simply wearing a corset will NOT give you a permanently flatter belly when you remove the garment.
It just doesn't work like that. No matter how much compression, or how long you wear it, your figure will return to its normal shape once you remove the corset.
However! Wearing a corset can indeed be an extremely effective way to supplement your other long-term slimming efforts.
Here's how.
The power of corseting
Like waist training, corseting is the process of wearing a corset daily to slim your waistline and complement your other slim-down goals.
We've put together a complete guide to corseting, which includes tips for choosing the right garment, how long to wear it and how to maximize your results. But a typical corseting routine typically includes the following:
●Wearing a corset for 8+ hours a day
●Exercising regularly
●Eating a healthy, nutritious diet
Remember, merely wearing a corset is not a magic bullet for flattening your stomach in the long term. Just like most diets don't work without exercise and other lifestyle changes, corseting only works when it's used in conjunction with other healthy habits.
A huge confidence boost
Here's a key benefit of corseting that plays in your favor: it boosts your confidence!
When you love how you look in the mirror, it can be a huge motivator to stay on track with your corseting routine and other long-term belly-flattening efforts.
When you wear a corset, you get an instant visual image of the figure you want to achieve. For many women, this is the confidence boost they need to get serious about their weight-loss goals.
Maximizing workouts
If you're incorporating a latex waist trainer into your routine, then it can support your goals in other ways too.
Latex waist trainers (and some corsets) are designed to stimulate heat in your core when you wear them. That's great news for your workouts, because it causes you to sweat more in your target area: your belly, abs, sides and back.
It works for almost any kind of physical activity. As long as you're wearing the garment, you'll sweat harder during exercise, sports, walks, runs, or at-home workouts. Increased sweat without an increase in effort -- can't beat that, right?
Final tips
Regardless of your goals, there are a few things to keep in mind when trying a corset for the first time:
●Be sure to choose the right size. Every product at Hourglass Angel has its own sizing guidelines, as determined by in-house testing and feedback from women who've worn the garments. Follow the size charts carefully. If you're in between sizes, go up a size, not down.
●Putting on a corset for the first time can be tricky. It will feel tight, but your body should become accustomed to it in no time. You should NOT feel any pain, shortness of breath or discomfort beyond the initial tightness. If you do, remove it immediately and exchange for a better size.
If you plan to start a long-term corseting journey, remember that consistency is key! Stick with it and record your progress by taking your waist measurements as well as photos at least once a month.