Posted by Hourglass Angel on Feb 13th 2019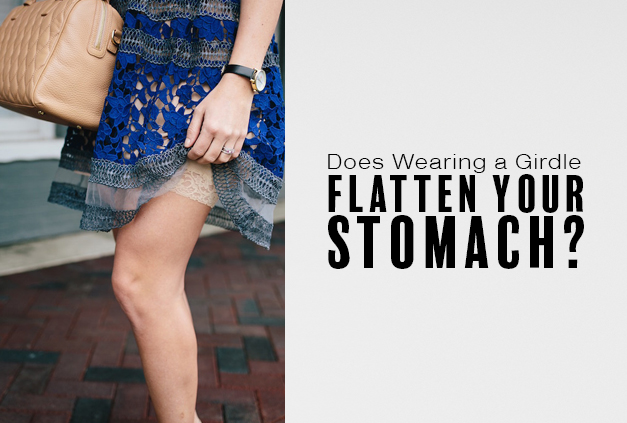 A flat and toned tummy is something most of us would like and yet is one of the more difficult figure features to achieve. This is especially the case if you've been pregnant or have experienced weight fluctuations. What's more, your own genetics might even been working against you if you tend to naturally carry your body fat around your middle.
No matter how hard you work out or how well you eat, it's hard to get a perfectly flat stomach without surgery. And for many people, that's just not a desire or option.
This is where shapewear can help, as well as undergarments that enhance your figure. Shapewear has grown popular in recent years as celebrities have embraced it and everyday women have shared their success with it on social media.
In particular, girdles have had a big comeback as women are wearing different styles everywhere—from the workplace to the gym to special events.
So does wearing a girdle help flatten your stomach? Yes! Here's everything you need to know about how girdles work and how they can help you have a slimmer midsection.
What is a Girdle?
The term "girdle" simply means "belt." There are several styles of shaping garments can fall under that category.
Some girdles have a built-in panty design, making them ideal all-in-one shaping garments. They use firm compression throughout the bodice to provide slimming around the midsection. Since they have a panty bottom, they are particularly effective at minimizing the lower abdomen.
The Rago High Waist Brief Girdle with Zipper 6101 rises above the waist with boning throughout for slimming throughout the abdomen. This type of girdle is ideal for special occasions and will tuck away your trouble spots in a snap.
Other girdles do not feature a built-in panty and provide focused compression around the midsection. These are also called waist cinchers or waist trainers. Typically they use a front closure with hook-and-eye fasteners, although some seamless styles are available as well. You can get a waist cinching girdle with shoulder straps for extra support.
The Firm Control Classic Waist Cincher by Leonisa is a classic waist-cinching girdle. The middle latex layer manages your middle and immediately reduces you waistline by up to 1-3 sizes while wearing it.
How Girdles Work
Most girdles are constructed with materials that provide firm compression around the core. Latex is commonly used, particularly in waist cinchers, although latex-free blends are available as well.
When you wear a girdle, you'll immediately shed 1-3 inches from your waistline, and you may also drop a size or two. Your results depend on the style of garment you are wearing as well as the compression level. Typically, waist cinchers will provide more dramatic slimming at the naturally waist. If you want to focus more on controlling the lower abdomen, then a high compression girdle with a built-in panty will do this more effectively than one designed with just a waist band.
Be sure to read the specifications on your girdle to determine its compression level. Girdles with high compression will provide more slimming, while those with moderate or light compression will be more flexible. We recommend having several that you can rotate through your wardrobe for various occasions.
Do Girdles Help with Long-Term Waist Slimming?
In general, wearing shapewear does not replace a healthy diet or exercise when it comes to having a trim and toned tummy. However, it can play a role in a healthy lifestyle, particularly if you practice a waist training regimen.
Waist training is the practice of wearing a waist-cinching girdle, or waist trainer, daily. Some of the benefits of this practice include helping you feel motivated, inspired and confident as you work toward your slimming goals. Looking directly in the mirror and seeing a slimmer version of yourself can give you a vision for your health goals and help you stay on track with healthy lifestyle practices including a nutritious diet and a fitness routine.
Wearing a waist trainer at least eight hours a day also stimulates heat and perspiration in your core. This can be especially effective if you wear a workout band during exercise, as you can amplify your workouts by sweating harder.
When you combine healthy lifestyle and motivation factors with daily waist training, you can see and feel the results. We encourage those just starting out with waist training to track their progress weekly with photos and waist measurements (which can be more telling than numbers on a scale!).
See the before and after results from our customers to get a realistic idea of how wearing a girdle daily can flatten your stomach. These women tracked their progress over eight weeks.
Other Considerations for Getting the Best Waist-Slimming Results from a Girdle
Not all waist-slimming girdles are made the same, and you might be disappointed if you don't pick the one that's best suited for your needs or use it correctly. Here are a few tips to help you select the best girdle and get the most out of it:
Consider your goals. What area do you want to target? What occasion are you dressing for? Are you wanting to wear a girdle every day? These questions will help you select the right garment—and perhaps several.
Take accurate measurements. For a girdle, the measurement you'll want to go by is your waist. Using vinyl or fabric measuring tape, measure the narrowest part of your waist, which is a couple of inches above your belly button. Make sure the tape is level and lies flat, but isn't pulled or stretched tight. You should be able to fit a couple of fingers underneath.
Follow the sizing charts. In our shop, we have carefully curated and tested each and every garment and adjusted the charts accordingly. Don't assume that you'll fit best into your pant or dress size, as shapewear is different—even different brands can vary.
Read the customer reviews. Every garment has a review section, and you'll learn more about what to expect based on real women's experiences.
Have any more questions about how to slim your waist with a girdle? Our expert stylists are here to help, so don't hesitate to contact us!